June 18, 2021
For a historian, growing older has the special quality of having lived through history. With this in mind, I have since 2013 repeatedly commemorated the passage of fifty years that I personally experienced:
(June 18, 2021)
January 2, 2021
Traffic statistics at DanielPipes.org indicate that the following ten articles are my most read writings published in 2020, in ascending order. (Gary Gambill of the Middle East Forum kindly provided the tabulations and summaries.)
Continue to full text of posting...
May 28, 2020
My Middle East Forum colleague Nave Dromi disagrees with the negative view I expressed of Israel's annexing some parts of the West Bank.
My six-part argument, as spelled out here, boils down to dismissing annexation as too-expensive symbolism. It brings no rewards but creates problems everywhere one looks. Therefore, I conclude, annexation obstructs her and my goal of an Israel Victory and Palestinian defeat.
Continue to full text of posting...
May 12, 2020
Ironically, the same Islamists who disdain and attack infidels also seek their approbation, as shown by the lists they compile of illustrious non-Muslims – mostly Westerners – who praise Muhammad, Islam, or Muslims. The admiring views of such prominent figures as Gandhi, Gibbon, Goethe, Napoleon, George Bernard Shaw, Toynbee, and H.G. Wells are a special source of pride.
Continue to full text of posting...
March 17, 2020
My article, "Conspiracy Theories in a Time of Virus," offers deep background and some current conspiracy theories about the novel coronavirus. This blog keeps up with some of the latter.
---
Continue to full text of posting...
January 1, 2020
As I have done previously (2015, 2017, 2018), here is a roundup of the most popular articles, blog posts, speeches, and interviews on my web site, DanielPipes.org, in the just-concluded year. (The statistics below concern only DanielPipes.org, not postings elsewhere.)
Continue to full text of posting...
August 16, 2019
The furor over a trip by Cong. Rashida Tlaib (Democrat of Michigan) to Israel (about which I wrote an article today, "How Trump Put Netanyahu in an Untenable Position"), raises the topic of Israeli policy.
Continue to full text of posting...
August 12, 2019
After 250 years, the Saudi dynasty under Crown Prince Mohammad bin Salman appears cautiously to be exiting the Wahhabi hammerlock. But books on display at the 2019 Riyadh International Book Fair gave no hint of this, as suggested by the following selection of current titles with an emphasis on the Arab-Israeli conflict:
Continue to full text of posting...
July 4, 2019
Paper telephone books have virtually disappeared from our lives, but they recorded essential information during the twentieth century. Thanks to a recent visit to my father's hometown of Cieszyn, Poland, plus the discovery of an unpublished Warsaw telephone directory (unpublished due to the German invasion), I now have records of my ancestors dating from 1926 and 1939.
Continue to full text of posting...
May 4, 2019
Palestinians do weird things: A few days ago, the Palestinian Authority (PA), which rules most of the West Bank, refused to accept the tax revenues it is owed by the Israeli government. Today, Hamas, which rules all of Gaza, launched more than 200 rockets against Israel.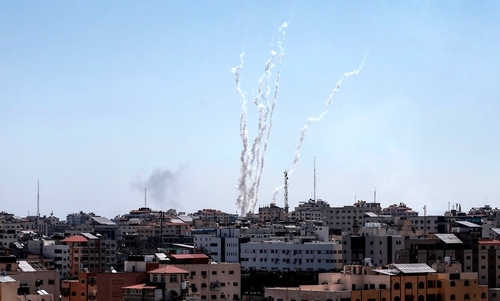 Hamas launched missiles from Gaza against Israel on early on May 4, 2019.
Both of these are, on the surface, self-defeating steps that make no sense. Not taking the money means the PA could collapse; firing rockets means Hamas is getting battered militarily by the far superior Israeli forces.
Continue to full text of posting...