September 21, 2018
Unfortunately, the requested recording by Harvard Event technicians was not made. I thank Robert Chung for recording nearly the entire service on his smartphone, with the exception of the musical prelude and the first talk, by Prof. Evelyn Higgenbotham. The recording begins with the welcome by Prof. Rawi Abdelal.
For the memorial service program, click here.
For a booklet with the tributes by the nine speakers, click here.
Memorial Church at Harvard University, with a picture of Richard Pipes.
---
Continue to full text of posting...
by William Grimes • May 17, 2018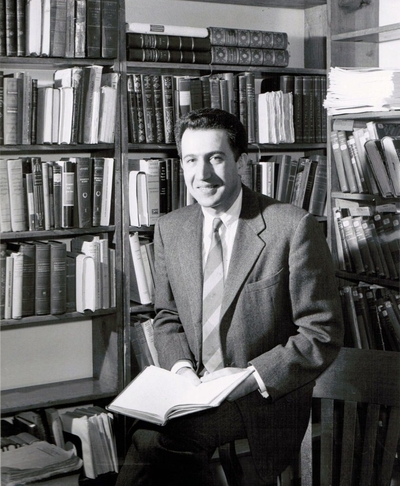 Richard Pipes in his study in Cambridge, Mass., in 1959. He spent his entire academic career at Harvard.

Richard Pipes, the author of a monumental, sharply polemical series of historical works on Russia, the Russian Revolution and the Bolshevik regime, and a top adviser to the Reagan administration on Soviet and Eastern European policy, died on Thursday at a nursing home near his home in Cambridge, Mass. He was 94.

His son Daniel confirmed the death.

Continue to full text of posting...

May 15, 2018

Yesterday's opening of the U.S. embassy in Jerusalem marks a peak emotional moment for anyone wanting a secure and prosperous Israel; in that spirit, Donald Trump has been hailed as "the best thing that has happened to Israel in a long time."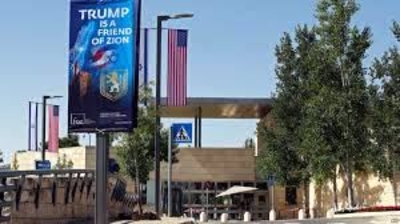 The old consulate, the new embassy.
Maybe. There's also reason to see the recognition of Jerusalem as Israel's capital not as an end in itself but as one act of a three-part drama that ends badly for the Jewish state. Allow me to sketch this theory:
Continue to full text of posting...
March 2, 2018
Which is worse, academic sloppiness or fake news? Hard to say, for both present a challenge to a functioning democracy. I've so often documented the outlandish errors that leftist and Islamist academics make about me, I even have a bibliography on the topic. So, here's one about the press.
Continue to full text of posting...
February 11, 2018
I recently argued at "The US-Israel Honeymoon May Not Last," that Trump has some unpleasant surprise in store for the Israelis, in payment for the move of the U.S. embassy to Jerusalem:
Trump intends to exact an unspecified price from Israel for the recognition, stating "Israel will pay for that" and it "would have had to pay more."
This blog updates and attempts to flesh out what that price - and more broadly, the contents of his Palestinian-Israeli plan - will be.
---
Continue to full text of posting...
February 2, 2018
Mordechai Kedar, a distinguished specialist of the Middle East, recently published an article arguing that Israel can never win its neighbors' acceptance. This conclusion flies directly in the face of the Israel Victory Project I have proposed, which is about gaining precisely that acceptance. So, Kedar's analysis calls for a reply.
Continue to full text of posting...
January 31, 2018
A recent Pew opinion survey showing 79 percent sympathy for Israel over the Palestinians among Republicans versus a mere 27 percent among Democrats has aroused a furor in pro-Israel circles. But this sort of ratio has been around through the twenty-first century with little change.
Continue to full text of posting...
January 16, 2018
Before the Trump Administration started to stop U.S. funding of the United Nations Relief and Works Agency (UNRWA); I expressed skepticism that this would have the intended effect because others would rush in to take Washington's place:
Even were U.S. funding to UNRWA ended, plenty of governments – and even individuals – could easily replace the $370 million, and have incentive to do so. Qatar could consolidate its role as protector of the Palestinians. Beijing could purchase a role at the heart of Arab politics. Moscow could reverse some of the damage of siding with Tehran. Carlos Slim, estimated by Forbes today to be worth $67.9 billion, could decide to burnish his Arab credentials. Worse yet, were any of them to fill the funding gap, the Trump administration would look ineffectual and isolated.
This blog tracks U.S. cuts and others' adding more funds to test the accuracy of that prediction.
Continue to full text of posting...
December 31, 2017
Looking over the past year's statistics, my ten most-read articles of 2017 (ignoring articles from prior years) were:
10. Merkel's Historic Folly
9. Historians Run Amok
8. Erdoğan to Me: Stay Out of Turkey
7. No to Bombing Syria
6. Florida Museum Celebrates the Loss of Hagia Sophia
5. Italy's Apocalypse
4. Will Trump Turn Against Israel?
3. Linda Sarsour, The Left's Latest Star
2. The Way to Peace: Israeli Victory, Palestinian Defeat
1. Smoking Out Islamists via Extreme Vetting
Continue to full text of posting...
December 11, 2017
Question: On December 6, 2017, US President Donald Trump made a statement recognizing Jerusalem as Israel's capital and declaring that his administration will immediately begin the process of building an embassy in Jerusalem. What does Trump's recognition of Jerusalem as Israel's capital mean?

Respondents: Elliott Abrams, Daniel Pipes, Max Singer, Eytan Gilboa, Jonathan Rynhold, Hillel Frisch. Click here for the other responses. Slight changes made to the BESA Center original.
---
The move of the U.S. embassy to Jerusalem brings on a flood of thoughts. Briefly:
Continue to full text of posting...