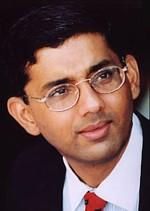 Dinesh D'Souza
I have admired the spirited and patriotic writing of Dinesh D'Souza and even blurbed one of this books,
What's So Great About America
. But, along with many other
former conservative admirers
of his writing, I have been appalled by the thesis of his new book,
The Enemy at Home: The Cultural Left and Its Responsibility for 9/11
, which ascribes jihadi violence to pornography.
And now, I learn, there is even worse news. Here is a brief excerpt from "Radical Islam: What We Think We Know – And Why It's All Wrong," Dartmouth Alumni Magazine, March-April 2007, p. 46 (not online):
No one can deny the horror of Palestinian and Chechen attacks on civilians, but these have to be measured against the state-sponsored terror on the other side: the bulldozing of Palestinian homes, the shooting of stone-throwing teenagers, the obliteration of the Chechen capital of Grozny.
Comment: Israeli efforts at self-defense constitute state-sponsored terrorism? One can dispute tactics without using such a baseless and irresponsible term. D'Souza has apparently lost his moral compass as much as his common sense. (March 6, 2007)
Mar. 12, 2007 update: Scott W. Johnson points out that the above passage derives word-for-word from D'Souza's book. Indeed, Johnson quoted the sentence in his excellent review, "D'Souza goes native," where he astringently observed that "even State Department foreign service officers have [not] yet gone quite as native as D'Souza."
Feb. 3, 2014 update: D'Souza was asked a question from the audience about Israel (at 1:31:31) in the course of a debate with Bill Ayers at Dartmouth College on Jan. 30. Sam Levine of PJ Media reports that the questioner called Israel an apartheid state, accused it of legally discrimining against Arabs, and asked why the United States supports it. D'Souza
tacitly agreed that Israel is an apartheid state by not challenging that accusation in his answer, and ranting on about how much different Israel is than the United States. He then spoke about how all countries are flawed, saying, "We also recognize we live in a big world, and in a big world, we make allies with people, some of whom we agree with 100%, and some of whom we agree with 5%. Why? Because foreign policy is based on the principle of the lesser evil. And you sometimes ally even with the bad guy to get rid of the worse guy."
As Levine notes, "The implication clearly being that Israel is a bad guy, but, hey, we allied with Joseph Stalin, too." D'Souza went on:
"We have to recognize that Israel's fate—certainly over the last 50 years—is bound up with ours, for better or worse, so, ya know, it's a tough spot. I don't agree with everything Israel does. I'm not saying we should be giving billions in aid to Israel, or Egypt for that matter." The only defense D'Souza offered for Israel is that it is an ally of the United States and an outpost of western ideals.