The logo of Hizbullah, the Lebanese terror group, consists of a hand emerging from the Arabic spelling of the group's name ("Party of God") clutching an assault rifle, probably an AK-47.
But with the battle of Al-Qusayr underway near Homs, said to be a decisive confrontation in the Syrian civil war and the scene of significant loss of personnel by Hizbullah, a wit who goes by Aiham VAN Syria edited the organization's logo to fit the moment.
First, under a "Before" sign (on the right, Arabic reading from right to left), he shows the real logo.
Then, under an "After" sign (on the left), comes his version. It reads Mishan Allah ("God have mercy" in Syrian dialect) and shows a bandaged hand holding a crutch. (May 26, 2013)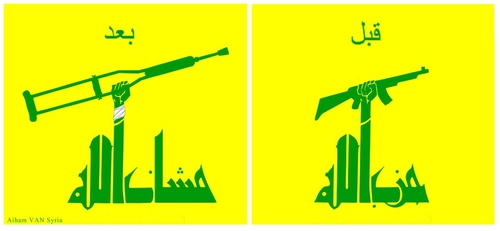 Hizbullah's logo, edited to fit the moment.