Nearly lost in the exchange of invective between Mahmoud Ahmadinejad and Barack Obama is the former warning to put the latter on trial. Thomas Erdbrink and William Branigin offer details at "Iran's President Rebukes Obama; Candidates Reject Election Review" in the Washington Post today.
First, the setting: on June 26, Obama
praised protesters for showing "bravery in the face of brutality," described violence against them as "outrageous" and said opposition leader Mir Hossein Mousavi has "captured the imagination" of Iranians who want a more open society. Obama also dismissed Ahmadinejad's demand for an apology for previous criticism and suggested that the Iranian leader apologize to the families of those who have been arrested, beaten or killed in the crackdown.
The reply came a day later:
Noting that Obama has spoken of "reforms and changes," Ahmadinejad asked, "Why did he interfere and comment in a way that disregards convention and courtesy?" He said Western leaders who made "insulting and irrelevant comments will be put on a fair trial" by Iran at international gatherings. …

Ahmadinejad also vowed to take a tougher approach toward alleged meddling by the West during his second four-year term, which the government has said will begin this summer. "Without a doubt, Iran's new government will have a more decisive and firmer approach toward the West," Ahmadinejad said. "This time the Iranian nation's reply will be harsh and more decisive," to make the West regret its "meddlesome stance," he said.
Comments: (1) This over-the-top bellicosity reminds me why I originally endorsed Ahmadinejad to win the June 12 elections and serve another four years as president of Iran. His aggressive comments might even awake an Obama to the inutility of nice words and gestures toward Tehran.
(2) The Islamic Republic of Iran will put the U.S. president on trial? Shades of Bertrand Russell's kangaroo "International War Crimes Tribunal." It should provide quite a spectacle. (June 28, 2009)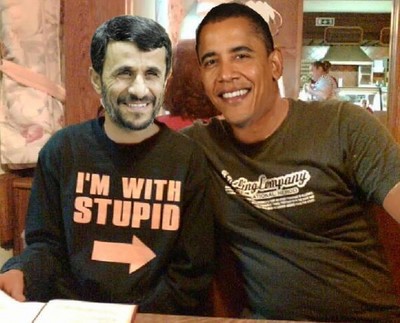 Ahmadinejad and Obama, in imaginary better times.