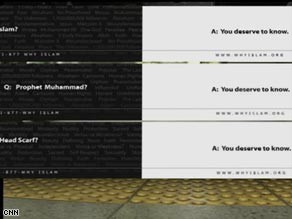 ICNA's New York City ad.
I've become aware over the years that Islamist groups have taken out advertisements in Western countries to promote Islam (known in Arabic as
da'wa
). This weblog entry occasionally notes these efforts, their sponsors, texts, and responses.
For starters, the Islamic Circle of North America plans and Siraj Wahhaj, a Brooklyn imam, plan to place ads during the month of Ramadan on 1,000 of the New York City subway system's roughly 6,200 cars at a a cost of about $48,000. Each ad will feature a black panel on the left and a white panel on the right. The left poses questions such as "Q: Islam?" "Q: Prophet Muhammad?" or "Q: Head Scarf?" and the right replies with "A: You deserve to know, 877-WHY-ISLAM or www.WhyIslam.org."
In a letter to Metropolitan Transit Authority officials, U.S. Rep. Peter King (Republican of New York) wrote "I have no problem with the ad itself, but I have a very, very real problem with those behind it," a reference to ICNA and Wahhaj. King described him as "a known Islamic extremist" who would be gaining "credibility and stature" through the bus promotion. King called on the MTA "not to have these ads, not to go forward with them, and I don't see this as a free speech issue at all."

The "New York Post" front page.
The
New York Post
broke news about the ad yesterday with a screaming front page headline titled "Jihad Train" and an inside article titled "
Train-ing Day for Jihadists: Muslim Subway Ads Have Terror Tie-In
." (July 22, 2008)
Sep. 15, 2008 update: Some ten members of the Seattle chapter of the Islamic Circle of North America paid nearly $5,000 to sponsor 6 ads on the outside of Metro buses and about 25 on the inside of them. The text on the outside ads reads: "Q: Islam? A: You deserve to know, 877-WHY-ISLAM or www.WhyIslam.org." One of the funders, Bilal Aijazi, a software developer, says the ads, which are scheduled to run until November, are meant to stir conversation and steer people toward information on Islam. "We feel often Muslims don't have a voice. This is just a way to present the community with a source of information about Islam that comes from Muslims themselves."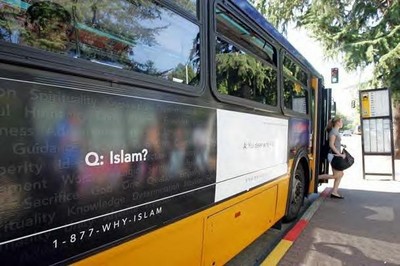 A Seattle bus with the pro-Islam ad.
Jan. 15, 2009 update: For the controversy over ads in Broward Country, Florida, proclaiming "ISLAM: The Way of Life of Abraham, Moses, Jesus and Muhammad," see my weblog entry "CAIR claims Abraham, Moses, and Jesus for Islam"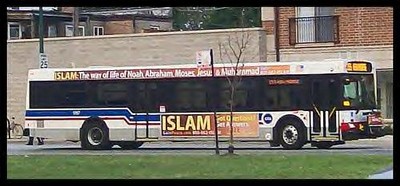 A Ft. Lauderdale bus with an ad claiming Abraham, Moses, and Jesus as Muslims.
Feb. 19, 2009 update: A previously unknown group, the Islamic Circle of the Bay Area, has taken out advertising on about 170 "Muni" buses and 10 cable cars in the San Francisco area with a text that states that Islam is "The message of Abraham, Moses, Jesus, and Muhammad."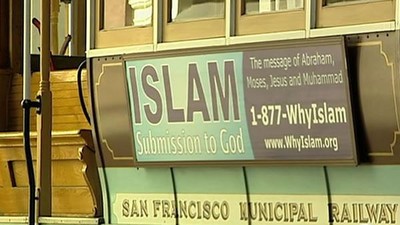 A San Francisco cable car with an ad for Islam.
Mar. 4, 2009 update: "Zombie" took pictures of the San Francisco buses, including one that proclaims "ISLAM, Submission to God, 1-877-WhyIslam www.WhyIslam.org." Zombie notes that there has been "nary a peep of comment or protest about these ubiquitous in-your-face ads" from denizens of what is "famously amongst the most secular and non-religious cities in the nation."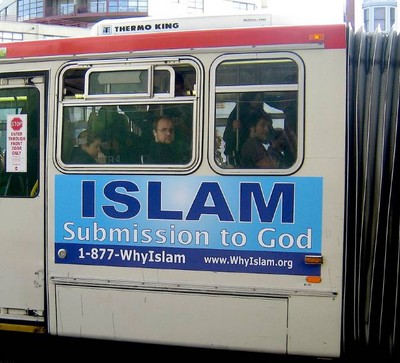 San Francisco's secular residents seem to accept the pro-Islam ads.
Mar. 20, 2009 update: A correspondent sent me a picture of a billboard just taken on Interstate 76 mile near Carlisle, Pennslyvania, as mile marker 225. It states across the top "Compassion ● Morality ● Spirituality ● Success," shows a picture of a mosque, offers "Free Literature," and advertises the usual "1-877-WhyIslam www.WhyIslam.org."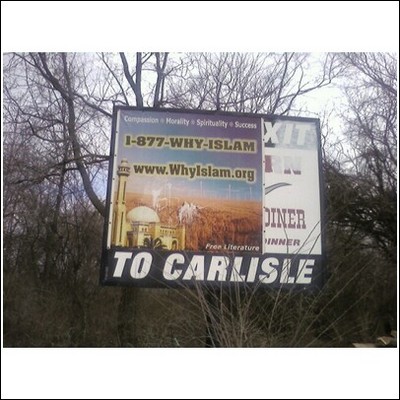 Sign along I-7 near Carlisle, Penn.
June 27, 2009 update: CreepingSharia.com reports that WhyIslam is placing a series of ads on busses in Washington, D.C., with text like "Why are so many people like you becoming Muslim?"

"Why are so many people like you becoming Muslim?" ask bus ads in Washington, D.C.
July 15, 2009 update: The Anti-Defamation League notes about the Islamic Circle of North America that
A national campaign to educate the general public about Islam through a series of advertisements on buses is tainted by the fact that a Web site related to the campaign links out to sites that contain anti-Semitic materials. ...

The most recent campaign, currently running on 50 municipal buses in the Washington, D.C. area through the end of July, directs viewers to a Web site called "WhyIslam," which includes a list of "resources" linking to various sites that feature extreme anti-Semitic and anti-Israel invective.

"The 'WhyIslam' campaign is ostensibly an effort to clear up misperceptions and to educate the general public about Islam," said Abraham H. Foxman, ADL National Director. "This endeavor would on its face appear to be the right thing to do. Unfortunately, when one follows through to learn more, the Web site provides links to conspiratorial anti-Semitic material as resources."
Sep. 11, 2009 update: "Why Islam" ads have arrived, courtesy of ICNA, in San Jose, Santa Clara and Concord, California, offering the 1-877-WHY-ISLAM hot line and free Korans. One billboard, placed along Interstate Highway 880 at Brokaw Road in San Jose, states that Islam follows the teachings of "Abraham, Moses, Jesus and Muhammad." Other billboards are in Spanish. The campaign consists in all of 4 large highway billboards in San Jose and Concord, 8 bus-stop ads and posters in San Jose and Santa Clara, and 35 bus ads. The effort began Aug. 31 and runs four weeks. The ads bring in about 1,000 calls to the hot line and about the same number of e-mails to WhyIslam.org.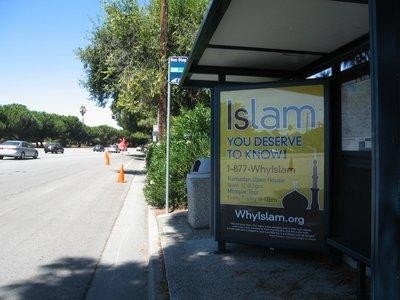 A billboard at a bus stop on El Camino Real in Santa Clara.
Dec. 15, 2009 update: The Minnesota chapter of the Islamic Circle of North America will shortly unveil billboards that call Islam ""The way of life of Adam, Noah, Abraham, Moses, Jesus, & Muhammad," "ISLAM – Got Questions, Get Answers." It offers "Free Quran & Literature" and offers the website GainPeace.com and the telephone number 800-662-ISLAM. In a prepared statement, the campaign's organizers explain:
Islam is often a misunderstood religion, leading some to hold bias views of Islam with discrimination and suspicion of Muslims. This ad campaign will provide an opportunity for the people of Twin Cities to take a fresh and positive look at Islam.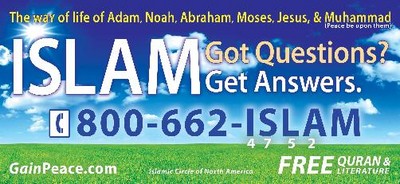 The ICNA billboard in Minneapolis.
Apr. 4, 2012 update: As approved by the Toronto Transit Commission Advertising Commission Group: ""There is no god but Allah; Muhammad is His Messenger."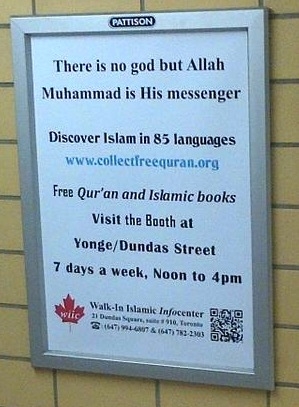 Dec. 18, 2012 update: Ahmed Rehab, executive director of the Chicago chapter of the Council on American-Islamic Relations, has started a "MyJihad" campaign on Chicago buses to soften the word jihad. One ad (pictured) reads "My Jihad is not to judge people by their cover. What's yours?" Another reads "My Jihad is to build friendships across the aisle. What's yours?"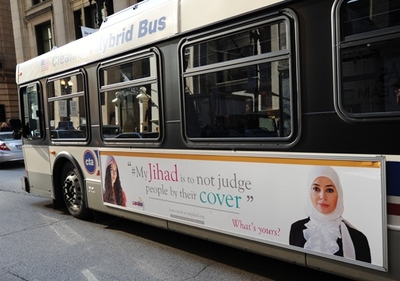 A bus in Chicago.
June 20, 2014 update: The Ahmadiyya Muslim Association in South West England has taken out the ads on 125 buses proclaiming "Muslims for Loyalty, Freedom & Peace. www.LoveForAllHatredTowardNone.org Ahmadiyya Muslim Community".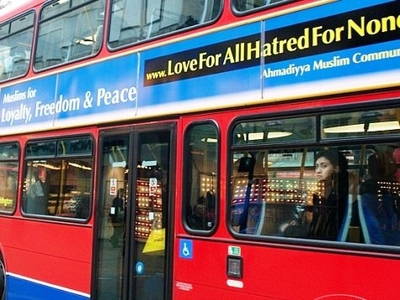 Ahmadiyya bus ads in Cornwall and Devon.
May 27, 2015 update: I report today on an anti-Muslim equivalent at "That Failed Philadelphia 'Islamic Jew-Hatred' Bus Ad."
May 8, 2016 update: Islamic Relief is sponsoring bus ads all over Great Britain with the message "Subhan Allah" or "Praise be to God" in Arabic. The ads also states "Gather the Rewards of Ramadan: Donate Now islamic-relief.org.uk".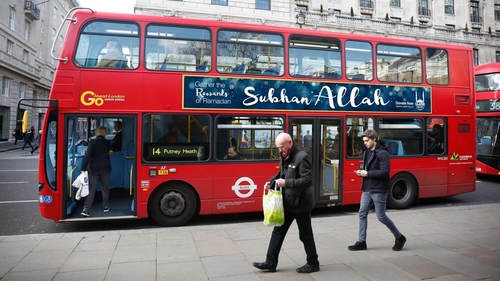 A British bus ad sponsored by Islamic Relief.
Comment: While ostensibly directed to Muslims to give to a charity, a Sunday Times of London headline conveys the ad's political message: "Islamic bus posters to help deter extremism." My interpretation is more direct: "Infidels, Convert to Islam."
Mar. 4, 2018 update: Many U.K. buses carry an advertisement from the notorious Islamic Relief stating, "For the love of Allah: Save a life now. Islamic-Relief.org.uk".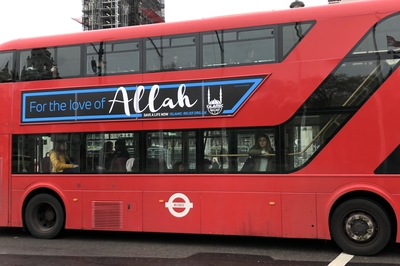 U.K. bus ads sponsored by Islamic Relief.