An Egyptian judge in the town of Minya, Said Youssef, sentenced 529 people to death today for the killing of a single police officer. News like this gives one pause.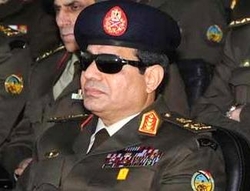 Field Marshall Abdel Fattah el-Sisi, the strongman of Egypt.
Very tough treatment of Islamists is needed to repress this totalitarian movement, including rejection of their efforts to apply Islamic law, keeping them out of mainstream institutions, even excluding their parties from the democratic process. But Field Marshall Abdel Fattah al-Sisi's extra-legal crackdown on Islamists will likely backfire and help the Islamist cause by winning them broad sympathy. Even if today's absurd judgment gets reversed on appeal, it and others like it are doing real damage.
Sisi is riding high now, with out-of-sight popularity ratings, but he appears as unprepared to rule Egypt as another military man, Gamal Abdul Nasser, was 60 years ago. Two factors in particular – the dismal economy and the hostility between pro- and anti-Islamists – will likely bring Sisi down fast and hard. When that happens, Islamists will benefit from his incompetence no less than Sisi exploited the failures of Mohamed Morsi. The cycle continues, the country falls further behind, and the precipice looms.
More broadly, because the expected Egyptian failure in suppressing Islamism will have global ramifications, Sisi's mistakes damage the anti-Islamist cause not just in his own country but internationally. The stakes in Egypt these days are high indeed. (March 24, 2014)
Apr. 2, 2014 update: Lee Smith is even harsher on Sisi in "Egypt Is on the Brink of Chaos. Here's Why It Should Matter to Washington." Excerpts:
Egypt, with a rapidly growing population of 83 million, is actually shrinking in some vital ways. Its influence and significance on the world stage have dwindled to such an extent that not just the Israelis next door but even some European states fear that in the years to come Egypt's most relevant export will simply be terrorism. ...

It's not an accident that an Egypt in decline gets a man like Sisi to step forward. Prideful and incompetent, Sisi nonetheless sees himself as part of a continuum of great Egyptian leaders, like Nasser as well as Anwar al-Sadat. Sisi told a journalist in an off-the record interview leaked to the media that he's been dreaming about his own greatness for 35 years. But the many choices Sisi made to get there show him to be dangerously over his head. ...

For now, Sisi is as good as it's going to get for Egypt. This White House, and the next, should be planning for how to manage the decline of a civilization, a nation of more than 80 million people likely to implode.
Apr. 28, 2014 update: The same judge, Youssef, has now, in an 8-minute session, (1) reduced the punishment for all but 37 of those 529 to life imprisonment and (2) sentenced another 683 people to death, apparently in connection with the same dead policeman. One of those 683 is Muhammad Badie, the Muslim Brotherhood's leader.
June 1, 2014 update: Youssef justified his draconian decision against the 529 this way: "The accused came out of the depths of hell... to plunder Egypt's wealth, terrorize its people and they killed the deputy commissioner." He went on to describe them as "enemies of the nation" who used mosques to promote the teachings of "their holy book, the Talmud."