Malaysia's Internal Security Ministry has just banned the books by two of the West's leading apologists for radical Islam. The prohibition citation, dated June 8, was just made available to the Bernama news agency. Under the "Printing Presses and Publications Act 1984," it deems the books disruptive to the country's peace and harmony. Any reproduction or distribution of their two books – as well as another sixteen – is now proscribed in Malaysia.

Esposito's banned book is What Everyone Needs to Know About Islam (Oxford University Press), while Armstrong's is The Battle for God: Fundamentalism in Judaism, Christianity and Islam (Harper Collins). (June 15, 2006)
Jan. 29, 2008 update: The Internal Security Ministry has banned another 11 books – 8 in English and 3 in Bahasa Malaysia – including Stephen Schwartz, The Two Faces Of Islam: Saudi Fundamentalism and It's Role in Terrorism (Anchor Books). Its contents, according to a news report "have been found to be deviating from the teaching of the religion." Comment: That the Malaysian government bans a book critical of Wahhabism gives a good idea of what it finds a touchy subject.
Feb. 18, 2018 update: The Islamic Art Museum Malaysia in Kuala Lumpur now sells a book by John Esposito, The Islamic World: Past and Present, vol. 1. I even took a picture of it.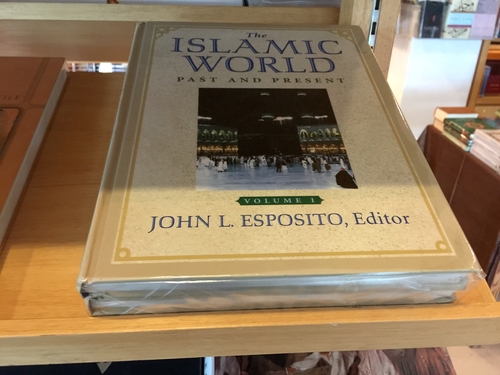 Starring at the Islamic Art Museum Malaysia in Kuala Lumpur.
So either (1) the ban on Esposito has lapsed or (2) it applied to just one book.