Paper telephone books have virtually disappeared from our lives, but they recorded essential information during the twentieth century. Thanks to a recent visit to my father's hometown of Cieszyn, Poland, plus the discovery of an unpublished Warsaw telephone directory (unpublished due to the German invasion), I now have records of my ancestors dating from 1926 and 1939.

1926: The Cieszyn telephone book lists my father's father as "Pipes Marek, fabryk, Ciężarowa 2." Fabryk refers to owning the Olza SA chocolate factory that he had founded in 1920, where he manufactured the Prince Polo chocolate-covered wafer. I photographed the title page and p. 85 on a visit at the Muzeum Śląska Cieszyńskiego (Museum of Cieszyn Silesia) in May 2019.

1939: The Warsaw telephone book is available at the Library of Congress website. It also lists my father's father, now as "5 98 10 Pipes Marek, m., Chmielna 43." He lived 1893-1973.
With the help of Denis E. Lazarev, my second cousin, I have found that the Warsaw directory lists other relatives, including my:
Father's mother's two brothers: "5 97 69 Haskelberg B-cia Arnold i j. Maksymilian, udzia-łowcy f. "Doloment", Żelazna 36" Arnold Haskelberg lived 1896-1942. Jerzy Max Haskelberg-Kordiasz lived 1898-1953.
Father's mother's brother: "5 99 35 Chaskielberg St., biuro handl., Żelazna 36." Stanislaw Chaskielberg (a variant spelling of Haskelberg) lived ~1892-1942. Note that he lived with his two other brothers on Żelazna street, in the house of their mother, Balbina Bajla Haskelberg (1866-1942).
Father's mother's brother-in-law: "6 77 81 Kronsilber Mieczysław, m. Sosnowa 4.". He was the husband of Regina (1906-41) and the owner of Eufone (a gramophones and records store). He lived 1902-54.
Father's mother's brother-in-law: "3 03 36 Gabryjelew Maksymilian, dr. med., Złota 23." He was the husband of Ester (~1900-42) and a medical doctor. He lived 1892-1942.
Mother's father: "8 07 23 Roth Marcell, m., Zurawia 23." He lived 1892-1978.
Mother's father's brother: "8 28 78 Roth Norbert, m., Marszałkowska 18." He lived 1903-92.
Mother's mother's father: "5 37 79 Pajewski M., m., Chmielna 20." Mordekhai Pajewski lived 1875-1942.
Mother's mother's brother: "8 19 62 Pajewski Henryk, m. Poznańska 14."
Comments:
(1) Of course, the 1941 and 1942 death dates mean murdered by the Nazis; in some cases, the 1942 date is approximate. It's particularly meaningful to have these tangible vestiges of their lives.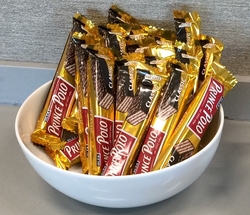 A bowl of Prince Polo chocolate bars in the Krakow airport lounge of LOT Polish Airlines.
(2) My paternal grandfather and maternal great-grandfather lived on the same street, Chmielna, just a few houses apart. Did they know each other? The street still exists and I have
tweeted
a picture of myself in front of No. 20.
(3) I now spend a fair amount of time in Warsaw, interested in Poland as one of the leaders of the civilizationist movement. Invariably, the family history makes this a different sort of visit.
(4) That family history is not over; my mother, Irene Pipes (b. 1924), continues to visit Warsaw annually for several weeks.
(5) Prince Polo chocolate bars remain popular in Poland a century later; for more on it, see a recent article in wyborcza.pl. For Americans who wish to try them, Lowell International Foods imports a range of Prince Polo products.

A screenshot from Lowell International Foods mentioning my grandfather, Marek Pipes.