In 2007, I reviewed the occasional (and perpetually unsuccessful) notion of prohibiting the Koran, Islam, and Muslims at "Ban Islam?" This weblog entry pursues that topic (but not attempts to ban Islamism, which is a separate matter that I follow elsewhere) as it unfolds.
For starters, the front cover of Die Weltwoche, a Swiss weekly asks "Muss der Islam verboten werden?" ("Should Islam be banned?"). The editorial develops themes of Lukas Wick, who answers in the affirmative. (May 11, 2010)
Nov. 23, 2013 update: I pursue the topic of one country's attempt at "Islam Banned in Angola?"
June 18, 2015 update: The government of China banned civil servants, students and teachers in the mainly Muslim region of Xinjiang from fasting during Ramadan and also ordered restaurants to stay open.
Mar. 29, 2016 update: Geert Wilders, the Dutch politician leading in the polls, has raised the idea of banning Islam from the Netherlands.
Mar. 24, 2017 update: One Nation leader and Senator Pauline Hanson of Australia responded to a jihadi attack in London with a hashtag: #Pray4MuslimBan.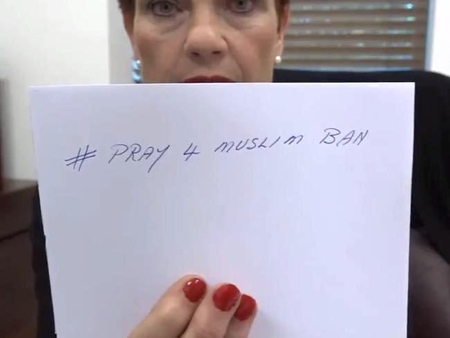 Pauline Hanson holding up her call for a Muslim ban.
Apr. 25, 2017 update: The Chinese government has banned Islamic names for babies in Muslim-majority Xinjiang province that it deems "exaggerating religious fervor." These include Jihad, Imam, Mecca, and Hajj, as well as Saddam. Children bearing the prohibited names cannot be registered in the hukou, meaning they are denied access to public healthcare and education.
Mar. 28, 2021 update: Syed Wasim Rizvi, chairman of Uttar Pradesh's Shia Waqf Board, filed a plea to the Indian Supreme Court that seeks to remove 26 verses from the Koran that are Rizvi states are causing Islam to drift away "from its basic tenets with a fast pace" so it "is identified with violent behavior, militancy, fundamentalism, extremism and terrorism."
Those verses are Verse 9 Surah 5; Verse 9 Surah 28; Verse 4 Surah 101; Verse 9 Surah 123; Verse 4 Surah 56; Verse 9 Surah 23; Verse 9 Surah 37; Verse 5 Surah 57; Verse 33 Surah 61; Verse 21 Surah 98; Verse 32 Surah 22; Verse 48 Surah 20; Verse 8 Surah 69; Verse 66 Surah 9; Verse 41 Surah 27; Verse 41 Surah 28; Verse 9 Surah 111; Verse 9 Surah 58; Verse 8 Surah 65; Verse 5 Surah 51; Verse 9 Surah 29; Verse 5 Surah 14; Verse 4 Surah 89; Verse 9 Surah 14; Verse 3 Surah 151; Verse 2 Surah 191.