Donald Trump first coined the phrase "extreme vetting" in July 2016, in the aftermath of the truck attack in Nice, France. For nine months, he and his advisors have been trying to figure out what this means in practice.
Their first iteration, announced on Jan. 27, just days after their coming to office, focused on countries, not individuals. This approach has twice been shot down by the courts; further, it inherently makes no sense: some Iranians are friends and some Canadians are enemies. Looking at countries is crude and ineffective.
Today, the Wall Street Journal reports on the second try at "Trump Administration Considers Far-Reaching Steps for 'Extreme Vetting'" by Laura Meckler.
It's good to hear that the authorities are taking this issue seriously. The new approach has two halves. The first is excellent, requiring that foreigners who wish to visit the United States "to answer probing questions about their ideology." In more detail: the "ideological test" will, according to a Department of Homeland Security official working on the review, include questions such as
whether visa applicants believe in so-called honor killings, how they view the treatment of women in society, whether they value the "sanctity of human life" and who they view as a legitimate target in a military operation.
These questions echo some of the 93 I laid out in "Smoking Out Islamists via Extreme Vetting." But I also discussed related research efforts and the manner of interviewing would-be visitors. So, this is a good start but it needs much more thought.
The other half focuses on electronic devices:
The biggest change to U.S. policy would be asking applicants to hand over their telephones so officials could examine their stored contacts and perhaps other information. ... A second change would ask applicants for their social-media handles and passwords so that officials could see information posted privately in addition to public posts.
"If they don't want to give us that information," Homeland Security Secretary John Kelly said in February, "then they don't come."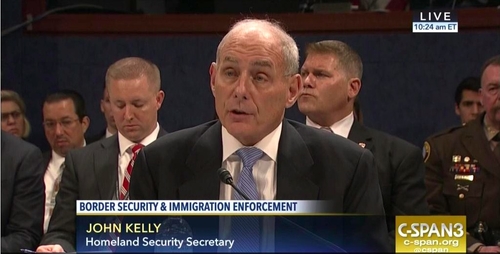 DHS Secretary John Kelly testifying before Congress.
But this emphasis on electronics, especially mobile phones, won't work. With time, word will get out and anyone intending to make trouble will delete information or leave the device at home and get a burner phone. Leon Rodriguez, Obama's head of the U.S. Citizenship and Immigration Services, notes that "The real bad guys will get rid of their phones. They'll show up with a clean phone. Over time, the utility of the exercise will diminish."
It won't be just "real bad guys" who take those steps. As a foreign policy analyst who frequently travels to other countries, I am a good guy; but I emphatically will not turn over my private information to foreign policemen and intelligence agencies; I'll do what is needed to avoid that, whether adjusting my devices or staying within the United States.
The person, not his country or telephone, must be the focus of attention. (April 4, 2017)