Starting about a year ago, CAIR has been turning to courts in the United States and Canada to silence its critics. Here are cases I know of:
Comment: CAIR's strategy in the three cases undertaken in its own name is not quite clear, for intimidation is balanced by discovery. Lawyers with theories on this subject are urged to send them to me. (September 13, 2004)
Nov. 23, 2004 update: David Frum reports today on a pending new case of libel:
David Frum and Canada's National Post newspaper: The Canadian branch of CAIR served them two weeks ago with a notice of libel (which Frum explains is "a warning of a lawsuit to come"). CAIR accuses Frum of having written previously in the National Post an article that characterizes CAIR (in the words of the notice served on him) as "an unscrupulous, Islamist, extremist sympathetic group in Canada supporting terrorism." Sep. 17, 2005 update: A brief "Editor's Note" published in today's National Post settles this case. Oct. 4, 2005 update: Frum adds some comments about the settlement in the National Post, "Alienating the Base."
Dec. 16, 2004 update: I have uncovered another case of a threatened libel suit by CAIR:
Sara Townsley and the Cornell Daily Sun: Townsley, a columnist of the Cornell University student newspaper, on Oct. 19, 2004 wrote an article, "A Vote for Kerry is a Vote for the Enemy," in which she stated that CAIR officials "have defended suicide bombers, funneled money to Hamas, and at least five of its leaders have been deported, indicted, or convicted on terrorism charges." CAIR responded that same day with an accusatory letter ("Ms. Townsley uses regurgitated smears against CAIR from right-wing websites and noted Islamophobes such as Daniel Pipes and Steven Emerson") that also demanded the column's immediate removal, apologies for "these vicious attacks," and permission for CAIR to submit an oped. The CAIR letter also threatened that "If you elect to publish or distribute this confidential letter to any person or entity in any form; suit will be filed forthwith." Andy Guess, editor-in-chief of the Cornell Daily Sun, responded on Oct. 25 by denying any infraction and offering CAIR just a letter-to-the-editor for its response. On Oct. 26, CAIR harrumphed back that its "mentioning a possibly impending lawsuit is not merely a hollow gesture on our part"; but nearly two months have passed and apparently no suit has been filed.
Dec. 30, 2004 update: What goes around comes around. CAIR is not only the plaintiff, suing others left and right, but also the defendant in a least two lawsuits:
Andrew Whitehead vs. CAIR. CAIR initiated a suit against Anti-CAIR's founder and he responded with a countersuit of his own; it was, however, dismissed.
Estate of John P. O'Neill, Sr. et al. vs. Al Baraka Investment and Development Corporation. I document today the specifics of a class action lawsuit stemming from the 9/11 attacks fingering CAIR as a defendant.
Aug. 6, 2005 update: Max Oakley, 60, of Toledo, Ohio, has admitted having sent an e-mail to CAIR's Washington headquarters on July 29, threatening to blow it up. CAIR took the letter to the FBI and the Washington Metropolitan Police Department; Oakley, a Vietnam veteran, was arrested yesterday. Aug. 12, 2005 update: Oakley was released after spending a week in jail. July 21, 2006 update: CAIR announced today that Oakley was sentenced to three years probation and fined $1,000.
Oct. 4, 2005 update: CAIR announced today the ambitious fundraising goal in October 2005 of raising $1 million in one month, in part to "defend against defamatory attacks on Muslims and Islam."
Dec. 9, 2005 update: Rabiah Ahmed of CAIR has acknowledged that lawsuits are increasingly an "instrument" for it to use. "The Muslim community realizes that it has to respond to these allegations and to these attacks, otherwise, the people who are promoting these defamatory remarks will win in the court of public opinion."
Mar. 18, 2006 update: The current issue of the Arab American News (undated on the website) quotes the new head of CAIR's Michigan office, Dawud Walid, saying that under his tenure, CAIR's approach will be focused on the principle that "education is superior to litigation." Does this suggest a change for the organization as a whole or just that one branch? To be watched.
Apr. 12, 2006 update: With the collapse of the Whitehead suit on March 23, the failed appeal against Ballenger yesterday, and the settlement with Harris today, the three extant CAIR cases have collapsed; so far as I know, the organization is no longer engaged as plaintiff in litigation. This string of failures would seem to confirm Dawud Walid's comment (above) that "education is superior to litigation."
June 5, 2007 update: For an interpretation of the legal jihad waged by CAIR and others, see my article "Islamists in the Courtroom."
CAIR vs. Gaubatz: CAIR has brought a case against Paul Gaubatz and his son Chris Gaubatz, key figures behind the book Muslim Mafia: Inside the Secret Underworld That's Conspiring to Islamize America for the latter having signed and breached confidentiality and nondisclosure agreements with the organization. According to Courthouse News Service, "The allegedly stolen documents included budget reports, real estate records, board meeting minutes, strategy papers, agendas and bank statements. Gaubatz reproduced in whole or in part at least 19 of these documents in his book, CAIR says. And he used his blog to post documents, emails and company memos along with clandestine audio and visual recordings of private meetings, according to the complaint. CAIR says Gaubatz also published names, addresses, telephone numbers and email addresses of former CAIR employees, and the names of people who donated to CAIR. CAIR seeks punitive damages for trespass, breach of contract, conversion, and breach of fiduciary duty. It also seeks an injunction against publishing the documents, which it wants returned." (November 2, 2009) Mar. 27, 2016 update: Nine years later, the case has been cleared for trial. For a summary of developments, see "Federal Judge Sending "Muslim Mafia" Case to Trial" by the American Freedom Legal Center.
Nov. 18, 2008 update: CAIR also gets sued. A suit filed in U.S. District Court of the District of Columbia, Lopez vs. CAIR, accuses it of RICO, fraud, DC Consumer Protection Procedures Act, VA Consumer Protection Act, conversion, breach of fiduciary duties, infliction of emotional distress, and unjust enrichment.
Rene Lopez and four other plaintiffs claim that CAIR saddled them with a fraudulent lawyer, one Morris J. Days III. Then, when his fraud was discovered, rather than make good, CAIR hid the fact from both the government and its clients that Days was not an accredited lawyer, pretended he never worked for it, and tried to intimidate them into silence.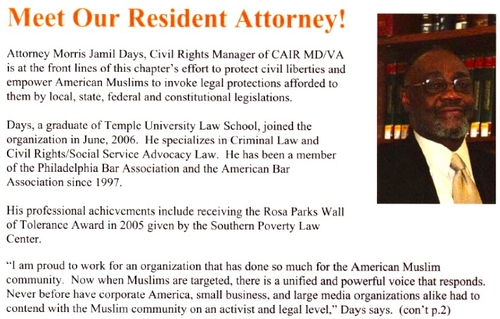 A CAIR document.
CAIR and its employees at CAIR-VA and at CAIR National conspired to defraud their clients by telling them that Days was never an employee of CAIR, that he was acting on his own or as an "independent contractor", and that they (i.e., the defrauded clients) should seek redress from Days himself. ...

[CAIR] agreed to pay restitution to the most vocal, angry, and threatening CAIR clients/victims for their actual out-of-pocket expenses incurred in paying the CAIR-Days' legal fees but demanded that the CAIR clients/victims execute a document titled "Voluntary Agreement and Release of Claims."
That document neatly "purports to release CAIR from any and all liability arising out of its prior or future representation of former or current clients."
The Release of Claims Document purports to impose a duty on the Settling Clients/victims not to disclose to any third party the content of the Release of Claims Document or the events relating to the above-described criminal fraud which led to the signing of the Release of Claims Document (the "Silence Clause"). The Silence Clause on its face prohibits the Settling Clients from disclosing the CAIR and Days criminal fraud to law enforcement personnel and even to their own retained independent legal counsel if retained subsequent to signing the Release of Claims Document. ...

The Release of Claims Document further states that the Settling Clients agree that if the Settling Clients breach the Silence Clause, CAIR will be entitled to "Damages in the amount of $25,000.00."
The complaint goes on to provide many reasons why this Silence Clause is "Draconian and unconscionable in its scope and in its intended effect to frighten and intimidate."
Aug. 30, 2010 update: It's not quite the same as a lawsuit but CAIR has re-entered the courtroom after several years' absence by filing a discrimination complaint against the Illinois State Police on behalf of Kifah Mustapha, a Chicago imam who was slated to become an ISP chaplain until the police force did some due diligence and revoked the offer.
Oct. 1, 2013 update: The Florida-based Citizens For National Security (on whose board I sit) has published an 174-page study, Council on American-Islamic Relations: Its Use of Lawfare and Intimidation, that documents in great detail a range of legal and political efforts by CAIR to prevent discussion of itself, Islamism, Islam, and related topics.
Chapter Three, "CAIR Lawsuits to Silence Speech," touches most closely on the topics discussed in this blog: CAIR vs. Andrew Whitehead (Anti-CAIR); Hussam Ayloush vs. National Review and Shawn Steel; CAIR vs. Cass Ballenger; CAIR Canada vs. National Post and David Frum; CAIR-CAN vs. CFRA and David Harris; CAIR vs. YAF Re: Speaker Robert Spencer; Omar Tarazi vs. Pamela Geller Oshry and John Sternberger; CAIR Action Network vs. Deborah K. Schlussel; Haitham Masri, MD vs. Ronald Wolf; CAIR vs. Steve Emerson; and Sirraj Wahhaj vs. Curtis Sliwa.
Other chapters of interest include 4: CAIR Changing National Security Procedures; 5: CAIR Silencing National Security and Law Enforcement Agencies; 6: CAIR Silencing and Boycotting Corporations; 7: CAIR Silencing NGO Speakers and Politicians; 8: CAIR Silencing Prayer Events and Churches; 9: CAIR Silencing Radio, TV and Film; 10: CAIR Silencing Authors, Publishers and Cartoonists; and 11: CAIR Islamizing the Workplace. Of these all, I find 8 to be the most surprising and alarming pattern of all.
Dec. 1, 2016 update: David L. Rosenthal, an anti-Islam activist, has brought a suit against CAIR's Florida chapter, saying it defamed him by taking his January 2016 Facebook post, "Someone remind me of why I should not burn every mosque in my geographical area," out of context.
May 7, 2017 update: In "Muslims 'Chill' Airline Security with Rash of Lawsuits," Art Moore compiles a "rash" of CAIR-inspired or administered lawsuits against U.S. airline companies starting in 1999.
Comments: (1) I and probably others had missed this pattern. (2) It points to a shift in tactics by CAIR: rather than target Americans for talking about Islam, it is hobbling airline security. (3) To what end? Does CAIR really think that jihadis hijacking airlines forwards the Islamist cause in the United States? If so, it's hugely mistaken.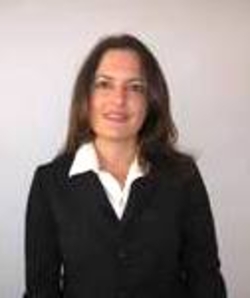 Susanne Arani.

Apr. 24, 2019 update: Susanne Arani, an employee in CAIR's San Diego office, has brought a suit against the organization in California Superior Court, complaining about six illegalities:
Wrongful termination
Hostile work environment
Retaliation
Disparate treatment
Failure to hire
Failure to prevent discrimination and retaliation
Perhaps the most interesting charge is Arani's claim (on pp. 5-6) that, when CAIR moved to a new office overlooking a 8-foot tall American flag on a flagpole, her boss, Dustin Craun, said to her: "If I would have to see that flag every day, I am going to want to put bullets or darts through it. I've been thinking of at least taking the American flag [the building's American flag] and hiding it in our office so no one has to look at it."
Arani quotes herself saying that she would not abide by his "disparaging that flag on my watch nor will [he] be playing 'hide the American flag' so long as I work here." She also notes his writing on his Facebook page, "This country [America] is disgusting."
Soon after, the flag "suddenly disappeared" from its accustomed place. Arani searched for it and, sure enough, "found it hidden in the back office, by the supply closet." She "removed the American flag from its hidden position, and placed it back in its position of prominence."
Then came the denouement: "The very next day, on April 9, 2019, Plaintiff was suddenly and without warning, terminated from her position as attorney at the CAIR San Diego office." Nor is that all: "Plaintiff is informed and believes, and on that basis alleges that after her termination, the American flag was again taken from its position of prominence in the San Diego office and stored in the supply closet, again by Mr. Craun."
Comments: (1) If one needs yet further confirmation how CAIR's corporate culture despises the United States, here it is in the raw.
(2) Most such examples come from the 1990s; the organization learned to clean up its act, though at times of emotion, the old verities shine through.
June 4, 2019 update: After nearly 11 years of litigation, I can finally reveal that the Middle East Forum provided 6-figure support for the Lopez vs. CAIR case mentioned above, in a Nov. 18, 2008 update. The case was mediated to the total satisfaction of the plaintiffs, who ask that the terms be made public. For predictable reasons, CAIR prefers to keep them quiet. For more see the American Freedom Law Center and Middle East Forum press releases.