It all began with a faxed letter from Ken Livingstone, mayor of London, arriving out of the blue on April 4, 2006:
I will be hosting a conference to discuss the thesis of the "clash of civilizations" first popularized by Professor Samuel Huntington's book, The Clash of Civilizations and the Remaking of World Order. I would like to invite you to debate this thesis with me at the opening session of the conference, which will be held 10am-1pm on Saturday, 10 June 2006.
The conference was twice delayed, before finally taking place two days ago, on January 20, 2007. It was quite an event, held in the Queen Elizabeth II Conference Centre, across the street from Westminster Abbey. The mayor told me in a private chat before the event that when he conceived of the event two years ago, he wondered if anyone would show up. He need not have worried; the Greater London Authority's website indicated there had been "an unprecedented demand" for tickets and several days in advance of the event shut the ticketing. One organizer on the mayor's staff told me that the audience numbered about five thousand and that over 150 media had registered for the conference.
The mayor and I each invited a seconder to help us make our arguments: he chose Salma Yaqoob, a councillor in Birmingham, and I chose Douglas Murray, the London writer. Due to the large crowd, the event started a half hour late but even truncated, it still went for slightly over two hours.
Despite the many journalists and video cameras, and despite the GLA having recorded and simultaneously transcribed the event, and despite two and a half days having passed since it took place, there has been – quite to my surprise – not a single media account of the debate, nor a video made available, nor a transcript. (This reminds me in a way of my University of California-Berkeley talk three years ago, which created quite a stir but had zero media coverage.)
There have, however, been a number of blog accounts – interestingly, every one of them sympathetic to Murray and myself; it would seem that the mayor's supporters took a pass on reporting the event. In alphabetical order by author, here are the fullest and most interesting accounts that I have located (the list will be updated as needed):
In anticipation of the video to follow, here are a couple of pictures from the event, one of Ken Livingstone speaking, and one of me; from left to right, the sequence is Douglas Murray, myself, Gavin Esler (the moderator, a BBC television host), Ken Livingstone, and Salma Yaqoob.
(January 22, 2007)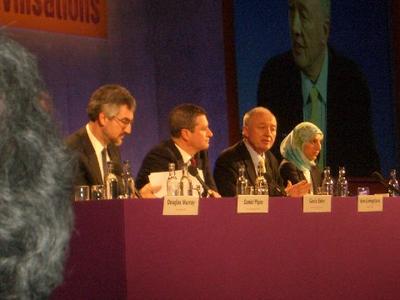 Ken Livingstone speaks.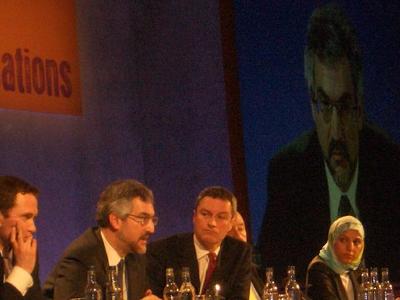 Daniel Pipes speaks.
Jan. 25, 2007 update: There is growing attention to the absence of mainstream media coverage. Two examples.
(1) Hilary marvels in "A Hypothetical Prize Fight":
a famous leftist politician and a famous conservative expert debate on a subject that is interesting because people are getting killed over it around the world, in one of the most important cities in the western world; all the media is present and after it is over, there is no coverage.

My question about this hypothetical situation, given the fact that there was no coverage: who won the debate, the leftist or the "conservative"? If the media shows up prepared for a fight and at the end of it shrugs and goes home, who won the fight?

The wrong contender, obviously.

Well, we'll never know because if a thing has not been reported by the BBC, it never really happened anyway. It's all purely hypothetical.
(2) A reader, Allan Levine, did some sleuthing into the absence of mainstream media coverage of the debate, specifically keying in on Livingstone having stated "I would not have created an Israel." Levine noted how, in contrast, the massive media interest in Livingstone's views about a game show contestant and took action: "I called the Evening Standard editor, who one would think, after Ken had likened one of their Jewish reporters to a concentration camp guard, would have jumped at the opportunity to show Ken up for what he really is, but the editor's reply was, he didn't think 'it was of public interest'." Levine concludes, wonderously: "The mayor of London expresses his opinion at a public debate that Israel should not have been created, and it's not of public interest. He expresses his opinion on an ignorant young woman renowned for her stupidity, and this is."
Jan. 28, 2007 update: A video of the four initial presentations – not the Greater London Authority's version but done by someone in the audience – is now available on the internet at http://www.youtube.com/profile?user=Willyatyouutube. For a single clip version of this entire video, see the posting at the Global Defense Group.
Feb. 1, 2007 update: I published the transcript of my opening statement today at FrontPageMag.com. It was no easy matter to reconstruct, but required the transcribing and proofing skills of five people in addition to myself who, over many hours of work, turned the poor audio of the YouTube video, with the aid of my quite extensive notes, into a reliable text.
Feb. 4, 2007 update: Douglas Murray reviews the debate on Shire News Network at podcast #77.
Feb. 5, 2007 update: Good quality audios of the debate have been posted at misc.activism.progressive in two sections, Part I and Part II.
Dec. 11, 2015 update: Ken Livingston, now the former mayor of London, has changed his tune since our debate in 2007, now fingering Islamism as the great threat to the West.
We now face a threat from Muslim fundamentalism. Most of which has been funded by Saudi Arabia, our principal ally, which has funded the most intolerant strand of Islam which bears no relation to the teaching of the Prophet Mohammed. ...

The right thing isn't being done, almost all Muslim fundamentalism has been funded by the Saudis and the Qataris, going back 70 years, spreading a particularly hate-filled Wahhabi strand of Islam and Britain and America should be saying to them 'You've got to stop funding this or you cannot be our ally'. ...

We need a broad coalition [against Islamism]. The West is discredited after the fiasco over the wars in Afghanistan and Iraq. We need to bring in not just Russia and Iran but China, Nigeria and Brazil as well. It needs to be the world standing together. That's what the UN was created for. ... If we don't recognize the threat and if we don't recognize our real allies then this could on for decades.
Jan. 9, 2017 update: Out of nowhere, an excellent recording of the first ten minutes of my talk has appeared at the periscope-clash.com website. I have also posted it at DanielPipes.org and will use it to correct the transcript.