The Nov. 24 deadline came and went for an agreement between the powers and the Islamic Republic of Iran; on that date, they managed only to extend the existing interim deal for another seven months. The ayatollah crowed and U.S. senators stewed. Looking beyond these responses, the current situation spurs several thoughts: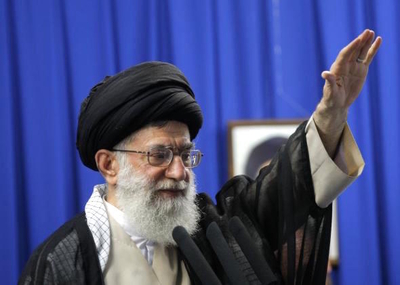 Ayatollah Khamene'i in a good mood, despite recent surgery. Could it be the American negotiators that cheer him?
If one assumes, as I do, that the apocalyptically-minded Iranian leadership will do everything it can to acquire The Bomb, then economic sanctions only serve to slow its course, not to stop it. Put more forcefully, the debate over sanctions is peripheral and even diversionary. The arcane financial and scientific minutiae of the negotiations tend to bury the only discussion that really matters – whether or not some government will use force to reverse the nuclear program.
That said, should the 114th Congress pass legislation with a veto-proof majority, this would be an unprecedented blow against Barack Obama and would presumably serve as a low-water mark of his presidency. But this signal event for American domestic politics is unlikely to affect the Iranian program.
Some governments (Russian, American) have the means but not the intent to destroy the Iranian facilities. Others have the intent (Saudi, Canadian) but not the means. This leaves only one player, which sort-of has the means and sort-of the intent: Israel. Given its in-between status, whether it will act is the $64,000 question. This is what preoccupies me and, I suggest, what others too should focus on.
Israel's conundrum appears genuine: On the one hand, this is only state to have knocked out nuclear programs (and it did so twice, in 1981 and 2007); on the other, the logistical challenge and supremely high stakes make this round far more daunting.
Not for the first time, the 8 million people of Israel have an outsized international role. There's a reason it has the highest per-capita number of foreign correspondents: whether it's classical music virtuosity, religious passions, high-tech breakthroughs, UN Security Council resolutions, or warfare, the Jewish state globally punches far above its weight.
(November 26, 2014)