Here's an observation of mine about an aspect of "War's New Face" from 2003:
The outcome of war used to be the overriding question. Nowadays, when it's West vs. non-West, the vast disparity in economics, technology, materiel, training and organization virtually assures a Western victory. This assumed, attention focuses on very different matters, such as the duration of hostilities and the number of casualties.
Note also how soldiers are now expected to observe police-like procedures and collect forensic evidence. Examples include U.S. forces vs. Saddam Hussein or Israelis vs. Hamas. The Western power fits the role of police force, the disgraced political leader becomes the criminal, and the non-Western population (e.g. Iraqis or Gazans) serves as victim of the crime.
Once-omnipotent leaders increasingly flee like common criminals, becoming fugitives. They hide from massive manhunts, are caught, tried, convicted, and jailed or executed. Consider cases along these lines:
Slobodan Milošević, president of Serbia, arrested in March 2001 and died in his prison cell.
Saddam Hussein, dictator of Iraq, caught in December 2003, executed.
Radovan Karadžić, president of Republika Srpska, arrested in July 2008 and being tried.
Osama bin Laden, terrorist mastermind, executed in May 2011.
Ratko Mladić, Bosnian Serb military commander, arrested in May 2011, his trial starts today.
Two others remain on the lam:
Mullah Omar, dictator of Afghanistan.
Mu'ammar al-Qaddafi, dictator of Libya.
Relatedly, the International Criminal Court has twice issued warrants for arrest against Omar al-Bashir, dictator of Sudan, on charges of genocide, crimes against humanity and war crimes.
Comment: This new pattern has become so common as to seem routine, especially with May 2011 being the occasion of two wanted men tracked down. But it is a recent development resulting from disparities in power and the growing sense of warfare being an extension of police work. (June 3, 2011)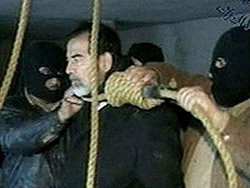 Saddam Hussein, about to be hanged.
Oct. 20, 2011 update: With Qaddafi gunned down today, hiding in a drain pipe under a highway, Mullah Omar remains the only tyrant-on-the-lam.