Barack Obama's mention of "nearly seven million American Muslims" in the course of his rambling and complex six-thousand-word address to the Muslim world from Cairo symbolizes the whole message.
Study after study has found that demographic figure about three times too high. But Islamist organizations like the Council on American-Islamic Relations and the Islamic Society of North America relentlessly promote the notion of seven or even ten million American Muslims. Obama's accepting their version amounts to a giveaway, a cheap way to win the approbation of Islamists who so widely influence Muslim opinion.
"Giveaway," indeed, defines the whole speech – inexpensive nods, tips of the hat, and salutations to win Muslim favor without initiating new approaches or embarking on new policies. The speech confirms Obama's personal efforts (note how, in keeping with his past practice, he uses the word "respect" ten times in this speech) as well as the established practice of American political leaders to promote Islam, tell Muslims what their religion really means, avoid references to radical Islam, and excoriate violent Islamism while accepting the non-violent variety.
On other issues too – Afghanistan, Iran, Iraq, Arab-Israeli conflict, democracy – Obama reiterated his known policies.
In brief, he broke little new ground but raised to new heights the art of sugaring words in ways appealing to Islamists.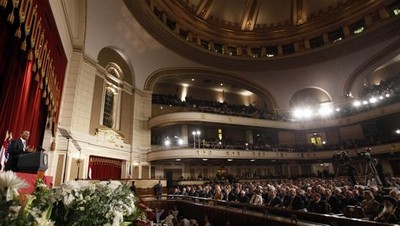 Obama speaking at Cairo University.
June 12, 2009 update: Queried by JTA about the "nearly seven million" figure, a White House spokesman replied that the "White House relied on public accounts and statements by officials from the prior Administration that place the number of American Muslims at around 7 million."