Hoping to raise money for the Democratic Party primary to take place in Pennsylvania on May 18, Arlen Specter sent out a
fundraising letter
specifically to Jews. In among the cringe-inducing prose ("This is always a very special time of year for our people. The Celebration of Freedom which we call Pesach has such a deep meaning to me, as I know it also does to you") comes this reference to his opponent, Congressman Joe Sestak:
I am being challenged in the Primary by a man who has openly criticized Israel. He has also gone out of his way to speak at a fundraising dinner for the Council on American Islamic Relations (CAIR).
Comments: (1) The letter says nothing more about CAIR, suggesting that Specter's campaign assumes his audience both knows about the organization and dislikes it. (2) This is the first senate race I recall in which a major candidate – indeed, the incumbent – has made CAIR a political factor. (3) But it is hardly the first in which the Arab-Israeli conflict features prominently as a political issue – indeed, Specter profited significantly from Lynn Yeakel's weakness on this very topic in 1992 to such an extent that some observers credited Specter's victory then to this factor. (April 1, 2010)
July 15, 2010 update: Specter's efforts came to naught and he lost the primary to Sestak. Sestak's hostility to Israel has now become an issue in the geneeral election as a new pro-Israel group, the Emergency Committee for Israel, has targeted him in an advertisement, "Sestak's Record."
Sestak protested Comcast's broadcasting the ad; Politico's Ben Smith has published a letter from Sestak's lawyer to Comcast, dated July 13, in which the lawyer, Jared G. Solomon, defends Sestak's pro-Israel bona fides (going so far as to state that, during his military service, he "was willing to put his life on the line to defend Israel").
CAIR comes into the picture, of course, and at some length:
Most offensively, the ad states that Congressman Joe Sestak "raised money for an anti-Israel organization the Federal Bureau of investigation called a 'front group for Hamas'" referring in the visuals to a group called the Council on American-Islamic Relations, or CAIR.

First, Congressman Sestak never raised money for CAIR. He once spoke at a CAIR event, but during a portion of the event explicitly free of fundraising. He has never solicited donations for CAIR. nor ever directed any of his staff, relations, or acquaintances to solicit donations for CAIR.

Also, the characterization of CAIR as an organization" the FBI called a front group for Hamas," is misleading in that it implies that the FBI had already labeled CAlR thusly at the time Congressman Sestak spoke at CAIR's event (which, as described above, is misconstrued in the advertisement as having raised money for CAIR). This characterization came a year after the CAIR event.

Further, it was not the FBI as an agency, but rather a single FBI agent who characterized CAIR as a "front group for Hamas." CAlR has never been indicted by the United States government for any crimes related to Hamas or any other terrorist organization.

This attempt to tie Congressman Sestak to Hamas is outrageous and will not be tolerated. The statement in the advertisement is at best misleading, and at worst false and deceptive.
To this, Noah Pollak, executive director of the Emergency Committee for Israel, replied today:
In March of 2007, as Politico reported, "Freshman Rep. Joe Sestak (D-Pa.) has ignited a controversy after agreeing to be the keynote speaker at an April 7 banquet and fundraiser hosted by the Philadelphia chapter of the Council on American-Islamic Relations." (Sestak Scheduled Speech to Muslim Group Causes Uproar by Josh Kraushaar, Politico, 3/19/07 – see addendum 1)

Indeed, by serving as the keynote speaker at a banquet and fundraiser for the Council on American-Islamic Relations, Rep. Sestak engaged in activity that by any standard must be considered fundraising – i.e. he raised money for the organization. No doubt if Sestak delivered a speech at a Sestak for Senate fundraiser, he would concede that he had "raised money" for his own campaign regardless of whether he solicited such donations in his speech. The notion that this portion of the event was "explicitly free of fundraising" is not credible on its face – attendees to see Sestak's speech were required to make a $50 donation to CAIR.

To the second point – our ad simply states that the FBI called CAIR a "front group for Hamas." This is factually true. The statement was made by FBI Special Agent Lara Burns during a retrial of the Holy Land Foundation case in 2008, and the charges made by federal prosecutors, and for which CAIR was named as an unindicted coconspirator, stemmed from activity that took place before Sestak's appearance at the fundraiser. (Judge due to rule on Holy Land defense evidence challenge by Jason Trahan, Dallas Morning News, 10/14/08, see addendum 2)

Furthermore, CAIR had come under scrutiny for ties to Hamas well before Sestak spoke at their fundraiser. As Newsweek reported in December 2006, California Senator Barbara Boxer had,

"rescinded an award to an Islamic activist in her home state because of the man's connections to a major American Muslim organization that recently has been courted by leading political figures and even the FBI.

"Boxer's office confirmed to NEWSWEEK that she has withdrawn a "certificate of accomplishment" to Sacramento activist Basim Elkarra after learning that he serves as an official with the Council on American-Islamic Relations (CAIR) . After directing her staff to look into CAIR, Boxer "expressed concern" about some past statements and actions by the group, as well as assertions by some law enforcement officials that it "gives aid to international terrorist groups," according to Natalie Ravitz, the senator's press spokeswoman.

"CAIR, which has 32 offices around the country and bills itself as the leading Muslim-American civil- rights group, has never been charged with any crimes, nor have any of its top leaders. But a handful of individuals who have had ties to CAIR in the past have been convicted or deported for financial dealings with Hamas—another reason cited by Boxer for her action." (CAIR Play by Mark Hosenball and Michael Isikoff, Newsweek, 12/29/06, see addendum 3)

The controversy surrounding Rep. Sestak's appearance at the fundraiser makes clear that he was well aware of CAIR's ties to Hamas – ties that were so close that other US Senators from his own party had expressed such concerns publicly. Further, the effort to dismiss this "single FBI agent" who characterized CAIR as a front group for Hamas ignores the fact that this particular special agent was speaking in federal court on behalf of the FBI and as the Special Agent most knowledgeable regarding the events in question.
July 15, 2010 bis update: Another race where CAIR plays a role, this one in Oklahoma: "Kevin Calvey , a [Republican] candidate for the 5th Congressional District seat, said Wednesday he refused a $25 online donation from Razi Hashim, the executive director of the Oklahoma chapter of the Council on American-Islamic Relations." Aug. 24, 2010 update: Calvey lost the Republican primary.
July 28, 2010 update: Sestak defended his appearance before CAIR in an interview:
I appeared at their dinner with other politicians, including Governor Rendell (D PA) and State Senator Andy Dinniman (D-West Chester), both firm supporters of Israel. But before I agreed to speak, I consulted a mentor of mine, Congressman Steve Israel (D-NY) for his advice. He gave me a copy of the speech Elie Wiesel made to President Reagan in 1985 when Reagan agreed to visit the German military cemetery at Bitburg. Wiesel did not mince words. He spoke truth to power and told Reagan it was wrong to lay a wreath at that cemetery where SS troops were buried. I used that speech as a model for my own speech to CAIR. And I told CAIR that if they had any hope of improving relations between America and the Muslim world, they must clearly condemn, by name, those Muslim organizations engaged in terror. That was my message to CAIR and I am glad I had the opportunity to make it.
July 29, 2010 update: (1) JewsForSarah.com, a new organization, put an ad in today's Philadelphia Jewish newsweekly, the Exponent, criticizing Sestak's position on CAIR titled "Rep. Joe Sestak hired Leader of terror-linked group."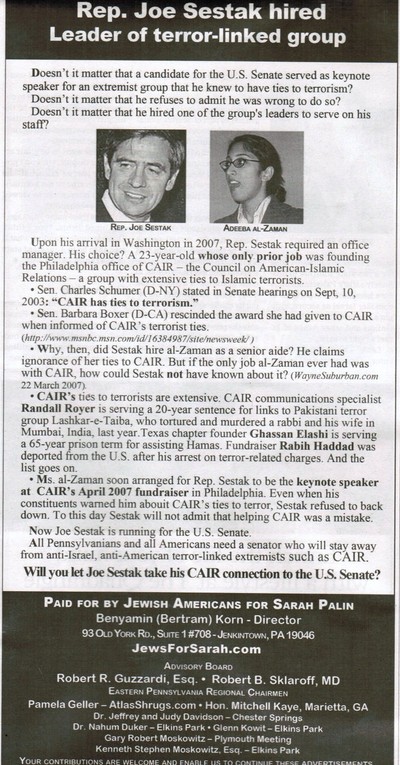 (2) The Philadelphia Inquirer published an oped by Benyamin Korn, head of JewsForSarah.com. Titled "Group has ties to terrorists: The congressman should have been more wary given its history," it excoriates Sestak for his ties to CAIR:
Joe Sestak's relationship with this group matters. U.S. senators play an important role in shaping our foreign policy. Pennsylvanians of all faiths who value America's national security will want a senator who recognizes the need to reject those with links to terrorism, not speak at their fund-raisers and hire their employees.
Oct. 29, 2010 update: "2nd Sestak scandal days before election" reads a WorldNetDaily headline just four days before the Nov. 2 vote. Art Moore details "a report asserting Sestak was caught in a lie – denying that he was ever in the home of the director of CAIR's Pennsylvania chapter for a fundraiser on his behalf." Here are the two contradictory elements:
"in an April 9, 2007, radio interview with WPHT's Dom Giordano in Philadelphia, Sestak told a caller he had never been at the CAIR leader's home." In more detail: "a caller named Brian confronted Sestak on his ties to CAIR. 'Have you ever received any funds from CAIR or have you ever been in the home of the chairman of the local CAIR?' the caller asked Sestak. 'No, I haven't,' the congressman replied. … 'You haven't been in Mr. Hussain's home?' Brian asked again. 'No, I honestly don't think I have,' Sestak said. 'I don't even know where he lives'."
"CAIR-PA's Iftekhar Hussain affirmed to WND's Aaron Klein yesterday in a recorded interview for Klein's WABC radio show that he hosted a fundraiser for Sestak during the 2006 congressional campaign."
Nov. 2, 2010 update: Toomey beat Sestak.