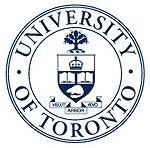 The University of Toronto logo.
Canada's invaluable
National Post
reports today
that the anti-Israel group Al-Awda is disallowed from holding a conference at the University of Toronto because it requires members to accept statements like "We support the right of the Palestinian people to resist Israeli colonialism by any means of their choosing." Other mandatory beliefs in its "Basis of Unity" statement include: rejection of the right of Israel to exist, asserting that Israel is a racist apartheid state, and calling for a non-negotiable Palestinian "right of return."
The university stopped the meeting on the ground that Al-Awda's requirement breaks university policy that stipulates student groups are forbidden from excluding people who do not agree with their mandates. "The student group must remove that pact as a condition of participation," said Sue Bloch Nevitte, a university spokeswoman.
To this, Al-Awda replied that the statements fall within the parameters of free speech. To which I comment: more free speech like this and Canada will soon resemble the Palestinian Authority. (November 22, 2003)
Nov. 28, 2003 update: Mughir Hindi, co-ordinator of the national Canadian Al-Awda, explained the purpose of requiring that the organization's six-point statement be endorsed as a requirement to participate in the conference. To quote Canada's Globe and Mail from today, the organizers hoped this step "would help create a space where students would feel secure discussing their views without being dragged into battle with Israel's supporters." Or, in Hindi's own words: "We don't want people to come in and heckle our students." This reminds me of freedom of speech as defined in Syria or by the Palestinian Authority.
Dec. 11, 2003 update: It looks like Al-Awda managed to convince the University of Toronto of its definition of free speech. The Jewish Tribune reports that Al-Awda won a green light to hold its conference, despite its continued requirement that participants endorse the "Basis of Unity" statement. The registration form included an assertion that "this event has been planned in a manner which is consistent with these principles," then listed those "principles" unchanged except for this: "We support the right of the Palestinian people to resist Israeli colonialism by any means of their choosing" became "We support the right of the Palestinian people to resist Israeli apartheid and colonialism by the means of their choosing" (dropping the word "any").
At the conference itself, attendees had to sign a registration form that outlined their acknowledgement that the conference was being planned "in a manner which is consistent" with the organizers' principles, including the provision on this right "to resist." That demand apparently worked to deter participation, as the conference, for all the media hoopla, attracted only about 60 people. Still, a principle was established, and it is not a good one.
Dec. 25, 2003 update: More bad news on the freedom-of-speech front. Should a Muslim student at the University of Toronto who attended the Al-Awda conference have the temerity to sympathize with Israel, well, she can expect some pretty rough handling. Sarah Nasser, 20, a third-year student, was accosted by a group of Arab students, reports the Canadian Jewish News, and told that she has no "right to exist." Sort of like Israel, I guess. (And, as a footnote, it's worth noting that Nasser is a leader of the University of Toronto Progressive Conservatives.)
Mar. 19, 2009 update: For another instance of imported Middle East customs and Western flaccidity, see my weblog entry, "Saudi Strong-arm Tactics in Virginia."