Specialists on the Middle East have their own brand of gossip, and one staple of the genre is how Arab men appreciate rotund women, a fact pregnant with implications for Arab-Western social relations. Now, various organizations have issued facts and figures confirming this propensity, as reported by Gautam Naik in today's Wall Street Journal Europe.
The article begins with a mildly horrific tale of gavage (French for force-feeding, the technique used to fatten geese for foie gras), known in Mauritania as leblouh, as applied to an 8-year-old girl in the western Sahara, Jidat Mint Ethmane.
Ms. Ethmane says she was required to consume four liters of milk in the morning, plus couscous. She ate milk and porridge for lunch. She was awoken at midnight and given several more pints of milk, followed by a prebreakfast feeding at 6 a.m. If she threw up, she says, her mother forced her to eat the vomit. Stretch marks appeared on her body, and the skin on her upper arms and thighs tore under the pressure. If she balked at the feedings, her mother squeezed her toes between two wooden sticks until the pain was unbearable. "I would devour as much as possible," says Ms. Ethmane. "I resembled a mattress." ...

Force-feeding is usually done by girls' mothers or grandmothers; men play little direct role. The girls' stomachs are sometimes vigorously massaged in order to loosen the skin and make it easier to consume even greater quantities of food. ... Local officials say some women are so fat they can barely move. In [a Mauritanian] survey, 15% of the women said their skin split as a result of overeating. One-fifth of women said one of their toes or fingers were broken to make them eat.
Naik provides a groaning board of statistics indicating "an explosion of obesity," especially in the oil-rich states where food is aplenty. The International Obesity Task Force, a London think-tank, finds 83 percent of women obese or overweight in Bahrain, 74 percent in the United Arab Emirates, and 75 percent in Lebanon. (Trailing not far behind, some 62 percent of American women fit these categories). The Journal of Nutrition in a 2001 study found half the women in Tunisia and Morocco overweight or obese. Further, the rate of childhood obesity has risen rapidly. A 2001 survey estimated that 22 percent of Mauritanian women have been force-fed as girls.
Governments are getting into the act because, the Obesity Task Force figures, being overweight brings on various illnesses (including diabetes, heart disease and gastric ailments); in all, these account for one-third of total health costs in the Middle East.
One interesting ally in their campaign for slenderness is the Western notion of female beauty. A 19-year-old explains that "exposure to Western TV shows and magazines convinced her it is healthier to maintain a middling weight," Naik reports. It will be fascinating to watch if Arab cultural attitudes change with the perception of health, as for example they did in the West concerning sun tans. (December 29, 2004)
July 4, 2007 update: Sharon LaFraniere reports some suprising and good news from Nouakchott in "In Mauritania, Seeking to End an Overfed Ideal." In brief, the government is doing what it can to change the traditional preference for obese women.
In recent years, television commercials and official pronouncements have promoted a new message: being fat leads to diabetes, heart problems, high blood pressure and other woes. ... Until lately, a Mauritanian woman in jogging shoes was roughly as common as a camel in stiletto heels. ... A 2001 government survey of 68,000 women found that one in five between ages 15 and 49 had been deliberately overfed. And nearly 70 percent ­ and even more among teenagers ­ said they did not regret it. ...

Other cultures prize corpulent women. But Mauritania may be unique in the lengths it has gone to achieve its vision of female beauty. For decades, the Mauritanian version of a Western teenager's crash diet was a crash feeding program, devised to create girls obese enough to display family wealth and epitomize the Mauritanian ideal. Centuries-old poems glorified women immobilized by fat, moving so slowly they seemed to stand still, unable to hoist themselves onto camels without the aid of men's willing hands.

Girls as young as 5 and as old as 19 had to drink up to five gallons of fat-rich camel's or cow's milk daily, aiming for silvery stretch marks on their upper arms. If a girl refused or vomited, the village weight-gain specialist might squeeze her foot between sticks, pull her ear, pinch her inner thigh, bend her finger backward or force her to drink her own vomit. In extreme cases, girls died. ...

In 2003, the women's ministry mounted a slim-down campaign, wielding messages that were anything but subtle. One television and radio skit depicted a husband carting his fat wife around in a wheelbarrow. Another featured houseguests raiding the refrigerator because their host was too obese to get up to feed them. Doctors were recruited to explain health risks. But messages spread slowly in the desert. Nearly three-fourths of Mauritanian women do not watch television, and an even greater share do not listen to the radio.
May 31, 2009 update: In coverage of a Saudi debate over women's sports, MEMRI quotes a columnist for the Saudi daily 'Okaz, Muhammad bin 'Ali Al-Harafi, who argues in favor of sports. One of his arguments refers to Mauritania as a negative example:
Isn't it obvious that young men are reluctant to marry fat girls? Only Mauritanian men still keep the old Arab tradition whereby a girl's status increases with her weight. Do [opponents of women's sports] want to send our girls to [Mauritania to find husbands]? Isn't it better to offer them [another] solution – sports?
Comment: This allusion suggests that the Western model of female beauty (along with romantic love and Valentine's Day) has progressed further in Saudi Arabia than I had realized.
Oct. 12, 2010 update: More on the efforts to end leblouh, by Mohamed Yahya Abdel Wedoud of CNN:
Mariam Mint Ahmed, 25, says it's time leblouh was consigned to history. "It is our responsibility as a young generation to put an end to the custom that threatens our lives," Mint Ahmed, a married trader who lives in the capital Nouakchott, told CNN. "I know so many innocent girls that were fattened up against their will to be married off and most of them got sick. I feel sad when I constantly see them struggling with blood pressure, hypertension and heart diseases. Girls here in Mauritania have suffered a lot from the tradition of leblouh. They are forced to eat up very large quantities of food and drink up bowls of goat's or cow's milk," Mint Ahmed added as tears welled in her eyes. ...

Before they used camel milk, nowadays the girls are force-fed with chemicals used to fatten animals. She tells us that girls who don't finish the fattening meals put before them can be punished. One method, according to Mint Ahmed, is to tie a girl's toes to sticks and if she does not eat, pressure is applied to the sticks sending shockwaves of pain through the girl's feet. "My mother started fattening me forcibly when I was 13-years-old. She used to beat me to eat more oiled couscous and fat lamb's meat. Each time I thought my stomach would explode," Selekeha Mint Sidi recalls.
Leblouh, however, still has support:
"Personally, I do believe that fattening girls is more than a necessity. Slim girls bring shame to their families and even their tribes as well. It's also difficult for them to attract men's eyes in our society," said 55-year-old Achetou Mint Taleb. "I had two daughters and I fattened them while they were eight to 10 years old, so both of them grew enormously, have married quickly and got children before the age of 17. They are managing their families and come to see me on weekends. I am now very proud of what I did," she added. ...
Mar Jubero Capdeferro, in charge of gender programs for the U.N. Population Fund in Mauritania, notes about leblouh that "With the younger generation it's regressing. Most of the families don't do it anymore... Before you didn't see women walking [in the streets]. Before they used to stay at home making tea, not go working. Now they go exercise, they walk." She says the tradition is regressing amongst the younger generation as they see the consequences. The older women, "now they're very fat, in their forties and fifties, they cannot even move, they have hypertension, diabetes, and so on."
A 2007 study by the Social Solidarity Association finds 7 percent of city girls forcibly fattened but nearly 75 percent in rural areas.
Apr. 9, 2013 update: A study titled "A Description of Female Genital Mutilation and Force-Feeding Practices in Mauritania: Implications for the Protection of Child Rights and Health" by Nacerdine Ouldzeidoune, Joseph Keating, Jane Bertrand, and Janet Rice reports:
"Mauritania ranks number one on a list of countries that celebrate female obesity; this celebration poses human rights violations if girls are being forced against their will to fatten, in addition to the public health concerns related to obesity."
23 percent of Mauritanian women say they were force fed.
The practice is almost entirely restricted to Arabs.
"Over 61% of those who had experienced gavage reported being beaten during the process and almost one-third (29%) reported having their fingers broken to encourage participation."
32 per cent of women and 29 per cent of men in the country approve of the practice being continued.
"These practices are unlikely to be discontinued in the near future without considerable effort to change cultural norms."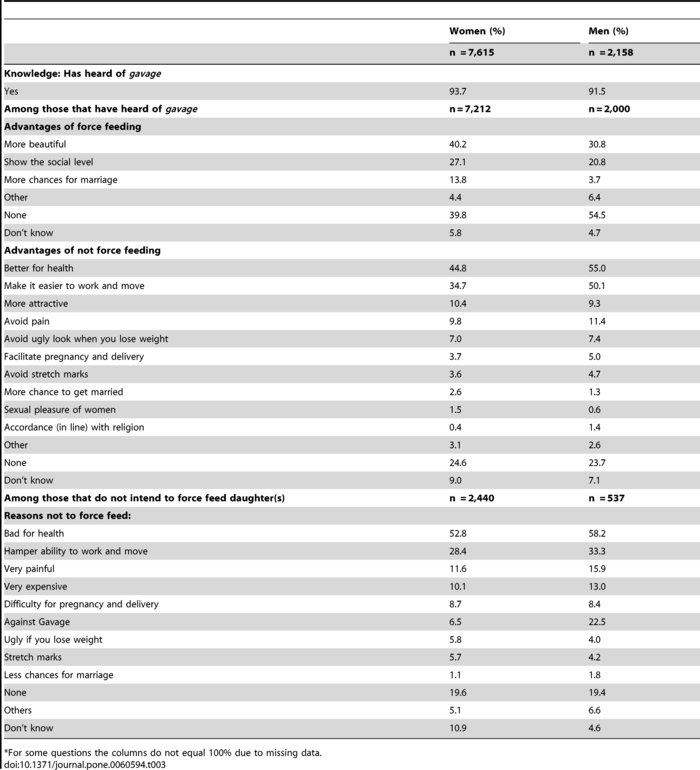 Some survey data about Mauritanian attitudes from the Ouldzeidoune et al. study concerning gavage.
July 15, 2013 update: Prior entries suggested that Mauritanians are moving away from the practice of leblouh but a report in London's Daily Mail on American journalist Thomas Morton's investigative trip to Mauritania for HBO's documentary series Vice suggests it is still going strong. This account also contains still and video photographs of the practice. Morton, we learn, did not just observe the practice but he joined in the 15,000-calorie diet as well as the pills that the Mauritanian women consume to assess the impact on his health.
For breakfast, the girls have breadcrumbs soaked in olive oil washed down with camel's milk. They then have frequent meals throughout the day of goat's meat, bread, figs and couscous, all with more camel milk to drink. Morton found that many refer to the over-eating as torture and parents have been known to crush their daughters' toes with pincers if they resist.

After trying the diet, Morton put on nearly a stone [14 lbs. or 6 kg] in two days and was left feeling bloated and unhealthy. He said: 'It feels like the food has filled my entire chest cavity and is now deflating my lungs.'

He questioned how the women must feel having to do this over a lifetime given how terrible it made him feel after two days. Their obesity also means the women are more likely to suffer from ill-health and develop problems like heart disease. Morton said he felt sick from the food he was having to consume, a problem often experienced by the Mauritanian women.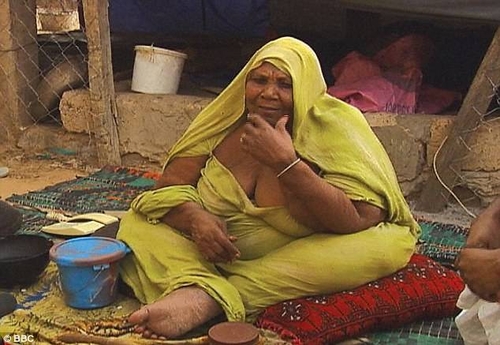 A Mauritanian victim of leblouh (gavage, force feeding).
It being the twenty-first century, they have found a work-around: taking steroid pills.
One local woman told Morton: "Medication is the modern form of gavage. Women use steroids and they are taking pills made for birds. These pills are not meant to be used by humans." The women said the animal growth hormones end up giving the women who take them a disproportionate body shape with a big stomach, face and breasts but thin arms and legs. She said: "The person now looks more like a seal than a human being."

The pill taking can also have dangerous side effects from infertility to heart failure. She said: "Women can't have children because of this type of gavage. The big problem is this often leads to heart failure, repeated heart attacks, rare are the ones who escape. There are consequences - diseases, malformations and insanity."
Mar. 16, 2019 update: A further description of leblouh, from an RT documentary:
"This is how we fatten up women," Lelhamel says victoriously as she wipes her granddaughter's mouth. "She drinks milk until the afternoon. We prepare couscous and she eats it, too. For breakfast, we prepare special milk, called 'amzik.' We churn the milk until butter starts to appear. Then we mix that with fresh milk," Lelhamel added. The baby girl's family hopes that she will weigh at least 100 kilograms (or 220 pounds) by the time she reaches ">"marriageable" age or that she eventually gains enough weight to appear of an appropriate age.

Aminetou Mint Elhacen, who runs a Leblouh camp in Atar (a commercial hub 272 miles from the capital, Nouakchott), receives approximately $155 for every girl she force-feeds over a three-month period. Every day, she expects her "clients" to eat around 40 egg-sized balls of oily couscous mixed with crushed dates and peanuts (around 300 calories each) along with 12 pints of goat's milk and gruel.

If Elhacen's young clients resist the force-feeding, she punishes them. "I'm very strict . . . . I beat the girls or torture them by squeezing a stick between their toes. I isolate them and tell them that thin women are inferior."
July 28, 2022 update: In rare recognition of this issue, the Economist has an article today titled "Why women are fatter than men in the Arab world," with a subtitle "Society does not make it easy to shed pounds."
Aug. 17, 2022 update: Well mores seem to be changing. Enas Taleb, 42, an Iraqi actress, demands a public apology from the Economist or she will sue the magazine for defamation.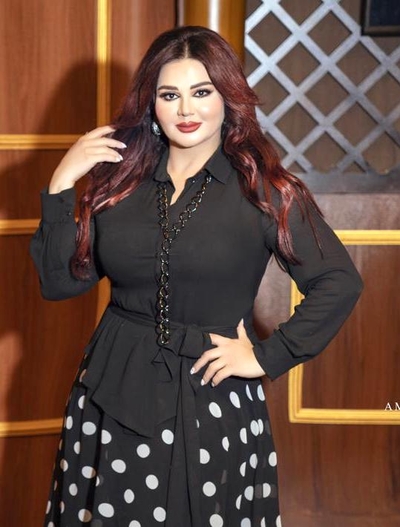 Enas Taleb.