Sade and four of his twentysomething friends sit at a hookah cafe almost underneath the Verrazano-Narrows Bridge in Brooklyn. It's late, but the summer heat is strong and hangs in the air. They sit on the sidewalk in a circle, water pipes bubbling between their white plastic chairs.

Sade is upset. He recently found out that his close friend of almost four years was an undercover police detective sent to spy on him, his friends and his community. Even the guy's name, Kamil Pasha, was fake, which really irked the 24-year-old Palestinian-American. After appearing as a surprise witness at a recent terrorism trial in Brooklyn, Pasha vanished. That's when Sade (who doesn't want his last name used) discovered the truth.

"I was very hurt," he says. "Was it friendship or was he doing his job?" He takes a puff from his water pipe. "I felt betrayed." The smoke comes out thick and smells like apples. "How could I not have seen this? The guy had four bank accounts! He was always asking for a receipt wherever we went. He had an empty apartment: a treadmill, a TV and a mattress. No food, no wardrobe." He shakes his head. "We were stupid not to figure it out." (September 25, 2006)
A young undercover city detective spent four years in the shadowy world of terrorist wanna-bes - taking part in jihadist discussions and training in parks in the dead of night - to get a handle on the homegrown threat. At great personal risk, he participated in everything from prayers at a mosque to martial arts training under cover of darkness to watching jihadist videos, with many of the activities laced with talk of killing, according to a source familiar with the undercover's investigations. ...

The detective spent his time interacting with informal groups of youths and men who shared extremist views - and his experiences illustrate what police say is the potential for radicalization of some elements in the community. He reported that after prayers at a neighborhood mosque, there were often private classes that included discussions about bombing different areas. The men discussed violent jihad in bookstores, private houses and on buses en route to paintball and shooting-range events.

He was invited to join in "bonding" activities like working out at a gym and martial arts training in parks at night, during which the group discussed ideological justifications for killing Westerners. He also watched military movies and jihadist videos with groups of young men in private homes. During one such evening, one man got so excited he punched a wall.

The detective reported that some youths became extremists after they traveled to their home countries; others went on the hajj - the pilgrimage to Mecca - and came back fired up by imams who encouraged violence as a religious obligation. Others, after visiting relatives abroad, became enraged at their family's living conditions and blamed the U.S. for supporting nondemocratic governments. Although the youths talked about ways to attack the U.S., they lacked a strong leader who could help them follow through on a plan, the detective reported.

The undercover, a Muslim who came to America from Bangladesh when he was 7, gave only a glimpse of his work as an undercover when he testified during the trial of the Herald Square bomb plotters, the only known New York City homegrown plot to reach the jihadization stage. ... The detective appeared in Brooklyn Federal Court two years ago as the final witness at the four-week trial of Shahawar Matin Siraj, 23, a Pakistani immigrant who was convicted of plotting to blow up the Herald Square subway station during the Republican National Convention in 2004. The detective was not involved in that case, but testified that he had come across Siraj during his undercover work.

Testifying under the fake name of Kamil Pasha, he said he was taken from the Police Academy in October 2002 to be a "walking camera," eyes and ears, among Muslims. He interacted with groups in Brooklyn and elsewhere in the city. The detective has been involved in "numerous" investigations for the intelligence division, part of a cadre of undercovers who act as listening posts.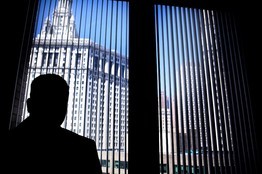 "Kamil Pasha" in silhouette.
The 30-year-old officer spent his childhood in Brooklyn and Queens, where he went to high school. He joined the force after graduating from the John Jay College of Criminal Justice in 2001. He said his undercover work has remained a secret to his friends, siblings and parents. During the posting, he told his parents he was working for a private security firm, and they now know he works for the police department.

He received individualized training so few would know he was a police officer; there would be no buddies from the academy to recognize him on the street. He said undercover investigators must walk a delicate line by playing the role of a potential terrorist and friend while refraining from pushing a plot forward.

The officer said only a few other members of the department knew of the life he developed in Brooklyn, as he rented an apartment, bought furniture, joined a local gym and slowly sought to become part of the community.

He attempted to maintain as much of his everyday personality as possible; he didn't change his habit of attending a mosque with some regularity, and he sought to make friends among the community.

The officer said he fit the profile of the young men he sought to meet: middle-class, first- or second-generation Americans in their late teens or early 20s. He said he watched the radicalization process of dozens. At times, it was so rapid that a year or two could separate clubbing in Miami from prayer five times a day. …

The groups he penetrated spoke frequently of jihad, or holy war, and enlisted him to train with them. By the time an attack on Herald Square was being plotted, the officer had decided to focus his time on another group in Borough Park that had converted to Islam while in prison.

Once with that group, he trained for jihad by going paintballing, climbing mountains late at night, shooting assault rifles at firing ranges. During one of these trips to a firing range, he says he felt the barrel of a 9mm handgun pressed to the back of his head. The officer said he was able to talk the youth down, though to this day he said he still doesn't know if he was being tested.