Of all the reporting on radical Islam in the United States, some of the least competent comes from precisely those reporters who should do the most outstanding job – those specializing in religion. I don't recall a single one of them producing a serious analysis of the Islamist groups that dominate Muslim communal life – the Council on American-Islamic Relations, the Muslim Public Affairs Council, the Islamic Society of North America, the Muslim American Society, and the like. Instead, they invariably write puff-pieces.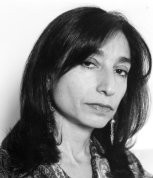 Geneive Abdo.
Some examples, culled over the years (with the caveat that some of these reporters no longer cover religion):
But – no surprise - my nominee for worst religion reporter goes to someone I have been watching since 2004:
Comment: (1) Is this incompetence a result of the mainstream media being so liberal that it cannot understand religion in general and radical Islam in particular? Probably. (2) As the MSM loudly laments its own demise, we conservatives see this as a mixed development, one that offers a chance for real improvement – and nowhere more than in the realm of reporting on religion. (March 29, 2009)
May 29, 2009 update: The Investigative Project on Terrorism news service published a long piece today, "Covering for the radicals: The Mainstream Media's 'Usual Bunch'," that looks at the more general coverage of U.S.-based Islamists.
Lisa Wangsness, religion reporter for the Boston Globe is exposed in "The Boston Globe vs. Free Speech" by Ilya Feoktistov and Charles Jacobs. In brief, the authors made large amounts of reliable and incriminating information about Islamists available to Wangsness, who refused to report on any of it. Two key sentences from their report: "Journalists like Lisa Wangsness of the Boston Globe have largely become instruments of a truly illiberal orthodoxy. Its fetishes and myths—that Western culture is racist, that Islam is the religion of peace, that Muslims are always victims, and that anyone who says otherwise must be denounced and silenced—can never be questioned. … Ms. Wangsness has redefined the role of the journalist from providing true information to promoting a group's dominant orthodoxy, which in this case also requires blacklisting, silencing, and employing neo-McCarthyism against those who violate its taboos." (February 15, 2013) Mar. 12, 2013 update: Apparently, Wangsness also had a hand in getting Robert Spencer canceled from a gig speaking for a Catholic men's group in Worcester, Mass.Apr. 20, 2013 update: The inimitable Wangsness came up with a unique angle today: "Islam might have had secondary role in Boston attacks." As the title suggests, the gist of the piece is to find reasons other than Islam to explain the Tsarnaev brothers' motives (such as Chechen independence – from Russia).