My article on June 1, "De-platforming in Daily Life," documented how conservatives are canceled in a range of contexts: "a restaurant, a ticketing service, ride-share companies, a cruise line, a hotel chain, President Trump's private club, a lodging broker, a retail store, an Internet provider, a video hosting company, banks, credit-card companies, a payment system, governments, and hospitals."
This weblog entry updates those cases.
June 7, 2020 update: Variety reports that "GoFundMe has suspended conservative political commentator Candace Owens's fundraiser for an Alabama cafe whose co-owner criticized the George Floyd protests. Owens also came under fire for controversial comments about Floyd while speaking with Glenn Beck."
Aug. 15, 2020 update: I have belonged for a few months to Nextdoor.com, a neighborhood information service. But no longer. I bailed rather than click on "I agree" to the page below. Not clicking it means no further access to the website. This demand for conformity feels too much like North Korea, where every activity becomes political. Will travel agents, grocery stores, website hosting services, hospitals and banks follow and also require declaratory obeisance?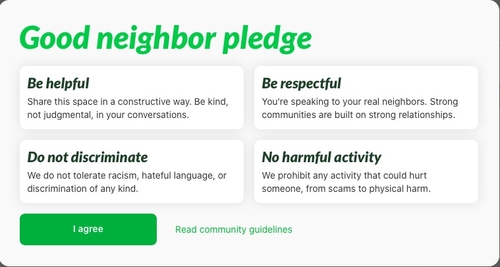 Jan. 10, 2021 update: In all the furor over Trump's actions vis-à-vis the Capitol riot on Jan. 6, the only non-social media restriction I have seen is the decision by Stripe not to process payments for the Trump campaign's website.
Jan. 15, 2021 update: Loews Hotels has cancelled a fundraiser for Josh Hawley at the Loews Portofino Bay Hotel in Orlando, Florida scheduled for Feb. 12-15.
Jan. 19, 2021 update: MyPillow's CEO Mike Lindell reports that Wayfair, Kohl's, and Bed Bath & Beyond will no longer carry its products due to his support for Donald Trump.
Jan. 20, 2021 update: Airbnb reportedly has banned more than 100 accounts with ties to alleged hate groups by setting up sock-puppet accounts on Facebook, Twitter and other fora weed out customers with suspected violent right-wing ties – none to suspected violent left-wing ties, it appears. ("Hate groups" seem to exist only on the right.) "When signals suggest a hate group member may be using Airbnb, we investigate and take appropriate action," Airbnb spokesperson Ben Breit told Engadget. "This information can come to us in many ways— including flags from members of our community, social media users or news articles."
Feb. 5, 2021 update: Chase Bank has de-platformed a pro-Trump company, Covfefe Coffee, and has preventing it from withdrawing its funds.
Oct. 26, 2021 update: In an article today, "Colby College Signals 'Conservatives Need Not Apply'," I note how an academic job announcement "not only weeds out anyone not on the Left but ensures that this outlook is ingrained into the scholar's future work."
Nov. 14, 2021 update: I have been indirectly canceled at a hotel.
- @TheBreakers is one of America's grandest hotels
- I've been fortunate to attend 15 @HorowitzCenter annual conferences there since 2003
- Now, the hotel has canceled the Center's future events because #DHFC is "controversial"
- Conservatives must boycott it until it apologizes pic.twitter.com/FKwpLCweaP

— Daniel Pipes دانيال بايبس (@DanielPipes) November 14, 2021
Dec. 29, 2021 update: The Royal Bank of Canada refused a mortgage to Rebel News to purchase a building on account of Rebel News' conservative politics.
Feb. 5, 2022 update: GoFundMe again: this time, it has blocked release of nearly $10 million in support of Canada's "Freedom Convoy" due to its alleged connection to "the promotion of violence and harassment" in Ottawa.
Mar. 20, 2022 update: Michael Young points to a whole new level of de-platforming in "We Will Delete You." The article responds to Canadian Prime Minister Justin Trudeau having gone in February "where no world leader has gone before" by becoming
the first Western leader to wield the financial system as a push-button weapon of government enforcement against opinions and behaviors that he found politically distasteful or inconvenient. This is an entirely new form of power, which much of the world has not even begun to reckon with—but which may well define our politics in the years to come.

The unification of finance and technology has allowed for new forms of trade, commerce, and business. The ability to make purchases worldwide, bank from home, do taxes on your couch, and get faster approval for financial instruments like mortgages makes our lives easier. But all of this comes with a catch: The same technology that delivers instant banking and worldwide access to things we like also creates the possibility for abuse of power the likes of which we have never seen.
Trudeau responded to the "Truckers' Convoy" that protested his COVID-19 policies by declaring a state of emergency,
and using its emergency powers began to freeze the bank accounts of anyone they had reason to believe was blocking roads and bridges—including not just the truckers and other protesters themselves, but those who financially supported them. Rather than having to go through the very difficult task of physically moving semitrucks, and fining, ticketing, or charging those who blocked bridges and roads, the government gave a simple order—and with a few keystrokes, people associated with the protest were almost completely locked out of Canada's financial system. Everything from paying mortgages, to buying gas, to getting a cup of coffee at a drive-thru became impossible for those that the government had deemed to be a problem.
And it's all so easy:
What happens when a government is no longer required to do the very difficult, friction-filled work of finding people, writing tickets, arresting them, charging them, granting them due process, obtaining convictions, and jailing the guilty? When the government can bring a person's practical participation in society to a standstill with the push of a button, it becomes silly to even talk about individual rights or due process. In the face of this new kind of push-button power, exercised at the whim of the governing party with zero legal oversight, individuals can simply be deleted from the system—even if, technically speaking, they are never charged with or convicted of a crime.

In the case of government action, this is bad enough—but at least in the case of elected officials, the people will still have their say, and the government will be held accountable for abuses of power in the next round of elections, as Trudeau may have feared when he revoked the government's emergency powers at the end of February.
Scarier yet, unaccountable private institutions also have this power:
A deeper concern is what happens when private institutions like corporations, universities, and media exercise the same power without even the pretense of accountability. If the large financial institutions want to, they can act as gatekeepers to society and would be held accountable only by the market, to which they also hold the keys. Given that institutions are heavily dependent on each other, if the institutions that hold important positions in the global financial web decide to freeze someone out, they can do so with the push of a button. Worse yet, we can imagine a scenario in which a system of freeze-outs could be automated based on people's credit scores, purchasing histories, political donation patterns, key words in social media postings, carbon footprints, or political activism. It's not hard to imagine a situation in which a citizen of a democracy wakes up one day to find themselves unable to participate in the digital economy, where almost all financial transactions take place, due to an automated system which flags them as being undesirable in some way.
This sounds perilously similar to the Chinese Communist Party's "social credit" score.
Corporations and government have always exercised tremendous power, of course. Government has a monopoly on the use of force, using the policing powers to enforce laws. Corporations have always exercised enormous power via market share, advertising, lobbying, and other financial instruments. But never before have they been able to lock ordinary citizens out of social participation with the flip of a switch.

This push-button tyranny is real, and it represents a greater abuse of power than any that has been exercised before within the boundaries of liberal democratic government. It is new, it is breathtaking, and it is very dangerous.
Mar. 30, 2022 update: My article, "Putin's Invasion Scrambles the West," looks at the impact of the Ukraine crisis on de-platforming:
Putin's outrageous actions confirmed and enhanced the Left's trend to exclude dissent. The International Chess Federation banned Sergey Karjakin, a Russian chess champion, from competing because he expressed support for the invasion. One Russian symphonic conductor, Tugan Sokhiev, temporarily resigned from the New York Philharmonic and the Orchestre National du Capitole in Toulouse. Another, Valery Gergiev, lost his position at the Munich Philharmonic because he did not respond to a demand from Munich's mayor that he within three days condemn Putin's "brutal war of aggression."

Most strikingly, opera singer Anna Netrebko did unhesitatingly condemn the invasion, but not Putin by name: "I am opposed to this senseless war of aggression, and I am calling on Russia to end this war right now to save all of us. We need peace right now." Perhaps she feared mentioning Putin out of fear for her family or some other legitimate concern. No matter: the Metropolitan Opera of New York City fired her, with General Manager Peter Gelb saying that "Anna is one of the greatest singers in Met history, but with Putin killing innocent victims in Ukraine, there was no way forward." Netrebko then preemptively canceled scheduled appearances at three major European venues and Centre Stage Artist Management dropped her as a client.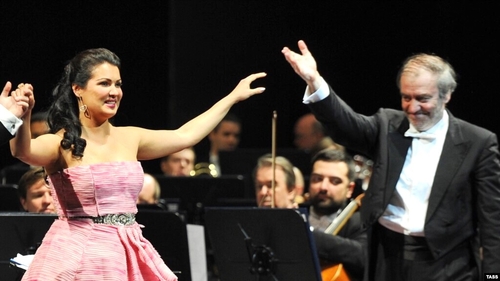 Russian soprano Anna Netrebko (L) and conductor Valery Gergiev.
The European Union demanded that search engines basically boycott any websites connected to Russia's government, including its RT and Sputnik media, and any reproduction of their content. On their own initiative, tech giants changed their algorithms to punish Russia.

The trend became slightly absurd. Alexander Malofeev, 20, condemned the war in Ukraine as "terrible and bloody" but was nonetheless canceled by the Montreal Symphony Orchestra, which declared it "inappropriate" to present him. The Peoria Symphony Orchestra replaced a work by the Russian Rachmaninoff with one by the German Beethoven. The Cardiff Philharmonic Orchestra deleted Tchaikovsky works from its program. The University of Milano-Bicocca in Italy canceled a lecture series on Fyodor Dostoevsky. Many other symbolic acts, such as dumping vodka with Russian-sounding names or renaming Russian dressing, rounded out the foolishness.

These precedents suggest a fearsome trend: clients dropped unless they endorse Black Lives Matter, students expelled if doubtful about anthropogenic climate change, employees fired for not signing petitions condemning "Islamophobia," shops forced to close due to legal action for an unwillingness to recognize gay marriage, states losing business over transgender toilets.
Apr. 10, 2022 update: Bret Stephens says the decision by the Boston Athletic Association to prohibit runners from Russia and Belarus from competing in this year's Boston Marathon, recalls a frat house character from National Lampoon's Animal House: "I think this situation absolutely requires a really futile and stupid gesture be done on somebody's part."
Apr. 16, 2022 update: The Financial Times actually published an article titled "Should Russian composers be banned in the wake of the conflict?" The author, Gillian Tett, hesitantly comes to the conclusion that no, they should not be: "there is so much to celebrate about Russia's creative legacy. We should not let Putin sully that."
Dec. 6, 2022 update: Metzger Bar and Butchery, a restaurant in Richmond, Virginia, canceled a Nov. 30 reservation for a private event being held by the Family Foundation, a conservative Christian organization, due to its opposition to same-sex marriage and abortion, and it did so just before the guests were to arrive. "We have always refused service to anyone for making our staff uncomfortable or unsafe and this was the driving force behind our decision," read the explanation.
Dec. 13, 2022 update: Rupa Subramanya asks "What the Hell Happened to PayPal?"
June 29, 2023 update: British politician Nigel Farage reports he's been de-banked by Coutts.
July 18, 2023 update: Farage made public a 40-page confidential paper explaining why he was de-banked. Coutts found that his views "do not align with our values."
July 26, 2023 update: In what I believe to be an international first, Alison Rose, the CEO of NatWest, which owns Coutts, resigned under pressure because of the Farage affair. Is this the start of a trend or a one-off episode?