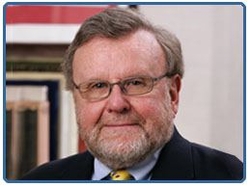 David C. Speedie.
David C. Speedie, a senior fellow and director of U.S. Global Engagement Program at the Carnegie Council for Ethics in International Affairs, recently wrote how he follows me "quite closely" and that my work is of no value because I don't "in any way question any aspect of Israel's policy."
He implies that my views should have no weight because I am a lapdog of the Israeli government with no mind of my own, just a p.r. agent or lobbyist for whoever's in charge in Jerusalem. This portrayal undermines my role as an independent analyst and therefore calls for refutation.
In fact, I disagree often and volubly with Israeli policies, as the following partial list suggests:
The entire Oslo process, and especially the naïve notion that one can make peace with one's enemies.
Nearly handing the Golan Heights to Syria in return for a piece of paper.
Toiling under the illusion that Mahmoud Abbas and other leaders of the Palestinian Authority want anything but the elimination of Israel.
Not having raised in the 1950s the issue of Jewish refugees from Arabic-speaking countries.
Wanting United Nations Relief and Works Agency (UNRWA) monies to go to the West Bank and Gaza.
Underestimating the importance of public opinion in contemporary warfare.
Not working to expand the 20 percent of Palestinians who accept the Jewish state into a majority.
The "strategic incompetence" of not fighting to win but only to reach a compromise.
Here's a choice passage I wrote in 2009, in an article indelicately titled "Israel's Strategic Incompetence in Gaza," in answer to the question "how well has Israel's leadership performed" in Gaza?
Disastrously. Jerusalem's profound strategic incompetence continues and heightens the failed policies since 1993 that have eroded Israel's reputation, strategic advantage, and security.
In brief, I advocate an Israel that seeks victory. Occasionally, I also take up other criticisms, as in a 2005 weblog entry, "Israel's Democracy Deficit," that compared Israel unfavorably with the United States vis-à-vis policy decisions and journalistic responsibility.
The current prime minister of Israel, Benjamin Netanyahu, spent an hour in March 2001 dressing me down for my portrayal of his 1998 diplomacy with the Syrian regime of Hafez al-Assad.
My disapproval of Israeli policies is so severe that one Israeli academic, Yoram Schweitzer, took it upon himself to scold me publicly (in the Jerusalem Post) for the "patronizing and insulting" quality of my critique concerning Samir Kuntar, prompting an extended debate between him and me on this topic. Speedie's criticism that I agree too much with the Government of Israel contrasts with Schweitzer's criticism that I disagree too much with it. To both, the same reply: I am an independent analyst who calls them as he sees them.
Obviously, someone who claims that I never criticize Israel does not follow me "quite closely." Obviously too, he does not have the above list in mind. Rather, he would have me protesting checkpoints, the "occupation," the "settlements," the "apartheid wall," the "Judaization of Jerusalem," and Gaza's being "an open air prison." Well no, I complain from the other side. But that should no less effectively dispel the insinuation of agency. (September 29, 2013)
Dec. 30, 2016 update: I criticize Binyamin Netanyahu today for being un-strategically emotional at "Obama, Kerry and Netanyahu Go Visceral."
June 29, 2019 update: Here's my unpleasant exchange with Jeremy Issacharoff, the extreme leftist who's Israel's ambassador to Germany.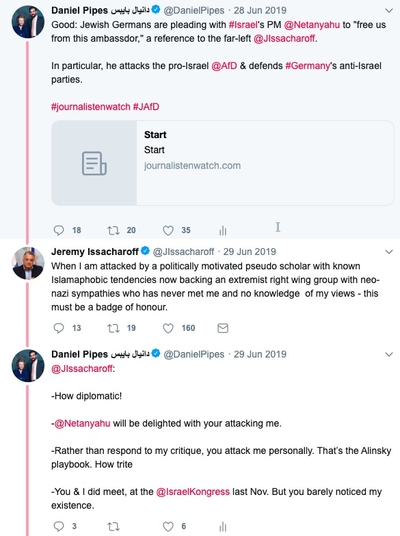 Sep. 19, 2019 update: More of my criticizing Jeremy Issacharoff.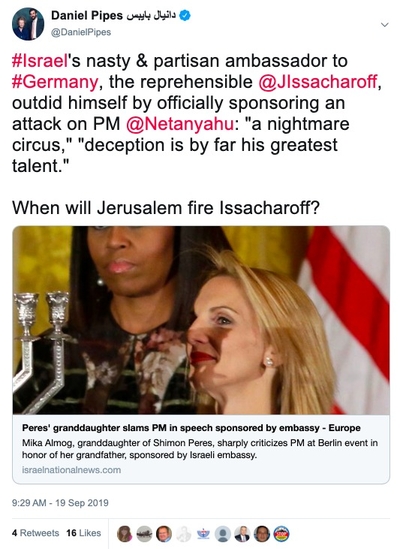 Feb. 22, 2020 update: Here's another example of my criticizing the Israeli government: this time it's Tel Aviv's Mayor Ron Huldai, for unlawfully taking down the Middle East Forum's posters in his city.
May 7, 2020 update: Today, I criticize the new Israeli government's plan to annex parts of the West Bank at "Annexing the West Bank Would Hurt Israel."
Dec. 28, 2021 update:
- Israel's highest honor goes to a pro-BDS professor
- Israel's leaders allow foreign funds to flow to Hamas, a designated terror group
- They also facilitate the PA's pay-for-slay program

Me: Might Israelis do no less than they ask of the outside world?https://t.co/WdbtrZJOgj

— Daniel Pipes دانيال بايبس (@DanielPipes) December 28, 2021
Dec 23, 2022 update:
Israel headline: "No ban on racist MKS, a curbed judiciary, more yeshiva funds, death penalty for terrorists, advancing annexation, potential anti-LGBT discrimination, gender-segregated public events."

Me: I am a conservative but not a crazy conservative.https://t.co/RttlJvKwpk pic.twitter.com/cPq5eg5Hyj

— Daniel Pipes دانيال بايبس (@DanielPipes) December 23, 2022