Building on my articles on the subject of Obama having been born and raised a Muslim, this weblog entry collects new information as it becomes available.
Not at mosque in Indonesia: The Daily Telegraph (London) quotes Zulfan Adi, described as 47 years old and running an internet café: "I've asked all the neighbours whether they saw him pray at the mosque and the answer is no, but he played around the mosque." The newspaper makes much of this quote (titling its long piece on Obama's Indonesian years "Barack Obama's childhood friends deny he was a Muslim") but the quote too directly contradicts the earlier one of Adi's quoted above, that Obama "was Muslim. He went to the mosque. I remember him wearing a sarong," to be taken at face value. (August 28, 2008)
Horsed around in Koran class: Andrew Higgins writes in the Washington Post about Santo Fransiskus Asisi at "Catholic school in Indonesia seeks recognition for its role in Obama's life." It includes these details:
An old school registry at Asisi records how, under the name "Barry Soetoro," he entered first grade at the start of the school year on Jan. 1, 1968. He was registered as a Muslim, based on his stepfather's faith. ... While at Besuki, Obama received instruction in Islam. But, recalled Rully Dasaad, a former classmate, Obama horsed around in class and, during readings of the Koran, got "laughed at because of his funny pronunciation."
(April 9, 2010)
Discusses his Christian faith: Cathleen Falsani, then the Chicago Sun-Times religion reporter, interviewed Barack Obama on Mar. 27, 2004, just after he had won the Democratic Party primary to run for the U.S. Senate from Illinois. She has posted the complete transcript of it. Portions relevant to Obama's Muslim identity include:
Cathleen Falsani.

FALSANI: What do you believe?

OBAMA: I am a Christian. So, I have a deep faith. So I draw from the Christian faith. On the other hand, I was born in Hawaii where obviously there are a lot of Eastern influences. I lived in Indonesia, the largest Muslim country in the world, between the ages of six and 10. My father was from Kenya, and although he was probably most accurately labeled an agnostic, his father was Muslim. And I'd say, probably, intellectually I've drawn as much from Judaism as any other faith. So, I'm rooted in the Christian tradition. I believe that there are many paths to the same place. …

FALSANI: Have you always been a Christian?

OBAMA: I was raised more by my mother and my mother was Christian.

FALSANI: Any particular flavor?

OBAMA: No. My grandparents who were from small towns in Kansas. My grandmother was Methodist. My grandfather was Baptist. This was at a time when I think the Methodists felt slightly superior to the Baptists. And by the time I was born, they were, I think, my grandparents had joined a Universalist church. So, my mother, who I think had as much influence on my values as anybody, was not someone who wore her religion on her sleeve. We'd go to church for Easter. She wasn't a church lady. As I said, we moved to Indonesia. She remarried an Indonesian who wasn't particularly, he wasn't a practicing Muslim. I went to a Catholic school in a Muslim country. So I was studying the Bible and catechisms by day, and at night you'd hear the prayer call. So I don't think as a child we were, or I had a structured religious education. But my mother was deeply spiritual person, and would spend a lot of time talking about values and give me books about the world's religions, and talk to me about them. …

one of the churches that I became involved in was Trinity United Church of Christ. And the pastor there, Jeremiah Wright, became a good friend. So I joined that church and committed myself to Christ in that church.

FALSANI: Did you actually go up for an altar call?

OBAMA: Yes. Absolutely. It was a daytime service, during a daytime service. And it was a powerful moment. Because, it was powerful for me because it not only confirmed my faith, it not only gave shape to my faith, but I think, also, allowed me to connect the work I had been pursuing with my faith.

FALSANI: How long ago?

OBAMA: 16, 17 years ago. 1987 or 88.
(August 19, 2010)
Attended Muslim classes and prayers: Obama's former grade three teacher at Menteng One in Jakarta says he studied the Koran and prayed with Muslims despite the objections of his mother, Ann Dunham, a Catholic, reports Anne Barrowclough for the The Times (London):
The teacher, Effendi, who taught at Menteng One for 29 years, remembers Mr Obama as a "fat, curly-haired, curious boy". The school had an international mix of pupils, including Christians, Hindus, Buddhists and Muslims. Mr Obama attended classes on Islam while the Christians attended classes on Christianity, said Effendi. Barry, he said, was alone among the pupils in that he insisted on attending both.

"His mother did not like him learning Islam, although his father was a Muslim. Sometimes she came to the school; she was angry with the religious teacher and said 'Why did you teach him the Koran?'" said Effendi. "But he kept going to the classes because he was interested in Islam. He would also join the other pupils for Muslim prayers."
(November 8, 2010)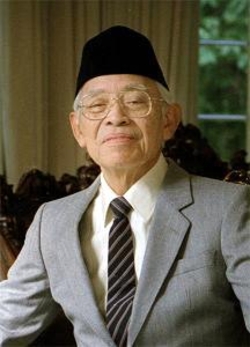 Muhammad Subuh Sumohadiwidjojo, the founder of Subud.
Barack Hussein Soebarkah? A speculative but informative analysis by Jason Kissner in the American Thinker connects Obama's mother, Stanley Ann Dunham, to the Subud cult, a small Muslim sect in Indonesia founded by a Javanese Muslim, Muhammed Subuh. If Kissner's analysis is correct, Obama's mother converted to a very attenuated version of Islamic teachings. (January 22, 2014)