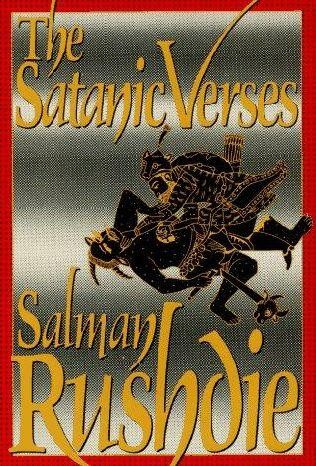 "The Satanic Verses" has had a major non-literary legacy.
Ayatollah Khomeini's edict struck down against British novelist Salman Rushdie and his novel
The Satanic Verses
twenty years ago today. It was a shot from the blue, completely unexpected, unprecedented, and outrageous, a shock that caused two full weeks of furor among literary, political, and religious lions.
To many, the event was quirky and unique, the product of an old man's extremist mentality; few imagined the edict would permanently alter Rushdie's life, much less that it would alter Muslim-Western relations more generally. As Rushdie himself explained last month: "There was a tendency from everybody to believe that it was an isolated incident rather than an indicator of something wider, to believe that it was all my fault."
In retrospect, however, one can see the deep importance of the edict. It strengthened the hand of radical Islam, encouraged Muslims to impose their will on the West, and inspired Muslims in the West to assert themselves. The Rushdie affair was, in short, one of the influential events of the age.
Also, this note offers a chance to report on two facts I had not known before: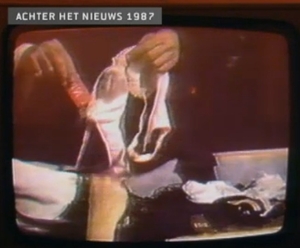 Screen grab from the Carrell clip of 1987 pretending to show Khomeini accepting admirers' brassieres.
(1) The Rushdie affair had been preceded two years before by the
Rudi Carrell affair
, when this presenter on German television ridiculed Ayatollah Khomeini by making it seem like Iranian women threw their lingerie at him on the occasion of the revolution's eighth anniversary. Both Carrell and the German government abjectly apologized when the Iranians made threatening noises.
May 24, 2013 update
: Paul Cliteur, writing in the journal
Ancilla Iuris
, tells about the
Dutch dimension of the Carrell affair
: briefly, a television station in the Netherlands was going to show the 14-second clip but did not when the country's foreign minister called him and dissuaded him - on air! - not to do so.
(2) The Raza Academy of Bombay, a Barelvi institution, claims that "In 1988 the first fatwa against the ill famed Salman Rushdie was issued by Raza Academy after obtaining it from Jaanasheene Huzoor Mufti e Aazam which was published in the Daily Hindustan on the 11 November 88 and on 12th November in Inquilab and Urdu Times." (February 14, 2009)