I published an article today, "A Decent Outcome Is Possible in Gaza" arguing that "upon seizing control of Gaza, Israel can reasonably expect to find plenty of residents ready to work with the new authority to create an administration that could return them to normal life."
The following entries provide information pertinent to this prospect.
(1) Private information indicates that the Israelis are thinking along the lines I sketched out above. Publicly, however, they are signaling the opposite. Thus, Gilad Erdan, Israel's UN ambassador, said "We're not thinking now what will happen the day after the war. ...We need to win this war and that's the only thing we're focused on." (October 17, 2023)
(2) Joe Biden has correctly observed that "A significant portion of Palestinian people do not share the views of Hamas."
(3) This may come as a surprise, but the Oslo Accords offer a basis for renewal in Gaza:
Days after the accords were signed, the Multilateral Steering Group of the multilateral talks on Middle East peace established the Ad Hoc Liaison Committee (AHLC) as the principal coordination mechanism on policy and political matters related to economic development in the West Bank and Gaza Strip. The AHLC subsequently established the Local Aid Coordination Committee (LACC) to devolve the donor coordination process. The LACC in turn established twelve sub-committees, known as Sector Working Groups to cover agriculture, education, employment creation, environment, health, infrastructure and housing, institution-building, police, private sector, public finance, tourism, and transport and telecommunications. Israel can now revive a version of those Sector Working Groups.
Oct. 18, 2023 update: Shirit Avitan Cohen writes in Israel Hayom that during a War Cabinet meeting, "the ministers decided not to address the question of what would happen next: Who will rule the Gaza Strip; what will this look like; and what Israel's role will be in that constellation."
Oct. 20, 2023 update: Defense Minister Yoav Gallant announced the post-Hamas "creation of a new security regime in the Gaza Strip, the removal of Israel's responsibility for day-to-day life in the Gaza Strip, and the creation of a new security reality for the citizens of Israel and the residents of the [area surrounding Gaza]." Excellent news.
Oct. 23, 2023 update: In a powerful analysis, Robert Satloff writes:
As an inveterate optimist, I hope that out of this crisis comes opportunity. Perhaps this opportunity is eventually to make in Gaza a reasonably well-functioning administration that puts first the needs of its citizens, and not the ideology of its rulers.
Sadly, his next sentence undermines this hope: "Maybe this is to repair the dysfunctional Palestinian Authority, so that it can one day assume its rightful responsibility as ruler of Gaza and peace partner with Israel."
Oct. 25, 2023 update: (1) Unfortunately, Jonathan Rynhold and Toby Greene want to bring the Palestinian Authority into Gaza - a horrible idea - but they have good, practical ideas of working with Gazans going forward: "Israel must plan now how it can incorporate elements of the existing bureaucracy into a stable post-Hamas political order."
(2) Lewis Libby and Douglas J. Feith have the right idea:
there are surely ... Gazans who oppose Hamas tyranny, regretting the 15 years of waste and oppression Hamas has inflicted on Gaza and hoping to build better lives. Many presumably want to live peacefully beside Israel and are horrified that in their name Hamas murders, rapes, and kidnaps Israeli civilians, drawing IDF fire upon their homes. ... For them, the coming months will surely bring suffering, but will also present an opportunity. ...

Seldom in history has an oppressed people had such strong prospects of outside help as the Gazans have. Americans, Europeans, and others would eagerly assist 2 million Gazans who take a stand for a new, honest government that respects its people and favors peace through mutual compromise with Israel. Israel would help, too.
Oct. 27, 2023 update: Natan Sharansky: Israel's security can be assured only by a free Palestinian society, in which people "enjoy a normal life, normal freedom, the opportunity to vote and have their own human rights." But his plan is unrealistic: "An international body - comprised, preferably, of Saudis and Emiratis ('all those rich countries who recognize our right to exist) - would have to help the Palestinians build "an independent economy, a normal education, normal housing, a civil society."
Nov. 1, 2023 update: And now, for a completely original idea.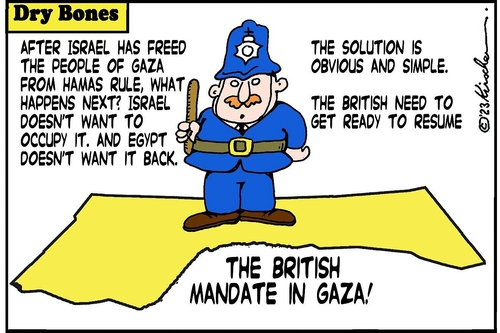 Nov. 2, 2023 update: (1) H, a former resident of the Shejaiya neighborhood in Gaza City, now in exile: When Gazans saw what Hamas did on Oct. 7, "they began to say he was a fool and a madman. People are very tired of war. It's enough – how much more? Enough. We know that Hamas started this war, what [Hamas leader Yahya] Sinwar did was suicidal."
(2) U.S. Secretary of State Antony Blinkin endorsed something potentially along the lines of what I proposed: "We can't have a reversion to the status quo, with Hamas running Gaza. We also can't have ... Israel running or controlling Gaza. ... In between those ... are a variety of possible permutations that we're looking at very closely now."
(3) Joseph Braude reports on the "Voices of Gaza" project of the Center for Peace Communications. Select quotes from Gazans:
"When Hamas distributes the aid, only Hamas members get the aid." The same applies to Gaza's healthcare system, where "Hamas families get preferential treatment" and even the most urgent needs of others "could be delayed for a long time so that Hamas loyalists are treated first."
"Hamas bears responsibility for all the wars, but we're the ones who pay the price."
"Ending Hamas is the demand of young and old alike in Gaza."
"We welcome any change that will save us from this indignation called Hamas."
Braude concludes: "In drawing attention to Gazan voices opposed to Hamas, we aim to show that a different, brighter, and more peaceful future is possible—one that merits international support—because of the Palestinians in Gaza who yearn and strive for it. As one of the speakers, who you can hear below, in our original series put it, "The makings of our dream are all here."
Nov. 3, 2023 update: (1) Gershon Baskin, a far-left Israeli with many connections in Gaza: "Had Palestinian elections been held prior to October 7, it is highly doubtful that Hamas would have gained more than 30% of the vote – even less in Gaza than in the West Bank because in Gaza they have experienced 17 years of Hamas rule."
(2) Amaney Jamal, Princeton University: In Gaza, about 67 percent have little or no trust in Hamas. If presidential elections were held today only about a quarter said that they would vote for Ismail Haniyeh, the leader of Hamas.
Nov. 5, 2023 update: During a live Al Jazeera interview in Gaza, an unnamed, elderly, wounded Gazan is asked by a reporter if the Israeli bombing surprised him:
Yes. It was not one house that was bombed. An entire compound was erased. Over 15 or 20 houses. Is this a humane act? No, this is a criminal act. As for the Resistance [i.e., Hamas] – they come and hide among the people. Why are they hiding among the people? They can go to hell and hide there.
Nov. 6, 2023 update: An unnamed Israeli official said in a Hebrew-language briefing with Israeli reporters at the military headquarters in Tel Aviv: "I don't see any situation in which Israel doesn't have ultimate security responsibility in Gaza." He added that after Hamas is toppled, "it won't be enough to do just a rehabilitation of Gaza. It must go through a process of de-Nazification."
Nov. 7, 2023 update: Benjamin Netanyahu: "Israel for an indefinite period will have the overall security responsibility."
Nov. 8, 2023 update: (1) According to the Wall Street Journal, Egypt's President Abdel Fattah Al Sisi rejected a U.S. proposal "to manage security in the Gaza Strip until the Palestinian Authority can take over after Hamas's defeat." So, scratch that idea.
(2) UK Foreign Secretary James Cleverly: "As soon as practicable, a move towards a peace-loving Palestinian leadership is the most desired outcome" in Gaza.
(3) Benny Gantz suggested the Government of Israel has no idea what comes next: "Once the Gaza area is safe, and the northern area will be safe, and the Judea and Samaria region [West Bank] will calm down, we will sit down and review an alternative mechanism for Gaza. I do not know what it will be."
Nov. 10, 2023 update: Prime Minister Netanyahu offered the outline of his plans:
What we have to see is Gaza demilitarized, deradicalized and rebuilt. All of that can be achieved. We don't seek to conquer Gaza. We don't seek to occupy Gaza. And we don't seek to govern Gaza. In the foreseeable future... We have to have a credible force that, if necessary, will enter Gaza and kill the killers. That's what will prevent the emergence of another Hamas-like entity.
Nov. 11, 2023 update: (1) Netanyahu specifies a bit more: " "Gaza will be demilitarized, and there will be no threat to the state of Israel. The IDF will continue to maintain security control in the Gaza Strip to prevent terrorism."
(2) A pro-Hamas reporter asks a young girl in Gaza about the "resistance" and gets a surprise reply: "Hamas is putting the people of Gaza in danger. Its fighters are hiding in the tunnels, while Gazan civilians are the victims."
Nov. 12, 2023 update: (1) Reports from Gaza indicate that resentment against Hamas is growing:
Across Gaza, rare scenes of dissent are playing out. Some Palestinians are openly challenging the authority of Hamas, which long has ruled the enclave with an iron fist, in scenes unimaginable just a month ago. Four Palestinians across Gaza spoke to AP on condition of anonymity for fear of reprisals about what they've seen.

A man who was told off by a Hamas officer for cutting the bread line took a chair and smashed it over his head, according to an aid worker in line. In another area, angry crowds hurled stones at Hamas police who cut in front of a water line and beat them with their fists until they scattered, according to a journalist there.

Over the past few nights in Gaza City, Hamas rockets streaming overhead toward Israel have prompted outbursts of rage from a UN shelter. In the middle of the night, hundreds of people shouted insults against Hamas and cried out that they wanted the war to end, according to a 28-year-old sleeping in a tent there with his family.

And during a televised press conference Tuesday, a young man with a dazed expression and bandaged wrist pushed his way through the crowd, disrupting a speech by Iyad Bozum, spokesman for the Hamas-run Interior Ministry. "May God hold you to account, Hamas!" the man yelled, shaking his wounded hand.
(2) Shaul Bartal of the BESA Center foresees two stages after Israeli forces seize Gaza: First, "the establishment of a full Israeli military government over the entire Gaza Strip ... a temporary government aimed at ensuring peace and security until a regional solution receives international support."
The second stage, following the establishment of the military government, is for Israel to seek the integration of local and regional forces, including military forces, into the newly formed government. This would mainly include local Palestinian elements, Egyptians, and additional regional countries with an interest in maintaining security stability in the region.
Nov. 16, 2023 update: Israel's President Isaac Herzog: "If we pull back, then who will take over? We can't leave a vacuum. We have to think about what will be the mechanism; there are many ideas that are thrown in the air."
Nov. 17, 2023 update: (1) Benjamin Netanyahu on Israel's goals in Gaza: "Destroying Hamas, returning our hostages, and assuring a different future in Gaza, different from the one that we had before."
(2) Jason D. Hill, professor of philosophy at DePaul University: "We may have to think of the future of Gaza in terms of temporary or permanent trusteeship, military occupation, annexation, or rehabilitative colonization."
Nov. 19, 2023 update: (1) Jeff Jacoby, Boston Globe columnist: "A new Israeli administration in the territory, explicitly committed to nourishing a healthy civil society, is the best option for paving a path to effective and peaceful self-rule. Countless Palestinians, chafing under Hamas autocracy in Gaza, have long yearned for a better and freer life. Now there is a chance for them to achieve it. Once Israel has won its war, they and their Palestinian neighbors together can win the peace."
(2) Khalil Shikaki, head of the Palestinian Center for Policy and Survey Research: "Israel will find essentially no one willing to step in to replace the Israeli army, including the Palestinian Authority. In the short term ... Israel will have no choice but to run the affairs of 2.2 million Palestinians living in Gaza. I can't see any other alternative."
(3) Henry Kopel, U.S. analyst, endorses "nation-building" in Gaza to build a "governance structure in Gaza that prioritizes the well-being of the territory's civilians."
(4) In a typical article of despair, the Economist asks "What happens to Gaza after the war?" and has absolutely no good ideas, predicting that Gaza will become "another of the Middle East's failed states, broken but never rebuilt."
Nov. 20, 2023 update: Ghadir Hani, a Muslim Israeli citizen:
I have many memories from my visits to the kibbutzim on the border, where together we planned initiatives with partners inside Gaza who, with great courage and great risk to their own lives, reached out to us to communicate their belief in peace. They told me how hard life was in Gaza, in a prison surrounded by fences. Hamas's cruel hold has oppressed anyone who dares to believe in a different future for [Gazans].
Nov. 22, 2023 update: Mark Regev, senior adviser to the prime minister: "Israel has no desire to occupy or rule Gaza but Gaza must be in peace with its neighbours and run by a Palestinian government that will work for the welfare of all the people of Gaza."
Nov. 24, 2023 update: A poll commissioned by The Jewish People Policy Institute on November 15-18 finds 21 percent of Israelis endorsing a Palestinian government in Gaza that is neither Hamas nor the Palestinian Authority.
Nov. 25, 2023 update: Baruch Yedid writes at "Arab Countries Seek Post-War Gaza That is 'Neither Abbas Nor Hamas'" that Arab leaders
are promoting a plan for post-war Gaza ruled by "neither Abbas nor Hamas," which is being welcomed in Washington, the Tazpit Press Service has learned.

In talks hosted by Qatar and elsewhere, senior Arab officials are promoting the goal of establishing a new Palestinian body to rule the Gaza Strip, ruling out a return of the Mahmoud Abbas-led Palestinian Authority.

These countries are pressuring Hamas to clear the way to allow the rehabilitation of the Gaza Strip while explicitly threatening that under Hamas the countries will refrain from any involvement and assistance in the rehabilitation of the Gaza Strip.

"One dollar will not flow as long as you control the Gaza Strip, the leadership of Hamas was told," an Arab source told the TPS, adding that the Arab countries are equally pressuring Abbas to vacate his place to allow the establishment of a new Palestinian body, which will take over the responsibility for the management of the Gaza Strip.

The new Palestinian body would be tasked with rebuilding Gaza under the auspices of significant economic aid from the Arab and Gulf countries, with Qatar playing a possible leading role.