In a press conference on Jan. 12, Edward A. Mitchell of the Council on American-Islamic Relations stated the following at 25:02 about an individual named Tariq Nelson:
Mr. Nelson mentions that IPT [the Investigative Project on Terrorism] connected him with Daniel Pipes. ... Mr. Pipes called Mr. Nelson. And Mr. Pipes, according to Mr. Nelson, asked him to start speaking out against Muslims, the Muslim, the mainstream Muslim community, which is what some other extremist Muslims have done in coordination with hate groups. Tariq Nelson refused to do that and therefore the Middle East Forum did not work with him.
Searching my records for all communications with Tariq Nelson, I found a short exchange of texts with him between Feb. 23 and Mar. 10, 2017: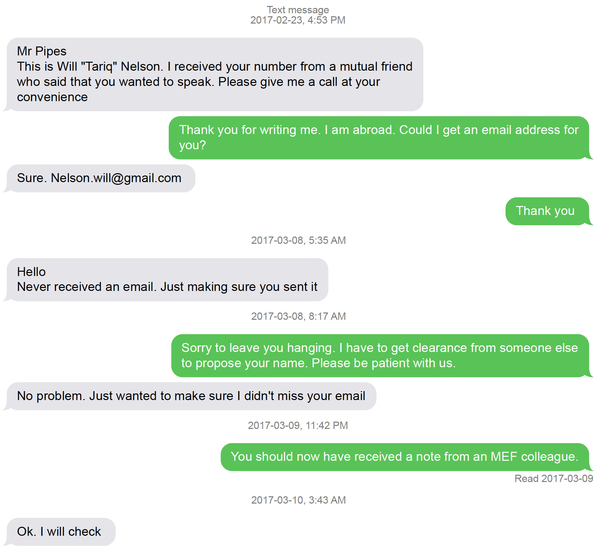 The complete communications between Tariq Nelson and Daniel Pipes.
The Middle East Forum's archives reveal plans at that time for a meeting with an Indonesian delegation in April. To make the most of that meeting, MEF sought articulate and representative American Muslims. Thinking that Nelson might be suitable for this to join our team and having met him at an event titled "Jihad in America: Grand Deception" hosted by the Investigative Project on Terrorism at the Newseum on Oct. 25, 2012, I asked Steven Emerson for Nelson's contact information on Feb. 23, 2017. That same day Nelson contacted me in the text above. I then wrote an MEF colleague and suggested we consider inviting him to take part in the Indonesia meeting, which that colleague then did. So far as I can reconstruct it, these were my only contacts with Nelson.
With this background, count the errors in CAIR's statement:
I did not call Nelson; rather, he texted me.
In fact, I declined Nelson's request to speak.
I did not ask him to do anything at all, much less "to start speaking out against Muslims, the Muslim and the mainstream Muslim community." A colleague sounded him out about joining the U.S. delegation for a meeting with Indonesians.
Nelson never refused to do something I requested.
Comment: CAIR's fiction here fits into a tradition of deception going back to the year 2000. Indeed, I have compiled an entire bibliography of "My Writings on Not Trusting CAIR" which includes an article and a blog on its dirty tricks versus me. Despite this ignominious record the mainstream media's love affair and credulity continues. Inexplicably, CAIR remains a publicity powerhouse. (January 18, 2022)