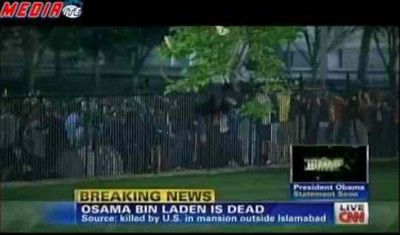 A crowd gathered spontaneously outside the White House to celebrate the demise of Osama bin Laden.
Bin Laden was just a part of Al-Qaeda which is just a part of the Islamic terrorist effort which is just a part of the Islamist movement, so the announcement of his death today by the U.S. government makes little operational difference (a point I have been making at least since
2004
). The war on terror has not fundamentally changed, much less been won.
But because bin Laden symbolized Islamic terror, his taunting presence via video and audio recordings for nearly ten years after 9/11 energized his allies and frustrated his enemies. Conversely, his execution by U.S. forces in Abbottabad, Pakistan gives Americans pride in their country, encourages the security and intelligence organizations, and is a body blow to Islamists.
What to watch for ahead:
On the American side, will the sudden unanimity and pride last for more than a few days? Or will the Left's usual reluctance snap right back?
Concerning the Islamists, how severe will the reaction be to the Zardari government acquiescing to American forces killing bin Laden on Pakistani soil? And how much will Americans and American interests abroad and at home be subject to terrorist attacks in response to the execution of the jihad's symbolic leader?
Looking at the larger picture, Osama bin Laden's termination fits into a pattern of decreased Islamist emphasis on terrorism and increased political activity. What has Al-Qaeda to show for the death and destruction it has wrought; more specifically, where have its efforts led to the application of the Shari'a (Islamic law)? For that matter, what did Khomeini achieve with the Islamic Republic of Iran, which before long is likely to collapse?
Islamists who work within the system, building educational, media, legal, and political organizations seeking to apply the Shari'a are more impressive by far. Turkey's elected Islamist government has much better prospects than Iran's revolution one. Islamists are coming to realize that working within the system succeeds better than trying to overturn the system.(May 1, 2011)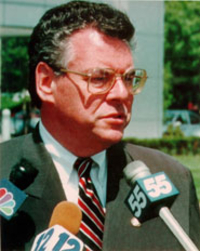 U.S. Rep. Peter T. King (Republican of New York) tells some hard truths about Al-Qaeda.

Oct. 16, 2012 update: U.S. Rep. Peter T. King (Republican of New York), the chairman of the House of Representatives' Homeland Security Committee, said today that Al-Qaeda's operatives are "a greater threat than they were back on September 11, because of the fact that they are much more spread out, the fact that there is active recruiting going on, people under the radar screen, and if you talk to intelligence experts, most will agree with that." He went on to state that Al-Qaeda "has now spread out into many different groups, and that is why it is considered by most intelligence experts to be more dangerous now than it was then, and that's the story the president is not telling. … It was great killing … bin Laden, I give President Obama credit for that, for bin Laden being killed, but having said that, he was one element."