| | |
| --- | --- |
| Joelle Aubron |   |
|   |   |
Take a look at the picture at left of Joelle Aubron, a French woman just released from prison for health reasons (a brain tumour) after serving seventeen years for her murderous activities in Action Directe, the extremist left-wing group.
Note anything odd about her headgear? It's a Palestinian-style kefiye. It may not be exactly what you'd expect a French woman to wear (in the Middle East, by the way, it's a purely male article of clothing), but her wearing it serves as a perfect symbol of the blossoming red-green alliance. Leftists and Islamists are both totalitarians and both hate Western civilization – so what does it matter that they differ on some niggling details, for example about women? For more on this alliance and its implications, a key topic, see my "The Left ♥ CAIR, MPAC, et al." and watch for David Horowitz' forthcoming Unholy Alliance: Radical Islam and the American Left, published by Regnery. (June 17, 2004)
Jan. 11, 2005 update: "Red" Ken Livingstone embracing Yusuf al-Qaradawi makes another good picture of the red-green love affair.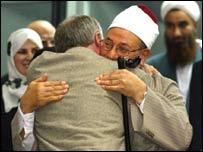 Ken Livingston (back to camera) embraces Yusuf al-Qaradawi
May 13, 2006 update: Here's another picture-perfect representation of the alliance: Noam Chomsky chatting with Hassan Nasrallah, leader of Hezbollah. Chomsky announced to the press while at Hezbollah's headquarters that he supported its being armed: "I think Nasrallah has a reasoned argument and persuasive argument that [arms] should be in the hands of Hezbollah as a deterrent to potential aggression," a reference to Israel.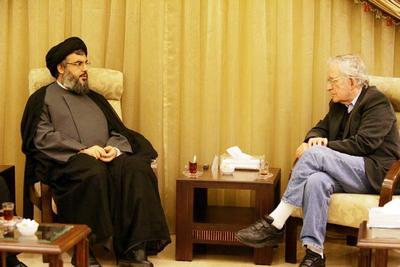 Hassan Nasrallah of Hezbollah (left) talks to Noam Chomsky of MIT
July 20, 2006 update: The outside world is not fully aware of how very far-left is the prime minister of Spain, José Luis Rodríguez Zapatero, but it will soon enough learn. In the meantime, here is his statement of allegiance in a picture. Note that the kefiye's checkered pattern ends and a representation of the Palestinian colors follows.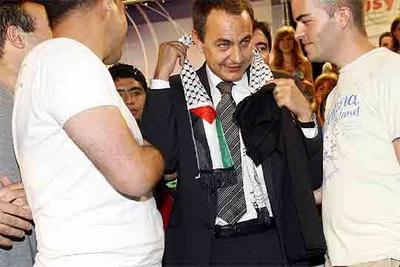 José Luis Rodríguez Zapatero
This picture brings to mind one posted on Jan. 26, 2004 of Howard Dean, then a Democratic candidate for president, draped in a kefiye,
Howard Dean in kefiye.
Aug. 12, 2006 update: A "Stop the U.S.-Israeli War" rally took place in San Francisco today and zombietime.com has a page of pictures, one more disgusting than the last, of signs carried at it. Here is one of the more innocuous, but very much in keeping with the gist of this weblog entry.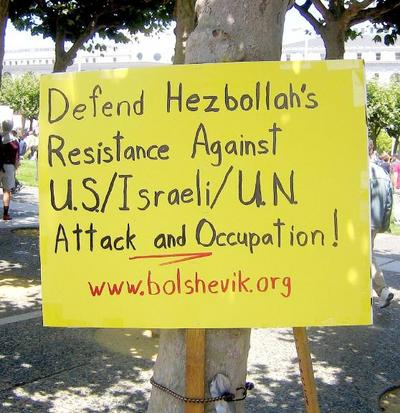 Seen in San Francisco.
Aug. 18, 2006 update: A funeral procession for Hizbullah terrorists in Srifa, Lebanon, also included a send-off from some communist friends.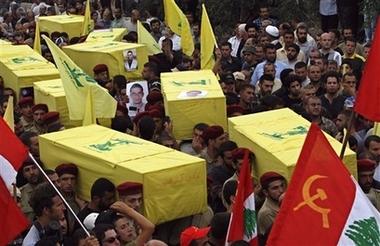 Seen in Srifa, Lebanon.
Jan. 1, 2009 update: In an anti-Israel demonstration organized by the Arab European League in Antwerp, Belgium, that turned into a riot on Dec. 31, 2008, a picture of Venezuela's Hugo Chavez is held aloft right next to a sign declaring "We Need You Osama."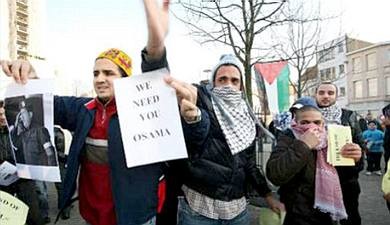 Seen in Antwerp, Belgium.
And, in an undated picture, here is the real Chavez, practically kissing Iran's Mahmoud Ahmadinejad.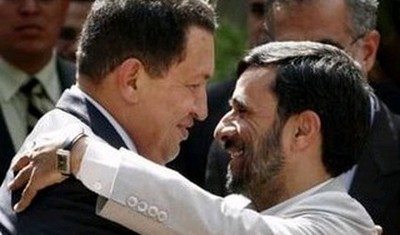 Hugo Chavez and Mahmoud Ahmadinejad, getting cozy.
Jan. 10, 2009 update: A vicious anti-Israel demostration in San Francisco, captured in photographs and video by the brave "Zombie," includes a picture of a man wearing a Che Guevara cap and carrying two antisemitic signs, "TARGET ALL ZIONIST BUSINESSES" and "EVERY ZIONAZI IS A LEGITIMATE MILITARY TARGET."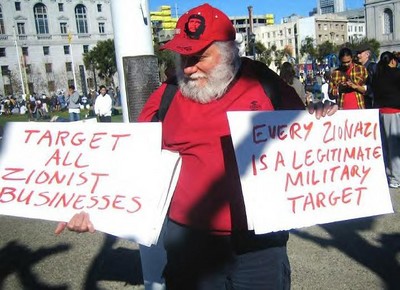 Seen in San Francisco.
Mar. 10, 2009 update: Ismail Haniyeh of Hamas, right, handed George Galloway of the UK a symbolic VIP Palestinian passport during their meeting today in Gaza City.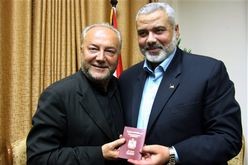 Respect and Hamas, in friendship.
Jan. 11, 2010 update: Code Pink, a far-Left U.S. organization, placed an advertisement on the Muslim Brethren's website today, inviting the latter to "Arrest the War Criminals!" and "Join us in cleansing our country!"

Code Pink appeals to the Muslim Brethren.
Feb. 11, 2013 update: Catch Claudia Roth, German Green Party leader giving the high-five to Reza Sheikh Attar, the Iranian ambassador in a video clip.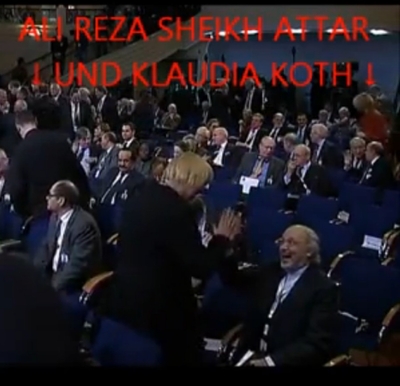 Caught on camera: German Green leader chumming around with notorious Iranian ambassador.