There's something about the Arab war on Israel that inspires cockamamie "peace" ideas. It seems like anyone with an expertise or avocation thinks that his special interest might help reduce Arab-Israeli tensions. Architects, physicians, musicians – they all imagine they can assuage hostilities. This weblog entry documents some of the more outlandish ideas.
---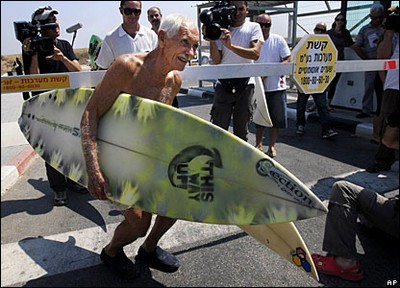 Dorian Paskowitz, 86, a legendary surfer from Hawaii, personally handed over some of the surfboards he brought to Gaza for "peace" purposes.
Dorian Paskowitz, described by the
Associated Press
as "an 86-year-old Jewish surfing guru from Hawaii," went to Gaza armed with 12 or 15 new surfboards (the news reports disagree how many) to donate to Gazans. Paskowitz, a former world champion, explained how he had been moved to read about two Gaza surfers who had only one board to share between them; and they were among the Gazans at Erez to receive the boards. That one of them, Muhammad Jayab, described himself in the article that inspired Paskowitz as sympathetic to Hamas did not bother Paskowitz who declared that "To be able to go to your enemies and give them something that makes them happy is a most fulfilling adventure." Paskowitz, a retired medical doctor known affectionately as Doc, offered some philosophy: "God will surf with the devil if the waves are good. When a surfer sees another surfer with a board, he can't help but say something that brings them together." He also
spoke poetically
about the industrial revolution the boards would bring to Gaza. "From a board comes a group of guys who ride. From the group comes a business, then an industry, then a fantastic amount of money. I'm talking about billions, all from one board." (August 21, 2007)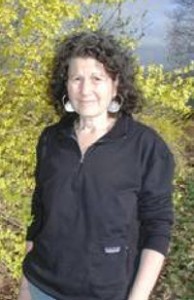 Linda Sikorsky of "Ultimate Peace."

Mar. 20, 2009 update: It's one and a half years later – and Parkowitz's surfboards have apparently not yet ended the Arab-Israeli conflict. But, no fear, along come Linda and Robert Sidorsky of Massachusetts with their Frisbees. They call it the "Ultimate Peace" initiative, and it will take the couple (along with a documentary filmmaker and an "intercultural liaison") on April 1-5 to eight Israeli and Palestinian villages where 150 to 200 Palestinian and Israeli players ages 11 to 14 will play side by side in combined ethnic teams.
Says Linda: "It isn't about politics. This is about kids learning to get along, and have fun." They note that the game has no referee but instead a "spirit of the game," that calls for mutual respect of opponents. Says Robert (a veterinarian – so, like Paskowitz, in the medical business): "You can't purposely block a guy, or purposely interfere with someone else's movement." Adds Linda: "That's huge to teach kids. With Ultimate Peace, we're trying to give them tools they can learn and understand through a sport. The whole idea of bringing Israeli and Palestinian kids together is working around this whole concept of the 'spirit of the game'."
Interestingly, the Peres Peace Center in Tel Aviv is assisting in the effort with transportation, translation, visa and parental arrangements for the event and visits to the villages. The Sidorskys raised about $70,000 to cover expenses and are bringing about 450 Ultimate Peace discs, in addition to plastic cones and jerseys. Linda does add a note of sanity to the undertaking, however: "We're not going to solve the Middle East conflict." But she does see the Frisbee players becoming "the models for how people can be with each other."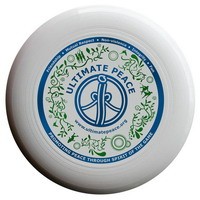 An "Ultimate Peace" Frisbee.
May 13, 2010 update: The surfing idea is revived, this time celebrated in a documentary titled God Went Surfing with the Devil by U.S. filmmaker Alexander Klein. Mairi Mackay of CNN explains:
"God Went Surfing with the Devil."

Over the past few years, a number of groups, some based in Israel, have made it their business to try to help the Gaza surfers. Explore Corps and Jewish Surfing 4 Peace have sent surf boards and wetsuits to the 20 or so Palestinian wave riders, hoping to extend the hand of friendship across the bullet-pocked border.
Klein, former pro-skateboarder who first visited Israel in 2004, found this theme irresistible: "It seemed like an important story to tell. So much of the Middle East narrative is a conflict narrative. Here was a story about young guys who could have been coming together to shoot at each other, but instead all they want to do is surf together."
Klein spent five days filming in Gaza. ... He hung out with the surfers of the Gaza Surf Club and said everyone he met there was "peaceful" and "really kind" and "so excited to be surfing." ... Matt Olsen, of Explore Corps, one of the founders of the surf club, believes small acts of friendship, like this, can help the peace process from the bottom up. "We think that this is a great way to get people to connect and get people to talk." ... Olsen is currently working with the Gaza Surf Club on building a clubhouse with a weights room, board repair room and somewhere to watch surfing videos, as the surfers don't have a place of their own.
July 20, 2010 update: If surfing can't solve the Arab-Israeli conflict, how about just a day at the beach? "Combatants for Peace," which promotes coexistence between Israelis and Palestinians, has organized Mediterranean Sea visits this summer for about a thousand West Bank youth who in usual circumstances would not have permission to go into Israel. Says Tzvia Shapira, who initiated the program, "The sea belongs to everybody, not only to Israel." Let's see if the beneficiaries of this program share that goodwill.
July 19, 2011 update: Israeli authorities issued more than 60,000 permits to West Bankers to visit. They went mainly to schools and summer camps, so they can take children into Israel to visit beaches, the zoo, and mixed Jewish-Arab cities. An official explained the motivation behind this program: "We want Palestinians, especially young ones, to see another kind of Israeli, not only soldiers and settlers. Anything that can help them blow off steam and relax. Perhaps instead of demonstrating in September they'll go to the beach." Why take them to the zoo? A guide explains: "In addition to ecologic explanations, we try to convey a message of coexistence, between animals and human beings, and among people as well. Politics does not come into it. It's a completely different atmosphere and they're engrossed in looking at the animals."
Jan. 21, 2022 update: If Al-Monitor is to be believed, surfing has taken off in Gaza, with the Government of Israel its main impediment.