A UAE-based company, Manazel Al Haramain (meaning "residences in Mecca and Medina") had a brainstorm: the most expensive land in the whole world is that adjoining the Grand Mosque in Mecca (costing as much as $93,000 a square meter) and the Prophet's Mosque in Medina. Yet 70 percent of property owners do not live there year-around. So, why not bring the concept made famous at beaches and golf courses internationally and start a timeshare program in those two cities? Dubbed the Manazel Al Haramain Programme, it offers, in the words of a publicity write-up, a Shari'a-compliant opportunity "for Muslims around the world to own their second home near the two holy mosques in Makkah and Madinah – and enjoy a unique quality lifestyle opportunity."
Manazel Al Haramain Programme is offering 5,645 housing units – studio, one, and two-bedroom apartments – in the holy cities in units of seven days per year for a twenty-year period at a fixed price. Four buildings are currently under construction: Al Shurfa tower in Mecca, directly overlooking the Grand Mosque; and Al Haram, Al Qeblah and Al Sabaq in Medina.
The Times (London) reports that prices range from 9,000 to 250,000 Saudi riyals ($2,400-$67,700) for a 20-year lease according to the time of year chosen, the size of the apartment and whether it has a view of the holy mosques in each city. Of course, the Islamic (or hijri) calendar is in operation here and the hijri year is 10-11 days shorter than the solar year, so that means there are 48 weeks per year, with the balance used for maintenance. High season includes the fasting month of Ramadan and the week of the Hajj, the annual pilgrimage season. (Visits during other times of the year is known as the 'umra or Umrah.)
Manazel Al Haramain staff assists non-Saudis to obtain entry visas; obviously, the program is open only to Muslims, as non-Muslims are strictly forbidden from entering the two holy cities.
"Programme members need not to make any prior reservation arrangements before their regular entitlement time," adds the press release. "They just arrive and occupy the place," which they will find ready for use. Essam Awadh, chief executive and managing director of the Manazel al-Haramain, notes that "Unlike all other space share solutions in the kingdom, Manazel Al Haramain Programme is not just a collection of luxurious residential units but also a comprehensive package of quality services provided by world's renowned specialised providers of space share opportunities."
Awadh points out the long-range implications of this approach for the holy cities. "Projections estimate the flow of Umrah pilgrims to be in the region of 18 million a year" in five years. Drawing on the Central Department of Statistics at the Ministry of Hajj, he notes that registered Umrah visitors increase about 6 percent per year and Hajj pilgrims 3.6 percent. Mecca being surrounded by mountainous country, the only way to accommodate the expanded population is by building up; and timeshare is the most efficient way of doing that.
Comment: Non-Muslim persons maybe prohibited from Mecca but at least some of their ideas are most welcome. (July 5, 2004)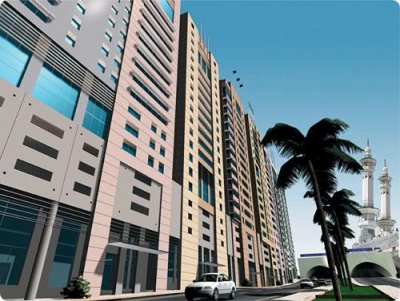 Oct. 2, 2005 update: Nor are non-Muslim companies unwelcome in Mecca. Le Meridien chain, founded by Air France and now primarily owned by Lehman Brothers, has teamed up with RCI, a Parsippany, N.J. company that describes itself as the provider of "the most comprehensive network of travel and vacation exchange products/services," to announce Le Meridien Towers (in Arabic: Burj Al Muttahed) in Mecca, scheduled to open early in 2007.
The project is being developed by Saudi Amjad in association with Al Fassel Global Services. The AFGS general manager, Jamal Al Sellami, notes that "the whole project conforms to the Sharia principles of Sokouk. We have undertaken considerable research to ensure compliance with Islamic values. We're sure that this innovative approach will provide many benefits for pilgrims to Makkah and will build the reputation of partial ownership."
The property, with its 1,335 studio, one-bedroom and two-bedroom apartments, is not exactly adjacent the Great Haram mosque but, as the prospectus puts it, "located 1900 metres from the Holy Kaaba. The exact location is the outer side of the tunnels of King Abdul Aziz's door, which lead directly to the entrance to Al-Masjid Al-Haram." The building boasts separate prayer rooms for men and women, a health club, restaurants, and luxury shops. Purchase not only gives property rights but a "Guaranteed visa for 25 years" to gain access to Mecca. Prices? A one-bedroom apartment for six ordinary nights, $12,000; for five nights within the first 20 days of Ramadan: $21,000; and for 30 nights during the hajj, $170,000.
Nov. 14, 2006 update: An even more luxurious timeshare, called the ZamZam tower, is under construction by the Binladin Group, the firm founded by Osama's father. Costing $390m, the luxury development offers five-star accommodation, a shopping center, restaurants and car parking. A month's rental on a tiny 33 sq meter studio with a view Haram as-Sharif, including, the Ka'ba, costs £93,500 during the Hajj. A city view apartment for a week costs £3,600 in low season. At present about 4 million people visit during Hajj and 3 million during Ramadan. More details:
ZamZam is part of the Abraj al-Bait complex, one of the largest construction projects in the world, measuring 1.4m square metres. The 480m-high complex will include six other towers besides the ZamZam, two helipads and a four-storey shopping mall. It will be the tallest building in Saudi Arabia and, once completed, one of the tallest in the world. According to the Riyadh chamber of commerce and industry, Mecca has become a property hotspot. Investment during the last three decades has totalled £57bn and land in Mecca can cost up to £50,000 a square metre - more expensive than Manhattan or Mayfair.

Talal Mahmood Malik is chief executive of Alpha1Estates, which is selling timeshares for the 1,240 suites to Muslims in the UK and Europe. In the company brochure, prospective buyers are told they can expect an average rental return of between 10% and 15% a year.

An imaginary lobby at Le Meridien Towers in Mecca.
Jan. 23, 2009 update: That pious talk about building Le Meridien Towers (in Arabic: Burj Al Muttahed) in Mecca with "Sharia principles" and "Islamic values" (see the Oct. 2, 2005 update, above) turns out to have been a cover for fraud. The Towers' website posted a long and complex announcement today explaining what went wrong: the key paragraph is this one, referring to Saudi Amjad (SA) and Al Fassel Global Services (AF):
Although a lot of clients have received their deeds for the properties they have purchased, there are the unlucky few who have not. After several enquires to AF and SA, these clients were told that due to internal issues their deeds had been delayed and would be issued soon. However, it quickly became apparent that AF was holding on to some of the funds and not passing everything to SA and that was one of the reasons why the deeds had not been issued.
Looking to the future,
Al Muttahed have recently announced that they will buy back all the units from every purchaser that has in the possession a set of title deeds at the initial purchase price. … For clients who still have no title deeds – Unfortunately Al Muttahed is not offering a refund in your situation.
Comment: This stunning news confirms a pattern of irregularity in Islamic finances.
Mar. 2, 2009 update: A second letter to timeshare owners informs them that Al Muttahed is not replying and the Saudi embassy in London won't help.
Mar. 9, 2009 update: A third letter sounds even more despondent: owners are elaborately instructed how to send their deeds back to Al Muttahed in Riyadh, followed by this observation: "Insha'Allah, we pray that upon receipt of your documents, Al Muttahed will action the payment ASAP, which should be credited to your account."
June 16, 2009 update: I discuss this general problem of fraud at "Be Careful of Investing in Islamic Financial Institutions."