I have followed Bridges TV in a weblog entry, "Were Investors in 'Bridges TV' Misled?" since it opened shop in 2004, critical of its faked demographic figures and its Islamist outlook. One hasn't heard much about Bridges TV for a while, however, presumably because its once-shimmering prospects declined under the weight of the realities of North American demographics.
But it is about to reappear in the news with a vengeance, and for the most ironic possible reason. The station that Muzzammil ("Mo") Hassan, 44, founded with the achingly benevolent idea, in the words of a November 2004 biography, to help "non-Muslims overcome the negative images they may have of both Muslims and Islam" has now abundantly enhanced negative images of Muslims and Islam.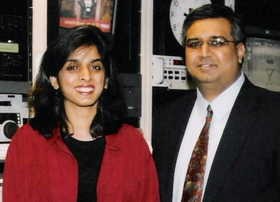 Aasiya Z. and Muzzammil S. Hassan in happier times.
Today comes news from Orchard Park, near Buffalo, New York, of
Hassan's arrest
on a second-degree murder charge for having beheaded his wife, Aasiya Z. Hassan, 37. Aasiya (known professionally as Aasiya Zubair) had recently filed for divorce and won an "
Order of Protection
" forcing him out of their shared house; it appears that Hassan attempted to create a murder scene for police that would allay suspicion of himself, but failed in this.
Erie County District Attorney Frank A. Sedita III offered his view that "Obviously, this is the worst form of domestic violence possible." The Western New York chapter of the Muslim Public Affairs Council issued an untitled press release on Feb. 13 calling the murder an instance of domestic violence and condemning it as such as anti-Islamic:
The Muslim community unreservedly condemns domestic violence of all types (including the so-called honor killing). Such crimes are despicable and unequivocally prohibited in Islam. Islam celebrates and protects human life. Muslims of all shades and opinions know that.
Comments: (1) No, this is not at all obviously about domestic violence. We do not know enough; it could be crime of passion or it could be something much colder and yet more vicious, namely an honor crime. District attorneys tend to refuse to see the latter but Phyllis Chesler establishes this distinction clearly in a forthcoming Middle East Quarterly article, "Are Honor Killings Simply Domestic Violence?" Spring 2009, pp. 61-69. She provides a table sketching out the differing characteristics of honor killings and domestic violence:
| | |
| --- | --- |
| Honor Killings | Domestic Violence |
| Committed mainly by Muslims against Muslim girls/young adult women. | Committed by men of all faiths usually against adult women. |
| Committed mainly by fathers against their teenage daughters and daughters in their early twenties. Wives and older-age daughters may also be victims, but to a lesser extent. | Committed by an adult male spouse against an adult female spouse or intimate partner. |
| Carefully planned. Death threats are often used as a means of control. | The murder is often unplanned and spontaneous. |
| The planning and execution involve multiple family members and can include mothers, sisters, brothers, male cousins, uncles, grandfathers, etc. If the girl escapes, the extended family will continue to search for her to kill her. | The murder is carried out by one man with no family complicity. |
| The reason given for the honor killing is that the girl or young woman has "dishonored" the family. | The batterer-murderer does not claim any family concept of "honor." The reasons may range from a poorly cooked meal to suspected infidelity to the woman's trying to protect the children from his abuse or turning to the authorities for help. |
| At least half the time, the killings are carried out with barbaric ferocity. The female victim is often raped, burned alive, stoned or beaten to death, cut at the throat, decapitated, stabbed numerous times, suffocated slowly, etc. | While some men do beat a spouse to death, they often simply shoot or stab them. |
| The extended family and community valorize the honor killing. They do not condemn the perpetrators in the name of Islam. Mainly, honor killings are seen as normative. | The batterer-murderer is seen as a criminal; no one defends him as a hero. Such men are often viewed as sociopaths, mentally ill, or evil. |
| The murderer(s) do not show remorse. Instead, they experience themselves as "victims," defending themselves from the girl's actions and trying to restore their lost family honor. | Sometimes, remorse or regret is exhibited. |
To this list, I would add:
| | |
| --- | --- |
| The murderer generally does not attempt to flee and often turns himself into the authorities. | The murderer usually tries to cover up the crime or flee. |
It is too early to conclude whether Aasiya's murder is an honor crime, domestic violence, or yet something else.
(2) A second Middle East Quarterly article," Beheading in the Name of Islam" by Timothy R. Furnish in the spring 2005 issue, also has direct relevance here. Furnish establishes that "ritual beheading has a long precedent in Islamic theology and history."
He begins with the Koranic verse 47:3: "When you encounter the unbelievers on the battlefield, strike off their heads until you have crushed them completely; then bind the prisoners tightly" and notes how both premodern (Tabari, Zamakhshari) and modern (Yusuf Ali, Khatib, Mawdudi) commentators of the Koran interpret this verse literally. Furnish also notes a second Koranic verse, 8:12: "I will cast dread into the hearts of the unbelievers. Strike off their heads, then, and strike off all of their fingertips."
A quick survey of Muslim history, starting with Muhammad and continuing through the Almoravid Empire, the Ottoman Empire, and various mahdist movements, shows that this precept was carried out in practice. In modern times, Furnish notes that decapitation is standard practice in the Saudi kingdom.
He concludes with two points:
first, the practice has both Qur'anic and historical sanction. It is not the product of a fabricated tradition. Second, in contradiction to the assertions of apologists, both Muslim and non-Muslim, these beheadings are not simply a brutal method of drawing attention to the Islamist political agenda and weakening opponents' will to fight. [Al-Qaeda leader Abu Musab al-] Zarqawi and other Islamists who practice decapitation believe that God has ordained them to obliterate their enemies in this manner. Islam is, for this determined minority of Muslims, anything but a "religion of peace." It is, rather, a religion of the sword with the blade forever at the throat of the unbeliever
(3) Muzzammil often explained how Aasiya prodded him to develop Bridges TV as a means to improve the reputation of Muslims and Islam. Here is one example, as reported in the Arab News on Dec. 1, 2006:
My wife, Aasiya Zubair, and I were driving from New York to Detroit in November 2001 and we were listening to the radio. During the radio program, a number of derogatory comments were made about Muslims and Arabs. It was very upsetting. So my wife suggested that there should be some kind of media which would give Muslims in America a voice. "Why don't you do it?" she asked me. That is how I got started on this project..
(4) I predict that this atrocity brings Bridges TV's short and ignominious career to an even faster and ignominious end.
(5) This may be the apt moment to recall laudatory praise from American Islamist leaders heaped on Bridges TV back in 2003. I posted the quotations in full at "Bridges TV Testimonials" and here are a couple of choice picks:
Iqbal Yunus, International Institute of Islamic Thought: "Bridges TV is not simply an Islamic channel, but it's a channel that is morally driven, its family friendly and therefore it should attract the common American television viewer."
Ibrahim Hooper, Council on American-Islamic Relations: "Bridges TV is just an example of the growing maturity and sophistication of the American Muslim community that people are even at this stage where we can contemplate this kind of network. So I think it's a good sign for the community and we encourage every one to support it."
(6) Why a second-degree murder charge and not first-degree? In New York State, first-degree is reserved for thirteen special circumstances, such the intentional killing of a police officer, a judge, or a witness; a terrorist act; a serial murder; or torture. Were evidence to come out that Aasiya's murderer took pleasure in her death, torture could elevate it to a first-degree charge. (February 13, 2009)
Feb. 14, 2009 update: Today's Buffalo News brings more details:
When Muzzammil Hassan reached the Orchard Park Police headquarters at 6:20 p. m. on February 12, he announced that his wife was dead at the Bridges TV station, where officers proceeded to go and find her body in a hallway. They then closed off Bridges TV's offices as a crime scene; the offices were reopened only today.

The police have not yet located the murder weapon.

Corey Hogan, whose law firm Hogan Willig had represented Aasiya Hassan in the couple's divorce proceeding, noted that "There had been problems before — there had been prior incidents of physical abuse" and that discussions were underway about arrangements for the couple's two children, ages 4 and 6, as well as for Muzzammil's two older children from a previous marriage, ages 17 and 18.

A late 2006 report in the Arab News quoted Hassan hoping to raise US$5 million from investors in Saudi Arabia. Khalid J. Qazi, president of the Muslim Public Affairs Council of Western New York, confirmed that Bridges TV has been under financial strain.
The New York Post adds an enigmatic detail: "The family home was empty today. A police note stuck to the door five hours before Aasiya's body was found asked her to contact cops. Nobody at the Orchard Park Police Department today could explain why officers wanted to speak to her."
Also, the Bridges TV website is now offline; visitors find just the message "This website is temporarily down for maintenance" on reaching www.bridgestv.com.
One Salma Zubair posted at BlogTalkRadio.com the following statement:
I am sister of this brutally murdered woman. She lived her 8 years of married life with fear in heart. She never let it come to her eyes or lips she was this afraid of this man. He had already frightened her enough that she couldn't muster up her guts and leave him, and when she finally did gather that much strength he killed her so brutally. She lived to protect her children from this man and his family and she died doing so. Muzzamil Hassan's family including his parents and brothers never tried to help Aasiya. Even when he had hit her and bruised her body badly in front of them. Aasiya had always been a very loving person, not even one person in this world can say a small wrong word about her. ... And please make a special pray for her children and that they do not have to live with that family who's son killed their mother and they never helped her but rather supported their son.
Feb. 16, 2009 update: Further details have come out from Aasiya's divorce lawyer and the local police, via Fox News:
Attorney Elizabeth DiPirro of Hogan Willig: The grounds for divorce were "cruel and inhuman treatment," referring to multiple prior incidents of abuse. The couple had "physical confrontations off and on" during their entire eight-year marriage and these recently had escalated to death threats. "We were worried about the situation becoming volatile." For her part, Aasiya "was very much aware of the potential ramification her filing for divorce might have. But she wanted to proceed despite the potential for it to erupt. ... She was a very brave woman who was extremely devoted to her children and had come to this decision after a long, thoughtful process and was determined to change her life for herself and her children."
Orchard Park Police Chief Andrew Benz: Aasiya called for officers to come to the couple's home on Feb. 6, the date when she had obtained an Order of Protection barring her husband from the home. "He was served with divorce papers that day at the [television studio]," Benz said. "He came back to the residence and was pounding on doors and broke one window ... He left the premises that night." Aasiya's body was found on the floor of an office floor at the television station. Investigators believe Muzzammil acted alone. The search for the murder weapon continues.
Salma Zubair posted another statement at BlogTalkRadio.com:
I will not get in to any discussions of honor killing because Islam gives right to both men and women to divorce. Aasiya was a person to honor her husband and family in all the times, and since its her private life I will not discuss it but she has been one of the best person in this world. And I just want her children to live a loving peaceful life where they are not on the run. They deserve a life full of love now amongst relatives. My heart and mind still fail to accept that this has happened and everybody who had met her even once are traumatized by this.
Also, the station's website is now back up, with the homepage dominated by a single statement from the Bridges TV Press Department:
Bridges TV is deeply shocked and saddened by the murder of Aasiya [Zubair] Hassan and subsequent arrest of Muzzammil Hassan. Our deepest condolences and prayers go out to the families of the victim. We request that their right to privacy be respected.
Feb. 17, 2009 update: Two sorts of public reactions to the murder are emerging: Spokesmen on behalf of Islamic organization emphasize that domestic violence happens in all communities and Muslims must pay it more attention, while women's rights advocates focus on the Islamic element.
Mohamed Hagmagid Ali, vice-president of The Islamic Society of North America: "Domestic violence is a behavior that knows no boundaries of religion, race, ethnicity, or social status. Domestic violence occurs in every community. The Muslim community is not exempt from this issue. We, the Muslim community, need to take a strong stand against domestic violence. Unfortunately, some of us ignore such problems in our community, wanting to think that it does not occur among Muslims or we downgrade its seriousness."
Marcia Pappas, president of the New York State chapter of the National Organization for Women: "This was apparently a terroristic version of honor killing, a murder rooted in cultural notions about women's subordination to men. ... Too many Muslim men are using their religious beliefs to justify violence against women."
According a Fox News report, Islamist pressure is being brought to bear on the authorities not to consider the murder as an honor killing, Orchard Park Police Chief Andrew Benz has noted: "We've been told that there's no place for that kind of action in their faith, but I wouldn't say that there's anything that's being completely ruled out at this point."
Other new bits of information from that same report: (1) Hassan has not confessed to the crime, says Benz: "He came in and said his wife was dead." (2) Erie County District Attorney Frank Sedita III calls Hassan "a pretty vicious and remorseless bastard."
The reporter who wrote the Fox News story, Joshua Rhett Miller, told Phyllis Chesler that Frank Sedita informed him that, "Mo Hassan is vicious and without remorse."
The Associated Press reports about the Hassans' religiosity:
Acquaintances said Mo Hassan was not overtly religious — co-workers did not see him pray, for instance. But he seemed to adhere to many traditional practices. Nancy Sanders, the television station's news director for 2 1/2 years, remembers him asking her to move her feet during her job interview so he would not see her legs. She was wearing a skirt and stockings. He also would not let women enter his office unless his wife was there, and he blocked the station from airing a story about the first Muslim woman to win the title of Miss England in 2005, Sanders said. Acquaintances said Aasiya Hassan was trained as an architect. Sanders described her as obedient to her husband, and that she wore a traditional hijab for a time but later stopped without explanation.
CNN adds many new details:
Police had responded to several domestic violence calls at the couple's address, though no one was ever arrested.

Aasiya's body did not appear to have been moved.

Aasiya Z. Hassan's sister, Asma Firfirey of South Africa.

Asma Firfirey of South Africa told a newspaper that she was on the phone with her sister, Aasiya, when she heard Aasiya tell Muzzammil to calm down, that the two could talk about their impending divorce the next day. She then heard something that sounded like Aasiya struggling to breathe. "I can only imagine how scared and emotional she must have been before she died."

Firfirey characterized Aasiya as living in fear. CNN reports:
Firfirey said the last time she saw her sister was in May 2008, when she visited South Africa. When she arrived, she was badly injured, and Firfirey's family paid the equivalent of about $3,000 for her to be treated, she said. Aasiya Hassan returned to America, she said, because she wanted to complete her MBA degree and "didn't want to leave her children with that monster." She said she calls Muzzammil Hassan "the fat man with evil eyes." Aasiya Hassan would have graduated March 6, Firfirey said.
Bridges TV had already transformed itself in recent years, according to a former employee, from a specifically Muslim and American network into what CNN characterizes as "more of a cross-cultural network seeking to bridge the gap between all cultures. Most of their employees were not Muslim, the former employee said, and Muzzammil Hassan himself was not devout." This suggests that, lacking the Muslim demographic Hassan falsely claimed existed, he had to go the direction of general multi-culti programming.

Aasiya had been popular at the station and very kind, observed the former employee (who, tellingly, asked not to be named, CNN indicates, "for fear of retribution"). Muzzammil was known for treating his wife erratically, sometimes appearing to be a loving husband and father and at other times yelling at his wife and demeaning her.
Finally, one Zerqa Abid identifies herself today in a blog as CEO of ZAPS Technocrats Inc. and as community political organizer. (A picture on the website shows her with Dennis Kucinich.) She writes that "Muzzammil was married to my first cousin before marrying the victim," a reference to Aasiya. She tells about Muzzammil:
Ms. Zubair was his third wife. Both of his earlier wives filed divorce on the same grounds of severe domestic violence and abuses. My cousin lived with him for only a year. Yet, it took her several years to get rid of the fear of living with a man in marriage. He was known as violent and abusive in the community. He had changed his name from Syed Muzzammil Hassan to Mo Steve Hassan. He had no background of community service or involvement in the Mosque or in any other organization. Neither his character and nor his faith were sound. In addition, he had no background or expertise in TV production or media.
The rest of Abid's analysis focuses on the American Muslim community's lack of discernment in allowing Hassan into the ranks of its leadership. Further, it trusted him with its money, collecting "millions of dollars and handed it over to him." Abid then accusses Hassan of embezzlement:
Muzzammil Hassan put that money in his personal pocket and moved into a huge property with stables and horses. Nobody was there to question that how much money was spent on the actual project and how much was spent on his new but lavish lifestyle. None of our organizations bothered to look into it and inform their members of any concerns.
On learning that her former in-law owned and operated Bridges TV, Abid professes having felt "shock and worry." She defines him "as a serious criminal. To me domestic violence is a serious crime and a person's character must be judged by the way he deals with his family." She recounts having warned Muslim community leaders about him, "but the response was not encouraging. People told me that his personal life may be messed up, but he is doing a good job so we should support him no matter what." She goes on bitterly to note:
This support was so overwhelming that he was presented with awards too. Now the pictures of award ceremonies are coming back to haunt us and some of them are already posted on anti-Muslim blogs after the murder of Ms. Zubair. One of the headlines reads: Bridges TV CEO Arrested for Beheading Wife Received Award from ... [name of a prominent national American Muslim Organization].
Abid demands accountability:
Bridges TV's website requests to respect family's privacy. In this case, unfortunately, this request cannot be honored. There is no privacy for people who promote themselves as leaders of the community and take people's money on the promise of investing it in the community projects.
Feb. 18, 2009 update: Hassan made his first appearance in court today, before Judge Philip Marshall in Orchard Park Village Court, to face murder charges. Amid tight security ("There were extra police officers on hand, along with a K-9 unit, and everyone heading into court was searched"), he did not speak but his defense attorney, Jim Harrington, waived Hassan's right to the presentation of evidence at a felony hearing, so the case now goes before a grand jury. Hassan will be held in jail without bail.
Harrington described Hassan as "almost in shock. He has an almost blunted affect. He's having difficulty coping with this." The defense lawyer lost no time making the Islamist argument that the case has nothing at all to do with Islam: "These questions about culture and religion, I think are very inappropriate. I think the media would be better served to let that go."
Also today came a note from Hunaid Baliwala, who introduces himself as the newly appointed interim general manager of Bridges TV. After emphasizing how the television staff is "trying to deal with this shocking event," "deeply shocked and saddened," and "in a state of shock," Baliwala gets down to business with two main points:
Don't talk to us about honor killings: "This appears to be the most tragic of domestic violence incidents and, although we have heard statistics that imply that more than three cases of domestic violence occur every day in the US, no one here could ever imagine that this may happen to our beloved colleague."

We need more money: "Without your support we would not have been able to come this far. Therefore, we value your continued support and will need it to get through this challenging time. If you have any ideas and suggestions please do not hesitate to contact me."
From the other side, the Philadelphia chapter of American Friends for a Safe Israel sent out an e-mail calling for Verizon to drop Bridges TV from its cable offerings and the FCC to look into its funding:
"Last week's tragic beheading of Aasiya Zubair Hassan by her estranged husband Muzzammil Hassan calls into question Verizon's vetting of Bridges TV. Muzzammil Hassan founded the pro-Islamic Bridges TV propaganda network in 2004 and Verizon carries it on their Fiber-Optic Television nationwide," explains Hillel Bluestein, chairman of the Philadelphia chapter of AFSI. ... "Verizon and the FCC must completely re-evaluate Bridges TV and take appropriate and immediate measures to remove it from the airwaves."

AFSI also calls on the FCC to look into the financing of Bridges TV and investigate what laws may have been broken in the foreign financing behind this extremist propaganda effort. AFSI requests clarification as to whether U.S. taxpayers unknowingly financed Bridges TV through the NPR/PBS linked Democracy Now! program that has long aired on Bridges TV.
AFSI has also initiated a petition along these lines, "Verizon Must Drop Islamic TV Network."
CNN has produced a video survey of these events, with footage of both Hassans, which can be viewed below.
In "Beheading in Buffalo," Robert Spencer shows the Islamic roots of husband-on-wife violence and argues that "Ignoring the Islamic justifications for domestic violence harms Muslim women. And ensures that there will be many more Aasiya Hassans, in the United States and around the world."
Feb. 19, 2009 update: The Buffalo News adds important details to yesterday's court hearing:
Although Hassan told police where to find his wife's body, he has not confessed, Harrington said. "If and when he's indicted, he'll plead not guilty, It's too early to know what approach we'll take, but we're exploring everything." He added that the couple's history of domestic violence will be part of the case. "They had their problems."

Assistant District Attorney Colleen Curtin Gable: her office will seek an indictment against Hassan within 45 days on a second degree murder charge, which carries a penalty of 15 years to life in prison.
Speaking of Aasiya, a local attorney, Nadia Shahram, told the media that "Everyone in the Muslim community was aware that she was indeed going through abuse."
Feb. 20, 2009 update: Reports Carolyn Thompson of the Associated Press, speaking on NPR's All Things Considered: "Bridges TV has vowed to continue in Aasiya's memory. And in her honor, it was off the air for a couple of days. I'm told it is back on the air now. Whether they're producing new programming or not I think is still in question, that still may take some time. But they do vow to continue."
Feb. 21, 2009 update: Reports a New York Times blog:
"The estate of Aasiya Hassan filed a lawsuit against Mr. Hassan and Bridges TV on Thursday in Erie County Supreme Court, requesting that the offices be kept closed and the judge granted the temporary relief."

Muzzammil Hassan "sits in jail under a suicide watch that has been considered only a precaution, said his attorney, James Harrington."

"Mr. Hassan had twice been divorced in the United States before marrying Ms. Hassan, said his attorney, Mr. Harrington."

Ibrahim Hooper, CAIR spokesman, responded to the murder saying that freedom and equality exist in Islam, but "there is a need of reform for Muslims. If someone mistreats women they should not seek refuge in Islam."

Muzzammil Hassan was chief executive and fund-raiser for Bridges TV but "friends and colleagues said it was his wife's devotion to Muslim-American culture and her passion for making people understand her religion's peaceful ideals beyond its stereotypes that was the backbone of the fledgling operation. Ms. Hassan, trained as an architect, was the program director for the station and had been taking executive M.B.A. classes in Buffalo."
Feb. 23, 2009 update: Another statement from an Islamist organization, this time from Zahid Bukhari, president of the Islamic Circle of North America. After condemning the crime, Bukhari makes sure to portray it as an American problem, not a Muslim one:
Domestic violence occurs in every community regardless of race, religion or social status; it is no more prevalent in the Muslim community than in any other - according to the American Bar Association approximately 1.3 million women are physically assaulted by an intimate partner annually in the United States.
Feb. 25, 2009 update: My column, "The Deceits of Bridges TV," appeared today, focusing on the four lies on which the television station was built – political, ideological, financial, and familial.
Feb. 27, 2009 update: Sunita Sohrabji reports new information for India-West:
Orchard Park Police Department Chief Andrew Benz "said the police had not yet determined the time of Aasiya's death, and added that there was no other staff at Bridges TV station when the slaying occurred." (Hard to understand how a television station could be empty on a weekday afternoon.)

The Order of Protection that excluded Muzzammil from their home "did not extend to their shared workplace."

Nadia Shahram, a marriage mediation attorney who teaches family law and Islamic studies at the University of Buffalo and appeared weekly on Bridges TV's All Legal show, speculates that Muzzammil snapped on learning Aasiya's plans to divorce him. "He was served with the divorce papers at work, which can be really shocking and devastating to the person being served. It's very rare to see a Muslim woman file for divorce."

Shahram added that it is too early to say whether Aasiya's murder was an honor killing or not. "We don't know enough about the case to come to that conclusion." (I agree with this.)

"Shahram saw Muzzammil in court on Feb. 18, and said he looked drugged and spaced out. 'He is a big man, but he looked like a baby,' she said, predicting that the Pakistan native will plead insanity as the case goes to trial."

"Faizan Haq, who worked with the Hassans for six months in 2002 to formulate a plan for the not-yet-launched television station, told India-West that he never saw any signs of trouble between the couple. 'They put on a good show,' said Haq, who teaches Islamic culture at the University of Buffalo. 'I was not aware of any friction between them.' Haq recalled seeing marks on Aasiya's face once, which resembled a black eye. Aasiya, a horserider, told Haq she had fallen off her horse. 'I believed her then, but now I wonder'."
Feb. 28, 2009 update: Asra Q. Nomani has much new information, especially on the family, in the Daily Beast. Muzzammil's four children are: Sonia, 18, a freshman at the University of Buffalo; Michael, 17, a high school senior (both have a mother other than Aasiya); Danyal, 6; and Rania, 4. Sonia and Michael were very close to Aasiya.
To begin with, new details on the murder itself:
When the murder took place, at about 6 p.m. on Feb. 12, Aasiya Hassan drove to the studio with Michael, Danyal, and Rania in the car and left them waiting outside when she went into the building. "Muzzammil Hassan lured his wife to the building on a pretense, possibly to sign papers." The Order of Protection meant that she could not be in the same place as he. He tricked her to go inside by telling her "that she should look for his vehicle in the parking lot and, if she didn't see it, proceed inside."

"It's not clear how Muzzammil Hassan would have been able to remove evidence of the crime, if he committed it, but a former Bridges employee said that the men's room has a shower inside."

"sometime later, Muzzammil emerged, to Michael's surprise, walked over to his son and the young children and handed Michael $4,900 in cash, saying, 'You will probably need it.' A person familiar with the case said the police took the money as evidence." Michael tried to open the locked door to the building and tried to call Sonia. Unable to her, Michael called others. The Orchard Park police soon after arrived on the scene.

As Muzzammil sat in a holding cell,. "Aasiya Hassan's family has taken his four children under their care, said community members. A salvation for Aasiya Hassan's mother, they said: the rambunctious, joyful spirit of four-year-old Rania."
Nomani also learned about Aasiya's having gone with Muzzammil Hassan's brother to the local police station on July 2, 2007, while on a visit to his parents in Flower Mound, Texas, to get the Flower Mound police to enforce the New York protective order protection against Muzzammil.
In the lobby of the police station, officer Ronnie Medeiros reported that she told him that "she had a protective order placed on Muzzammil due to his violent behavior in the past." Interestingly, the order, dated March 26, 2007, didn't prohibit Muzzammil Hassan from living with his wife, but did order that he "restrain from assault, stalking, harassment, aggravated harassment, menacing, reckless endangerment, disorderly conduct, intimidation, threats or any criminal offense" against Aasiya Hassan, the couples' two younger children—Danyal and Rania—or Muzzammil's two older children from his first marriage—Sonia and Michael. The protective order also stated that Muzzammil Hassan is "to refrain from corporal punishment" towards all four children.

In the report, the officer said that Aasiya Hassan had told him that on the Friday before, which would have been June 29, 2007, the couple had argued over a GPS navigation system. "Aasiya stated that Muzzammil was going fishing with his family and she wanted to use the GPS tracker to go site seeing. When Muzzammil told her no, she made the comment that she should have known better than to even ask," the officer wrote in the report. He said Aasiya Hassan said her comment "upset" her husband and "he grabbed her arm and told her to apologize." The officer said that Aasiya Hassan showed him bruising on her upper left arm, and the officer told her that "in Texas anytime an assault from family violence is reported to us we are required to file a report."

What happened next reveals just how delicate a situation it can be trying to break the cycle of violence. The officer wrote, "Aasiya then asked if she could speak to her brother-in-law." While she was talking, the officer wrote that he started taking notes on the protective order, noting that when Aasiya Hassan noticed "she questioned me." The officer explained, he said, that he was just taking notes for his report. "Aasiya got very offended and stopped cooperating with my interview," he wrote. "She fled the police station," said Wess Griffin, a spokesman for the Flower Mound police, with the officer following her into the parking lot, calling after her, "Wait," trying to persuade her to return to the station.
That was not the end of the matter, however.
Four days later, on July 6, 2007, Aasiya Hassan returned to the police station. She filed a domestic violence complaint against her husband, and an officer took six photos of bruises to her left arm and leg. For "Dates of Incidents," Aasiya Hassan reported "August 06, December 06, March 07, June 07." The length of the relationship at the time: six years, nine months. She described her husband as 6'2" and 295 pounds. In an indication that Aasiya Hassan may have been trying to protect her husband's reputation as an American-Muslim entrepreneur, the report said, she "refused" to divulge his employer information.

According to the report, she said that on June 30, 2007, Muzzammil Hassan "coerced her into a bedroom." The police spokesman in Flower Mound said the officer believed this was the same incident she had come to report earlier, though there is a discrepancy with her dates. In the bedroom, she said, he "pushed her down onto the bed, sat on her chest and pinned her arms and legs down." "This was done to 'make' her listen to him," the report said. The officer noted that, in addition to the most recent protective order, Aasiya Hassan had had three other protective orders.

In an attempt to pursue the case, a Flower Mound police detective tried to contact Aasiya and Muzzammil Hassan six times over the month. On July 23, 2007, the report said, the detective visited the local address Aasiya Hassan had listed in her report, speaking to the home owner, Mahmood Khawaja Hassan, "who advised Ms. Hassan is married to his son and they have already gone back to their home in New York. Unable to reach the couple, the Flower Mound detective suspended the case on July 31, 2007.
Finally, Nomani noted in the Texas police report "that the family had long been grappling with treatment for Muzzammil Hassan's alleged abuse. Almost two years earlier [i.e., 2005], a family court judge in Erie County, N.Y., had ordered Muzzammil Hassan to complete "co-parenting" and "anger management" classes."
Mar. 2, 2009 update: In an undated posting on the Muslim Alliance in North America, an Islamist organization headed by Siraj Wahhaj, Nashid Abdul-Khaaliq addresses the topic of "Honor Killings and The Bridges TV Tragedy." He writes:
This event, which exposes a well-respected, prominent Muslim as a domestic abuser, who allegedly decapitated his wife, is an Islamophobic scaremonger's dream. ... Honor killings are a Middle Eastern cultural phenomenon that is practiced by ignorant Muslims, Christians and others from that region. It pre-dates Islam and is an ugly manifestation that many Islamic, Christian and other organizations are working hard to eradicate. Honor killings are murders by families on family members who are believed to have brought "shame" on the family name. It is usually done by a male member of the family who kills a female relative for "tarnishing" the family image
Then follows a 1,600-word elaboration on this theme, distancing Islam from honor killings. Abdul-Khaaliq ends by blaming the West, of course, for honor killings:
Colonialism had a big hand to play in this, as admitted to by several documentaries, books and other literature, under colonialism, the British and other western powers encouraged extremism in Al-Islam. They killed out and stifled the voices of true Islam and encouraged cultural and barbaric practices to thrive and be supported. This was a tactic used to destroy Muslim societies and today we see the ugly remnants of that in many Muslim countries
To complete the picture, Abdul-Khaaliq urges his audience to
Please read "Confessions of a British Spy" to learn more about how thoroughly such work was done within the Islamic world to encourage extremism, bad cultural habits and un-Islamic behavior, being portrayed under the banner of Al-Islam in order to weaken the people and make them better subjects of the colonialists.
Ah, that old chestnut – the one that claims the British government of the early 1700s planted a spy named Hempher in Arabia who was the source of the Wahhabi doctrine. For a synopsis of this forgery, see "The Saga of 'Hempher,' Purported British Spy," an extract from my 1996 book, The Hidden Hand: Middle East Fears of Conspiracy, pp. 211-12. You know that Wahhaj and his colleagues must be a little desperate if they must resort to a counterfeit text to explain away honor killings.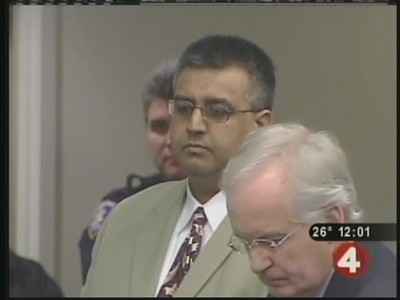 Muzzammil Hassan at his arraignment on March 13, 2009.

Mar. 3, 2009 update: The Dallas Morning News ran a story today, "Woman beheaded at Buffalo, N.Y., TV station had reported spousal abuse to Flower Mound police," that confirms the information Nomani dug up on the Texas dimension of the story.
Mar. 10, 2009 update: Leave it to Tariq Ramadan's website to devise the most hair-brained interpretation of the beheading; according to it, the blame faults on critics of Islam. He hosts Muna Ali inimitably explaining:
Abused women of all backgrounds everywhere hesitate to get outsiders and particularly authorities involved but Muslim women have the added burden of knowing that if they report domestic abuse they also confirm the worst stereotypes about Muslim men and women and about Islam. Our men are already demonized and our religion vilified; so we think a million times before we publicly air out our dirty laundry. So tell her to go back and to endure some more and know you are collaborating with her abuser and Islam-bashers everywhere.
With less originality, she tries to deny the connection of this crime to honor killings, ignoring the fact that evidence is not yet available to draw a conclusion on this matter:
We honor her [Aasiya] by sparing her children the labels, the looks of pity, the whispers about beheading and vicious allegation of "honor killing." After all, presenting an alternative to merchants of fear and hate who dehumanize others was her mission.
Mar. 13, 2009 update: Hassan's arraignment in court today found him pleading not guilty, not disputing being jailed without bail, and being assigned a trial date of April 16.
Mar. 14, 2009 update: More information on the arraignment in today's Buffalo News story by Matt Gryta:
Prosecutor Colleen Curtin Gable said that the case against Hassan includes "admissions" he made to Orchard Park police on reporting his wife's death, about an hour after it took place.

Hassan's four children are living with relatives under the supervision of Erie County Family Court.

Orchard Park police had been called to the Hassan home more than a dozen times in the past 2 ½ years in connection with domestic problems; and the Hassans had been married for about nine years.
Mar. 16, 2009 update: Azril Mohd Amin, a lawyer and vice-president of the Muslim Youth Movement of Malaysia (ABIM), takes a leaf from Tariq Ramadan's book (see the Mar. 10, 2009 update) and blames the decapitation on American mores. He begins by asking a rhetorical question, then reflects on it:
"How can any Muslim really be trusted, if, living in a so-called civilised country like the US, he remains capable of murdering his own wife?" A prominent Malaysian remarked that in the US these days, it seems that killing people has become almost as casual as having a cup of coffee. And so perhaps Muslims in these Western countries become corrupted by Western values and behaviour.
Jan. 23, 2010 update: Hassan has the nerve to declare through his lawyer Frank M. Bogulski that he, in fact, was the "battered spouse" of the couple. He portrays Aasiya as "the dominant figure in this relationship." In contrast, says the lawyer, Hassan "was the victim. She was verbally abusive. She had humiliated him."
Nancy Sanders, a former news director at Bridges TV, made two points in response: that Hassan stood over 6 feet tall and "filled a doorway," while Aasiya was slender and shorter; second, that she "never, ever heard her disparage him in the workplace at all. It just did not seem to be in her nature. She was very gentle."
District Attorney Frank A. Sedita III, who is prosecuting Hassan, replied: ""He chopped her head off. He chopped her head off. That's all I have to say about Mr. Hassan's apparent defense that he was a battered spouse."
June 29, 2010 update: In a decision about the admissibility of Hassan's statements to the police officer on turning himself in, we learn what he said. Patrick Lakamp summarizes what happened for the Buffalo News:
When Muzzammil S. "Mo" Hassan turned himself in to Orchard Park police about an hour after his wife was slain Feb. 12, 2009, he shook a police lieutenant's hand and appeared "calm, cool and collected" during their one-minute exchange. "I want to tell you I just killed my wife, and I'm here to turn myself in," the 44-year-old Hassan told Lt. Joseph A. Buccilli in the police lobby. The two sat on a bench, and Buccilli asked where she was. Hassan replied she was in the office of the Muslim-oriented Bridges cable television station they co-founded.

When Buccilli asked whether he was sure she was dead, Hassan used a downward hand gesture and said, "She's gone; there's no doubt about it." At the time, Hassan's children were outside the police building in a van. Police charged him soon after with killing and beheading his estranged wife, Aasiya Zubair Hassan, 37. ...

Buccilli asked Hassan whether he had a key that police could use to get inside the TV station. Hassan turned over the key without hesitation. Buccilli then drove to the station at 227 Thorn Ave. and gave the key to a detective. ... The victim's body was found in the office of the cable network, about two hours after the beheading, which occurred at about 5 p.m. Hassan turned himself in to police at 6:10 p.m. ... At 8:41 p.m., after police had gone inside the studio, Hassan was escorted into a conference room in Police Headquarters, where police read him his Miranda rights. Hassan then said he wished to exercise those rights.

Ten minutes later, Hassan asked for his sleep apnea machine, which he said could be found at the hotel. He told police he could not sleep without it; he also asked about the well-being of his children. Buccilli told him they were comfortable downstairs at Police Headquarters and that police had informed the older son and daughter about what had happened. Hassan expressed concern about where the children would stay but did not wish to see them.
July 18, 2010 update: Hassan fleshed out his victim role today. Excerpts from an article in the Buffalo News:
Muzzammil A. Hassan in the courtroom recently.

"In brief conversations with The News at the Erie County Holding Center last week, Hassan said that immediately after his wife was killed, he could have fled the country. "I could have gone to Toronto, taken a direct flight to Pakistan, and I speak the language fluently," he said. Instead, he said he chose to turn himself in and adhere to Gandhi's principle of "satyagraha" — to seek the truth without selfish interests."
"Hassan has never publicly denied killing his wife. Instead, he has suggested he will build his court defense on the grounds that as a long-abused spouse, he finally snapped and killed his wife in a desperate bid to end the psychological abuse inflicted upon him. He stated last week that in cases where battered women kill their abuser, they "overkill" them — shooting the abuser five times instead of once, for example. And they rarely try to run or hide after the homicide, he said, clearly attempting to draw parallels to his own case. Police have accused Hassan of repeatly stabbing, then beheading his wife after meeting with her alone in their Orchard Park television studio."
"'All abuse happens behind closed doors, thus NO witnesses,' Hassan stated in his most recent letter. 'All abuse is psychological, emotional wounds are not visible, thus NO evidence. ... What a perfect crime! Only the poorly trained abusers use physical violence and get caught, for physical abuse leaves behind evidence'."
"Speaking in a polite and amiable tone, Hassan said he's currently housed in a medical ward at the Erie County Holding Center and likes the "dormitory-style" setting and the food. Despite a letter to The News last month complaining at length about his treatment at the Holding Center, he told a reporter last week, "Compared to the emotional torture I lived with in my seven years of marriage, this place is paradise."
"He stated that he repeatedly tried to get his wife to face the fact that she needed psychological help, without success, and that his claims of abuse were dismissed by local domestic violence victim advocates because he was a man subjected to 'sexist ideology.' 'Anytime I sought outside help, I got falsely accused of sexual misconduct or physical abuse — more than 12+ police reports, each in response to my reaching out for help from counselors, my family or her family,' he stated. He said he sought help from more than two dozen domestic violence professionals in Erie County but was told he was "blaming the victim," or "in denial." He said last week that when he told an Orchard Park police officer at his home in 2006 that his wife was abusing him, the officer laughed in his face."
"He also denied allegations that he not only abused Aasiya, his third wife, but also his second wife by arranged marriage, Sadia Hussain Hassan. They divorced after 13 months with the intervention of the Muslim community in Rochester. He said he took out an order of protection against his second wife and eventually divorced her because she, too, was abusing him, not the other way around. 'I moved out of home with Sadia Hussain due to her extreme abuse,' he wrote. 'She continued her abuse with letters to M&T Bank CEO [Hassan's former employer]. The bank helped me get a protection order against her. And the court granted me divorce on the grounds of cruel and inhuman treatment by Sadia'."
Aug. 26, 2010 update: After Erie County Judge Thomas P. Franczyk barred testimony from a medical expert who claims Hassan is suffering from "battered spouse syndrome" but allowed other defense testimony on that issue, Hassan denounced him as a "voodoo" and "evil" judge. Franczyk then ordered deputies to remove him.
Nov. 17, 2010 update: A horrific story becomes increasingly surreal as Hassan not only claims that Aasiya "humiliated him" but that 16 sheriff's deputies (whom he referred to as "white Nazis") in the Erie County Holding Center beat, tortured him and plan to kill him.
Jan. 18, 2011 update: Hassan's trial has started, nearly two years after his crime took place, and featured the Prosecutor Paul Bonanno and others providing a detailed account of the murder. Sandra Tan summarizes for the Buffalo News:
Muzzammil ("Mo") Hassan appearing at his trial.

The evening of Feb. 12, 2009, began with the routine acts of daily living for Aasiya Hassan, Bonanno said. She loaded her two children, ages 4 and 6, and her stepson, 17, into her green minivan and took them Supercuts for haircuts.

As Hassan's own children will testify, Bonanno said, Aasiya promised she would take them to dinner at Denny's but first had to drop off clean clothes for their father at the couple's Bridges TV studio since an order of protection barred him from coming to their Orchard Park home.

Hassan had told his wife he wouldn't be there, and it seemed he wasn't. The studio was dark and his car wasn't in its usual space, Bonanno told the jury.

What she didn't know was that just an hour before, Hassan was at the Hamburg Walmart buying two hunting knives. "His purchase was recorded on the store video," Bonanno said. "You will see the defendant carefully examining the knives, testing their sharpness on a cardboard box and then calmly and deliberately buying them."

Aasiya told her children she would be right back and they would be off to dinner. "It was the last time the children saw her alive," Bonanno said.

Video will show Hassan hiding in the darkened studio, he said, then beginning his attack from behind before Aasiya could turn on a light. He brutally and repeatedly stabbed her in the chest, neck, head and hands, the prosecutor said. "Then, he took the hunting knives and sawed Aasiya's head off," he said, adding that he used enough force to leave slash marks in tile beneath her.

Defense lawyer Jeremy Schwartz responded by conceding that Hassan killed his wife. Schwartz then, Tan recounts,

went on to describe a long-troubled marriage and portrayed Hassan as a man desperately and futilely trying to get help and intervention. Aasiya Hassan repeatedly threatened her husband, stating that she would poison and kill him, Schwartz said.

The day of his wife's death, he said, she had pulled out a large kitchen knife while they were in a private, afternoon conference at Bridges TV. At knifepoint, she demanded he immediately cut ties with two female friends in whom he was confiding for help and support. "In fear of his life, Mo bought knives of his own," Schwartz said. "He didn't know what was going to happen to him next. He didn't know if he would need to defend himself."

When Aasiya returned to the Bridges studio later that night, Hassan saw his wife reach into her coat and thought the worst, Schwartz said. It "unleashed" a physical and psychological reaction that brought him to the breaking point. "Mo snapped," he said. "He stabbed her and he killed her ... When it was over, Mo was in shock. He never tried to escape."
Jan. 20, 2011 update: In addition to courtroom theatrics (trying to fire his lawyer, storming out of the court), Hassan's trial included testimony about Aasiya getting medical help for what were clearly bruises from domestic violence.
Feb. 7, 2011 update: Muzzammil Hassan's 14-day trial is over and the jury found him guilty of second-degree murder of his wife Aasiya, requiring less than an hour to reach this verdict.
Mar. 9, 2011 update: Erie County Court Judge Thomas Franczyk sentenced Muzzammil Hassan to 25 years to life for the murder, the maximum sentence. Franczyk called Hassan's action a "premeditated act of violence" and said to the perp that "Justice demands that you receive nothing less than the maximum possible sentence." To which Hassan replied, "I deeply regret that things came down to what they came down to."
In practical terms, the sentence means that Hassan must serve another 23 years in prison, in addition to the two he's already done, before becoming eligible for parole. Hassan is entitled to appeal his verdict but Franczyk's competent judgeship renders unlikely a successful appeal.
Aug. 5, 2011 update: Despite the absence of its founding couple, Bridges TV still limps on and we learn today that it is relocating from Buffalo to Long Island City, not far from Manhattan. It will be part of SoundView Broadcasting, a company providing broadcast and distribution services for international satellite and cable television channels. Hunaid Baliwala, the network's general manager, put as bright a fact as possible on the move: "Bridges TV is basically under new management, so as a result of that, we have to move to New York City. It's a wonderful opportunity."
July 27, 2011 update: A look at the Bridges TV website, bridgestv.com, finds it perky and ambitious, with no mention at all of its sordid history, plus an alexa.com ranking of 7.4 million, meaning it is utterly obscure.
July 27, 2012 update: A year later, bridgestv.com is defunct.