Philadelphia, the city where I live, has quietly and unassumedly become the capital of the Western world as regards female Islamic garb as an accessory to crime.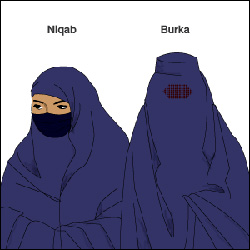 A BBC graphic shows the difference between the niqab and burqa.
First, a tutorial on Islamic coverings, all of which tend to be called
veils
in English but fall into three main categories. Some (the
abaya
,
hijab
,
chador
,
jilbab
, or
khimar
) cover parts of the body, especially the hair, neck, and shoulders, but reveal the face and identity of the woman; some cover the face (the
yashmak
) but show the body shape; and some hide the whole body, including the identity and gender of the wearer. The latter – our topic here – is better described as a full-body cover than a veil: it in turn has two types, those that cover the person entirely (the
chadari
or
burqa
) or those with a slit for the eyes (the
haik
or
niqab
).
By my count, the Philadelphia region has witnessed 14 robberies (or attempted robberies) in the past six years in which the thieves relied on an Islamic full-body cover. They took place in January 2007, June 2007, May 2008, November 2009, October 2010 (two), February 2011, June 2011, December 2011, January 2012, March 2012 (two), and April 2012 (two). The most violent attack took place on May 3, 2008, when Police Sergeant Stephen Liczbinski was killed with an SKS rifle in a shoot-out following a successful robbery using burqas; the police then killed one of the criminals.
As the Middle East Forum's David J. Rusin points out in his detailed survey of Philadelphia burqa crimes, Muslim garb holds two great advantages over other forms of disguise: First, many full-body covered women walk the streets without criminal intent, thereby inadvertently providing cover for thieves; the more full-body coverings around, the more likely that these will facilitate criminal activity. Second, the very strangeness and aloofness of these garments affords their wearers, including criminals, an extraordinary degree of protection. As in other cases (three purchases of alcohol in Toronto state liquor stores by a 14-year-old boy in a burqa; Muslim women not checked at Canadian airports), clerks so fear being accused of racism or "Islamophobia" that they skip state-mandated procedures, such as requiring niqabis to show their faces and establish their identities.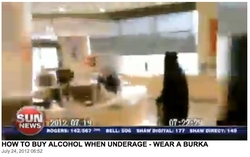 Video grab of a 14-year-old boy wearing a burqa in an Ontario liquor store.
To their credit, some banks no longer allow head coverings. For example, a
PNC Bank
office in Philadelphia boasts a front-door sign stating: "The safety of our employees and customers is our foremost concern. We request that you remove any hats, caps, sunglasses or hoods while inside this financial institution." Such policies should reduce burqa bank robberies.
But as banks become harder targets, Islamic garb presents a more general danger to soft targets. For example, in the Philadelphia area, assailants donned Islamic garb to rob a real estate office in 2008 and commit murder at a barber shop in 2012.
Not fatal but equally horrific, was the Jan. 14-15 abduction and rape of a 5-year-old child in Philadelphia. A niqabi signed Nailla Robinson out from the Bryant Elementary School pretending to be her mother taking her to breakfast. Investigators believe the two walked a few blocks to where a man awaited them. Nailla then disappeared for nearly a day and was only found the next morning shivering half-naked in a park by a passerby. Last week, the police arrested Christina Regusters, 19, a daycare center employee who had prior contact with Nailla. The fourteen charges against her include kidnapping, rape, aggravated assault, recklessly endangering another person, and criminal conspiracy.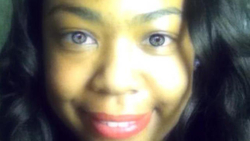 Facebook picture of Christina Regusters, alleged niqabi in the Nailla Robinson case.
The usual two factors noted above were critical to this crime's commission: the spread of full-body gear (Nailla's mother,
Latifah Rashid
, wears Islamic garb, meaning the abductor could plausibly pretend to be her) and the Bryant school staff deferring to a niqabi (completely
ignoring the many rules
pertaining to the escorting of a child from school).
This survey of Philadelphia's crisis prompts several reflections: First, almost any Western city at any time could have Philadelphia's problems. Second, this is deadly serious issue, involving violent robberies, rapes, and murders. Third, as full-body Islamic covers spread, criminals increasingly depend on them. Fourth, government workers need to surmount their timidity and apply normal procedures even to those wearing full-body covers, even in liquor shops, airports, and elementary schools. Finally, this problem has an obvious solution: ban the niqab and burqa in public places, as the national governments in France and Belgium have recently done.
Mr. Pipes (DanielPipes.org) is president of the Middle East Forum. © 2013 by Daniel Pipes. All rights reserved.
---
Jan. 2, 2014 update: Now it's 15 robberies in 7 years. Two teenagers, 15 and 17, dressed in burqas, pulled a gun on Joe Galiano in his store, Suburban Armory, a gun shop outside of Philadelphia. Galiano, who carries.45-caliber pistol on his hip, fired at the would-be robbers, prompting them to flee the store. As the Philadelphia Inquirer account puts it, "One hopped onto a SEPTA bus and tried unsuccessfully to hide in the back, the other was apprehended behind a trolley stop. Muslim clothing and other evidence was found between the scene and the trolley stop. ... Charges pending include robbery, possession of an instrument of crime and drug possession."
Jan. 23, 2014 update: It's 16 incidents in 7 years. Police in Camden (across the Delaware River from Philadelphia) are searching for two black males, 5'10" to 6'0" who dressed in niqabs on Jan. 21, entered the Zoujati Salon, brandished a weapon, abducted a lone female employee, forced her into a large trash can inside the store, covered it and moved it outside to the (cold) sidewalk, then fled in a stolen Chevrolet Express 1500 cargo van to Philadelphia.
Feb. 21, 2014 update: It's 19 incidents in 7 years. A notorious ring of nine Philadelphia men has been indicted for at least nine smash-and-grab jewelry store robberies in Delaware, New Jersey, and Pennsylvania, including the Nov. 1, 2011, robbery of the $2 million jewel known as the Liberty Bell Ruby. They entered the jewelry stores concealing their faces with masks, bandannas, or burqas, armed with handguns, smashed display cases with hammers, and made off with the loot. It's unclear how many robberies involved burqas; I shall estimate three of the at-least-nine robberies.
July 8, 2014 update: It's 20 incidents in 8 years. Two thin black males about 20 years old and over 6 feet tall, one of them dressed in Muslim-like covering outfit, robbed a Family Dollar store at 1925 W. Allegheny Ave. in the Glenwood area of North Philadelphia around 9 p.m. on July 6. They at first pretended to shop when the one in Muslim clothing, according to Philly.com,
suddenly walked up to the checkout counter and leveled a handgun at the employees, police said. He grabbed a clerk by the back of her neck and forced her to open the cash registers and store safe. All the while, his alleged accomplice stood at the front of the counter, acting as a lookout, police said. The suspects allegedly stole $4,500, then forced the store employees and customers into a stock room before fleeing on foot. The men were last seen running east on Allegheny Avenue.
Aug. 7, 2014 update: It's 21 incidents in 8 years. The Philadelphia Policy Department reports a robbery yesterday at a Wells Fargo Bank in the city's Oxford Circle section; a man "approached the teller with a threatening demand note. After a failed attempt at obtaining money the suspect fled the bank on foot and was last seen east on Magee Avenue. No injuries reported. Suspect Description: Black male, 5'6″, thin build, wearing Muslim Garb."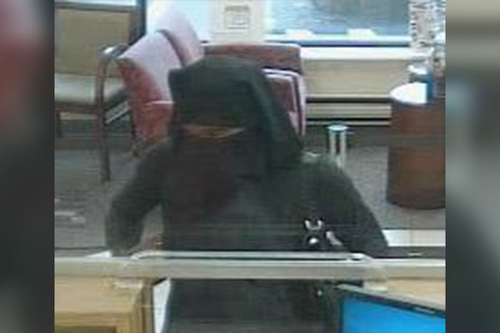 The Wells Fargo Bank would-be robber.
Aug. 8, 2014 update: Joel Mathis replies to this article today at "Philadelphia Has a Burqa Crisis?" in Philadelphia Magazine.
Aug. 11, 2014 update: I reply to Mathis at Philadelphia Magazine; and my text (with links, which the magazine did not include) follows here:
Dear Editor:

In his article, "Philadelphia Has a Burqa Crisis?" Joel Mathis dismisses my call for a Philadelphia ban on niqabs and burqas from public places.

I make this call because 18 crimes – including murder and the abduction-rape of a small child – have taken place in the Philadelphia area over the past seven years, each of which one way or another depended on Islamic full-head-and-body coverings as accessories.

Mathis dismisses my concern with three arguments: These crimes are "so infrequent as to be nearly nonexistent" and they are but "a trifling provocation." He compares niqabs and burqas to nuns' wimples, implying they are harmless. And he raises First Amendment rights freely to express oneself with whatever clothing one wants to wear.

To which I reply:

Tell the victims and their families of those 18 incidents that the pain and grief they suffered are "nonexistent" and "trifling." Let me know how they respond.
How many niqab-and-burqa-assisted assaults must take place before you no longer dismiss this problem as "nonexistent" and "trifling"?
There have been many fewer than 18 terrorism incidents in Philadelphia over the past seven years; to be consistent, you must also call for the dismantling of the huge and expensive counterterrorism infrastructure that protects the city. Will you do so?
The Catholic wimple covers only the hair, leaving the face visible; its Islamic counterpart is the hijab, which I do not seek to ban. There is no way males could put on a nun's wimple and look anything but absurd. In contrast, the niqab and burqa are effacing tent-like garments which allow, say, machine guns to be invisibly transported. There simply is no comparison.
As for First Amendment rights, anti-face-covering laws have been on the books for a century across the United States (mostly intended against Ku Klux Klan garb); to the best of my knowledge, these have never been struck down on freedom-of-expression grounds.
This is not about the right to express one's Islamic beliefs but about public safety. Walking around in a niqab or burqa is far more threatening than wearing a ski mask. Question for Mathis: if you owned a store, would you buzz in someone wearing a ski mask?

Yours sincerely,

Daniel Pipes
Aug. 31, 2014 update: It's 22 incidents in 8 years. NBC News reports about a robbery in Philadelphia:
Two masked men wearing Muslim garb waited more than an hour outside of a Northeast Philly grocery store Thursday so they could holdup a businessman who was heading to a bank to make a cash deposit. The 37-year-old victim pulled in to the busy Pathmark parking lot at Large Street and Bleigh Avenue just after 6 p.m. to deposit $70,000 at the Citizens Bank branch located inside the supermarket, according to authorities.

As soon as he arrived, the suspects pulled their vehicle behind the man's car -- blocking him in the parking space, police said. Surveillance video captured the white Dodge Caravan used to flee the scene of an armed robbery that occurred outside a Northeast Philly supermarket. The armed robbers demand the man's cash and shot him in the right arm before taking off in a white Dodge Caravan with Pennsylvania tags, according to officials.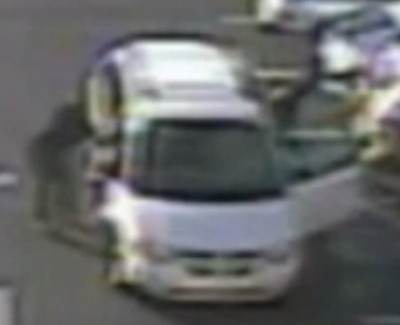 Surveillance tape shows one covered criminal on each side of their white get-away car.
Comment: I wonder if Joel Mathis feels a sense of responsibility for this and all future crimes in Philadelphia in which Islamic gear is used as an accessory.
Sep. 18, 2014 update: It's 23 incidents in 8 years. A masked man held up the Susquehanna Bank on Market Street in Camden, New Jersey, bank just after 10:30 a.m. on Sep. 16 by passing a note to the bank teller demanding cash, then fleeing on a silver BMX bicycle.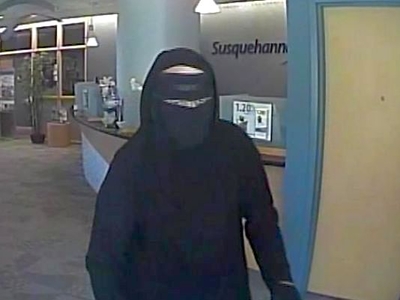 The masked man who held up the Susquehanna Bank in Camden, New Jersey on Sep. 16.
Sep. 26, 2014 update: It's 24 incidents in 8 years. Days later, another niqab-like outfitted robber held up a New Jersey bank in the morning and fled on a BMX bicycle (this time a blue one). The attack took place about 10 a.m. on Sep. 23 at the Audubon Savings Bank in Audubon. He wore gray pants and white sneakers.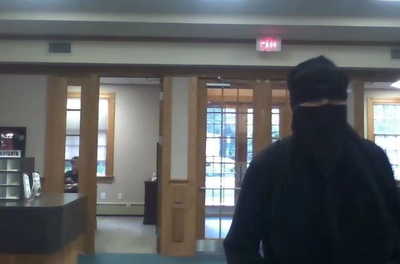 The niqab-like outfit on a robber at the Audubon Savings Bank in New Jersey on Sep. 23.
Oct. 9, 2014 update: It's 25 incidents in 8 years. This third incident comes in proximity to the prior two, taking place on Oct. 8 at about 2 p.m. at the Beneficial Bank in Audubon, and apparently perpetrated by the same light skinned male in a black burqa. The media has dubbed him, unsurprisingly, the Burqa Bandit.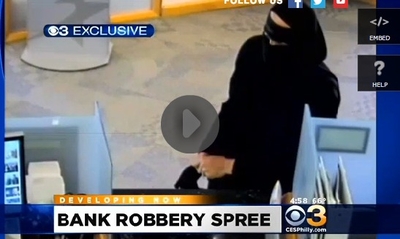 The Burqa Bandit at the Beneficial Bank in New Jersey on Oct. 8.
July 13, 2015 update: 29 incidents in 8½ years. Law enforcement has announced four niqab-assisted bank robberies in northeast Philadelphia, all by the same 5'5" to 5'7" black woman, all in just one month:
June 9: Santander Bank on Bustleton Avenue.

June 16: PNC Bank on Academy Road.

July 7: Citizens Bank on Red Lion Road.

July 9: Citizens Bank on Bustleton Avenue.
How do they know this is a woman? Philadelphia FBI spokesperson J.J. Klaver notes that "We've had incidents in the past where we've had men wearing full burqas. But in this case, they've heard her speak, and we're confident this is actually a woman."
July 17, 2015 update: 30 incidents in 8½ years. The same criminal, also dubbed the "Burqa Bandit," appears to have been the perpetrator at
July 16: Citizens Bank on Roosevelt Boulevard (inside a Shop-Rite grocery store).
The police add: "It is believed that she is changing into this garb insider her vehicle just prior to entering the banks."
July 23, 2015 update: 31 incidents in 8½ years. The "Burqa Bandit" inspired a less-clever copy-cat: Heather Lane, 26, of Strawberry Mansion, on July 15 held up the TD Bank on Ridge Avenue in Wissahickon with a gun. The police caught her holding the money about a block away from the bank. She was charged with robbery, criminal conspiracy and related offenses. A male accomplice got away.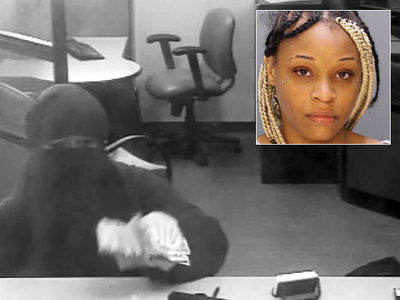 Heather Lane in action and unveiled.
Aug. 28, 2015 update: 32 incidents in 8½ years. A burqa robbery from 2012 received no media coverage, so I rely on a court opinion by the U.S. Court of Appeals for the Third Circuit to summarize the incident.
On August 20, 2012, a person wearing a Muslim burka entered a branch of Sovereign Bank in Philadelphia. The individual handed the bank teller a note saying, "Give me the money, I have a gun."1 Although the robber was wearing female Muslim garb, and the robber's body and head were covered, the teller believed the robber was actually a man. After receiving $4,750 from the teller, the robber placed the money in a multicolored bag and fled the bank to a nearby parking lot.

At that time, an eyewitness in the parking lot noticed that an individual wearing a burka who appeared to be a man was walking quickly towards a Ford Winstar minivan while carrying a multicolored bag. Suspecting the bank may have just been robbed, the witness photographed the license plate of the minivan as it left the lot, walked over to the bank, and provided this information to the police.

The police then ran the license plate and determined the minivan was registered to Ronald Moon at 2410 Patane Avenue in Abington, Pennsylvania. A search of Moon's history quickly revealed he had previously been involved in a bank robbery. About one hour after the incident, the police located the minivan as it pulled into the parking lot of Moon's apartment complex at the 2410 Patane Avenue address, which was eight miles away from the bank. After ordering the minivan to stop, the officers arrested Moon, who was driving the vehicle, and his girlfriend, Naijah Glenn, who was a passenger.

The officers did not find money, weapons, a burka, or a multicolored bag on Moon's person or in the minivan, but they did find Glenn in possession of $4,194 - $556 short of the amount stolen from the bank. Following his arrest, Moon admitted to the police that he robbed the bank while disguised as a Muslim woman, he tossed the burka out of the minivan while fleeing the bank, and he gave the stolen money to Glenn. Moon also confirmed that photographs of the perpetrator taken from the bank surveillance cameras were, in fact, pictures of him.
A jury found Moon guilty of bank robbery and a district court sentenced him to a 20-year prison term.
The report on this incident also includes an immortal quote by J.J. Klaver, a supervisory special agent with the FBI's Philadelphia office: "If you put on a clown suit, people will look at you, but in Philly or any major metropolitan area today, who even notices a woman walking by in a burqa?"
Oct. 6, 2015 update: Christina Regusters, now 22, was sentenced to 40 years to life in prison for her 2013 attack on Nailla Robinson, then 5 (on which, see above). Among the notable points in the trial:
Robinson testified: "What she did to me was wrong and I think she shouldn't do it to anyone else." During the trial, she gave critical testimony when she spoke of a "talking bird" at the house of her captivity; that would be a macaw parrot which the police located.
Although Regusters has proclaimed her innocence during the trial, at the sentencing she acknowledged her guilt, turning to Robinson and stating: "I'm asking for your forgiveness. I am sorry. Although you may not take it, I apologize."
Regusters' DNA was found on Robinson's shirt; also her computer showed Internet searches for Muslim clothing.
The family is suing the Philadelphia School District for putting Robinson at risk.
Feb. 9, 2016 update: 33 incidents in 9 years. A black man with dark complexion, 6 feet tall, 160 pounds, robbed the Rite Aid store at 6363 Frankford Ave in Philadelphia on Dec. 31 with the help of a handgun and what police call "all-black Muslim garb." He got away with an undisclosed haul of cash.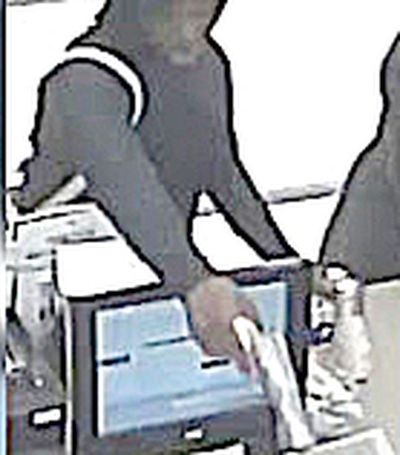 From the Rite Aid surveillance video.
Mar. 24, 2016 update: 34 incidents in 9 years, or almost one every three months. This time it was a robbery on Mar. 23 at the BB&T Bank in West Deptford, New Jersey. Cleve Bryan of CBS News describes the surveillance video as looking like "something out of a Hollywood production." He explains:
For this team of bank robbers, it was ladies first. West Deptford Township Police say that just after 11:00 a.m. on Wednesday, a woman covered head to toe entered the BB&T Bank and took a seat with the banker.

"African-American female comes in with some sort of scarfing over her head. The odd part was that she did have some sort of gloves on," said Dep. Chief Sean McKenna of the West Deptford Police. "Started talking about normal business at that point. The employee was a little suspicious at that time."

A few moments later, a man dressed in a Muslim thobe with a hijab over his face [sic] entered the bank. After scoping things outside the bank, he seems to tell the woman it's go time. "Suspect #1 pulled a gun from her waistband, stood up, brandished it at the employee she was conducting business with and then also brandished the gun to the employee behind the counter," McKenna explained.

The suspects ordered bank employees to get money from the vault. A second man, also dressed in Muslim clothing, charged inside and hurdled the bank counter. He tried unsuccessfully to open the teller draws. Then, all three ran out and drove away. "Definitely wasn't an amateur type of move," said McKenna. "It was very planned out."
No one was hurt and no arrests made.
May 12, 2023 update: After seven years of quiet, the problem re-appared.
Nasir Grant, 24, was arrested on May 11 after escaping from a Philadelphia correctional center after being captured while dressed as a woman. CBS reports:
Officials said Grant, who was originally in custody for drug and gun charges, was arrested around 10:30 p.m. Thursday night by members of their fugitive task force.

After doing some surveillance in North Philadelphia, authorities said Grant emerged from a home he was known to frequent, wearing full female Muslim garb and a head covering. They followed him to the 2800 block of West Dauphin Street, where they pulled him over and took him into custody without any incident.