Given the many restrictions on observant Jews during the sabbath, they have need of someone not Jewish to undertake necessary tasks to keep households and the society going. The idea behind the "Shabbos goy" (as he is known in Yiddish) is that activities forbidden to Jews (such as lighting fires or turning on electricity) are entirely permissible to non-Jews.

An El Al plane.
This arrangement could perhaps solve the woes of El Al, Israel's main airline company. For a quarter century, El Al has avoided flying on the sabbath to honor the wishes of its observant clientele, who make up an estimated 20-30 percent of its passengers. Trouble is, not flying slightly more than one day out of seven has a severe impact on the company's bottom line. For years, and especially since it was privatized in 2004, El Al has been trying to find a way to square the circle – both fly on the sabbath and retain its observant passengers. Failure to achieve this goal could land the airline in bankrupty, as it presumably can no longer depend on taxpayer subventions in its role as the national airline; the stakes for it are high.
The airline recently flew flew some aircraft on the sabbath – and aroused a major reaction among observant Jews, many of whom are saying they will henceforth boycott El Al. One haredi leader, Rabbi Yitzhak Goldknoph, secretary of the Rabbinic Council for the Holiness of Shabbat, even raised the prospect of setting up a haredi-owned airline, which sounds like a sure business loser.
The odd thing is, observant Jews who boycott El Al will find themselves on airlines like Brussels Airlines, Continental, and Delta, which have always flown on the sabbath and would never consider doing otherwise. Why prefer them to El Al? For the simple reason that they are not "Jewish" airlines. They might have Jewish executives, staff, and shareholders, they might offer kosher meals and service the Israel market, but they are not "Jewish" airlines in the way that El Al is.
So, El Al's solution is obvious: Take the steps necessary (mostly psychological?) to exit its status as a "Jewish" airline and become a "goy" airline, keep the all-Kosher service, still permit large groups to congregate in the back of the plane for prayer, plus fly every day of the week and keep its observant clientele. (December 11, 2006)
July 1, 2011 update: As the current advertisement for El Al, found on the back cover of the July/August 2011 issue of Commentary, suggests, the airline hardly took my advice; it now portrays itself as not just Israeli but kosher.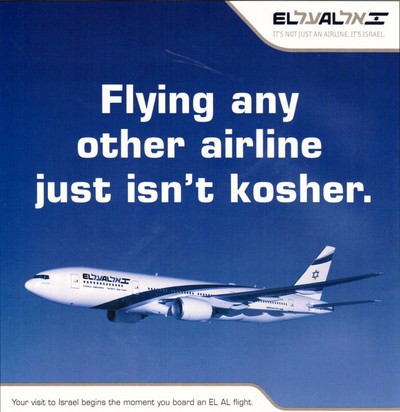 El Al, the kosher airline.