O2, the second-largest mobile telecommunications provider in the United Kingdom, has banned my website, ostensibly only to those under 18 years of age but in fact to everyone using O2. Here's what you find when you land on DanielPipes.org: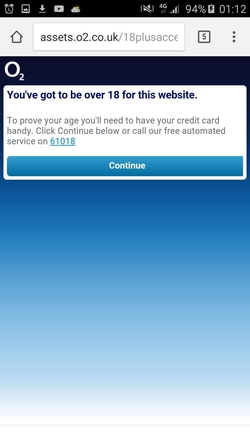 What shows up at O2 instead of DanielPipes.org.
The fine print reads: "To prove your age you'll need to have your credit card handy. Click Continue below or call our free automated service on 61018." In other words, you have to go to immense trouble to read or see my work, something presumably few internet surfers will bother to do. (This is particularly odd when one recalls that O2 already has the credit card of nearly every one of its customers.)
In contrast, O2 makes available without having to prove anything no end of Islamist and related websites, including such anti-Zionist delights as Al-Muntada Trust, the Palestinian Forum in Britain, and Friends of Al-Aqsa.
O2 is a subsidiary of Telefónica, the giant Spanish multinational with annual revenues of over €50 billion and assets worth about €125 billion. So far as I can tell, no other division of Telefónica has banned me in this way.
In response to this censorship, I resorted to the O2 complaint page on Nov. 3, Nov. 8, and Nov. 9, asking each time that it "immediately unlock my website." Each time, I received back an acknowledgment form but then heard nothing further.
---

The response from O2 to Daniel Pipes' complaint about being censored.
---
To put this incident in context: 2½ years ago, I had a similar problem when I learned that I was "Banned in the British Library," the country's national depository library, meaning that DanielPipes.org could not be accessed from that august institution. Happily, that time I could report a day later that I was "No Longer Banned in the British Library!"
What is it about the British that they effectively ban a mainstream website encouraging them to protect their culture and country while allowing free rein to those that would tear it apart? (November 13, 2016)
Nov. 14, 2016 update: Twitter works. O2 ignored my direct complaints but paid attention to my tweet about the above article.
Eleven hours later, O2 replied by tweet: "Hi Daniel, we'll get this reviewed and be back in touch as soon as possible. Thanks for all your patience."
To which, I quickly replied in a tweet: "Thank you for quickly looking into this. Conservatives are not extremists, so age-blocking me harms your reputation & my readership."
Nov. 19, 2016 update: After asking me on Twitter for my e-mail address (odd, given that I had written O2 several times by e-mail), its "Age verification team" sent me an e-mail today that gave me the same non-explanation as I'd previously received by tweet but in many more words:
By way of background, the UK mobile operators adopted a code of practice for the self-regulation of content on mobiles. In accordance with the code, each mobile operator offers an internet filter to protect customers under the age of 18 from age inappropriate content. The mobile operators set their filters in accordance with the Classification Framework prepared by the British Board of Film Classification ("BBFC"). This framework covers all forms of content, not just film.

In applying the Classification Framework, danielpipes.org has been rated 18+.
This is stated as a fait accompli, with no justification for deeming my writings "age inappropriate content." I guess when you're an internet provider, you don't have to account for your actions. My speculation: Someone or some organization complained about my website.
The letter goes on:
The code outlines an appeals procedure which is open to any website owner, content provider, consumer or any other person who has an interest in the material, who is dissatisfied with the application of the Classification Framework given by the BBFC in respect of a piece of content. Appeals can be submitted via http://www.bbfc.co.uk/what-classification/mobile-content/appeals

I submitted an appeal. It reads:
I am an American living in the United States; I am not an O2 subscriber.

O2 has 18+ age-restricted my personal website, DanielPipes.org.

I am a middle-of-the-road American conservative. Among other credentials, I have a PhD from Harvard University, worked for five U.S. presidential administrations, published a book with Oxford University Press, and debated former London Mayor Ken Livingstone.

I respectfully request that you immediately unlock my website.

By way of background, please look at https://www.danielpipes.org/14262/british-library and https://www.danielpipes.org/blog/2014/04/no-longer-banned-in-the-british-library.
Note that "any ... consumer or any other person who has an interest in the material" can appeal to the BBFC; in this spirit, I request my readers also to appeal this decision to the BBFC, done here.
Nov. 20, 2016 update: The "BBFC Mobile Advice Team" has politely written acknowledged my appeal, telling me: "We will look into your query and get back to you."
Nov. 23, 2016 update: The British Board of Film Classification Mobile Advice Team has rendered its judgment:
Dear Mr Pipes,

Further to our email of 20th November, this is to let you know that we looked at the website www.danielpipes.org and have determined that, under the BBFC classification framework, there is no material we would classify at 18. We have informed O2 of our adjudication.

Best wishes,

BBFC Mobile Advice Team
Others who appealed the age restriction received a similar notice.
Comments: (1) I am obviously very pleased and relieved by this verdict. (2) But it leaves several questions unanswered:
Why was DanielPipes.org effectively made unavailable to everyone through this ploy about having to provide a credit card number to show one is 18 years or older?
Why did O2 refuse to explain the grounds for what amounts to the censorship of my work?
Why did O2 apparently decide on this restriction on its own but then leave its appeal to the BBFC, rather than undo it on its own?
What other websites with a similar orientation to mine have been similarly restricted?
I am inquiring about these matters.
Nov. 28, 2016 update: The "Age verification team" at O2 has replied to my inquiry:
Dear Mr Pipes

We can confirm that we have removed the 18plus restrictions on your website following the recent BBFC ruling.

As stated in earlier correspondence, in the UK we follow a process outlined by an industry code of practice and agreed by the UK regulator (OFCOM) in order to protect children. Information on the code of practice is found on the Mobile UK site here - http://www.mobileuk.org/codes-of-practice.html. This industry code means we have to set our filters in accordance with a framework managed by the BBFC as outlined here - http://www.bbfc.co.uk/what-classification/mobile-content/framework

Clearly the number of websites on the internet makes this a challenging task and so we use an independent service that classifies websites automatically, and where the system is unable to classify a site then it is classified by a human operator. As no service is perfect we recognise that there will be a number of occasional "false positives". We therefore have an appeals procedure which has the independent BBFC as the final arbiter.

The code of practice also prescribes the methods of age verification of which credit card is one of a number of options. Although we have tried a number of alternatives, we believe a credit card is the one that best meets the customer and code of practice requirements.

With best regards,

Age verification team
Comments:
(1) I am pleased the age-restriction has been removed but still puzzled what prompted this false positive in the first place, given the absence of "sex, language or violence" that the BBFC points to in its regulations. I guess this will remain mysterious.

[An excerpt of BBFC regulations concerning age-restricted content.]
(2) In response to the above letter, I wrote back to the "Age verification team":
One final query: You acknowledge that the system throws up false positives; this being the case, is it not incumbent on O2 to notify owners of websites that their work has been age restricted so that they can appeal this action?
Nov. 30, 2016 update: O2 replied to my last question:
Dear Mr Pipes

Thank you for your response. As indicated in earlier correspondence, we strive to strike a balance between restricting young people's access to inappropriate content while ensuring adults choosing to age-verify on our network, can access the full internet. We regularly review the robustness of our systems and your concerns have been noted.

With best regards

Age verification team
Comment: I give up, there is no extracting further information voluntarily from O2.
Sep. 26, 2017 update: On Sep. 22, a reader in the United Kingdom notified me of the "Sky Broadband Shield" preventing young people from accessing DanielPipes.org. The reason provided? My website fits the "site category" of "Weapons, Violence, Gore and Hate."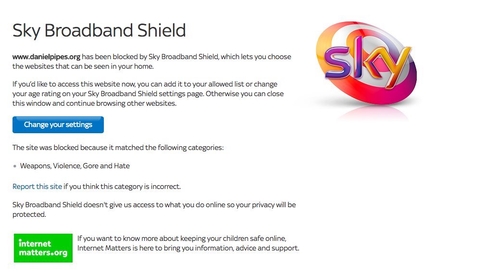 What a Sky Broadband user saw on attempting to reach DanielPipes.org.
I notified Sky Broadband that, in fact, my website actively works against all four of these and asked it to lift the age restriction.
A member of Sky UK's "Customer Priority Team" quickly got back to me, writing: "I have passed details of your website to our content list provider Symantec, to ensure that the correct category is assigned to your site." And a day later, I was informed that Symantec "confirmed that your site category will be updated to Politics & Blogging."
Comments: (1) The matter was quickly and fully disposed of. (2) But why was DanielPipes.org on Symantec's list in the first place? How many more lists is it on? (3) What's with the UK? First the British Library, then O2, now Sky UK. I don't seem to have the problem of censorship anywhere else in the Western world.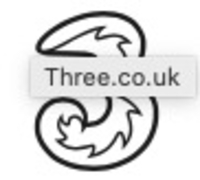 July 28, 2020 update: I am grateful to Daniel Bamford for contacting Three internet services, a UK firm, asking that it remove the requirement to provide credit card details (a way of checking on a viewer's age) before allowing access to DanielPipes.org due to the site's alleged "adult content." Three recognized the error and corrected it, but without answering Mr. Bamford request for an explanation of its source.
Comment: That makes Three the (coincidentally) third British internet provider to restrict access to my website, as well as the British Library. What's going on in the UK?