Looking at statistics at DanielPipes.org finds that these ten are my most read writings of 2018, in ascending order:
10. Melbourne's Petite, Shy, Honors-Student Jihadi
9. German and Austrian Media Outrage Me
8. Conservatism's Hidden History
7. Venezuela's Tyranny of Bad Ideas
6. Why Israelis Shy from Victory
5. The US-Israel Honeymoon May Not Last
4. Poland's Muslim Ban
3. The Rise of Western Civilizationism
2. Tectonic Shifts in Attitudes toward Israel
1. Hungary: Not "Submitting to Islam"
These articles and blogs divide into three broad topics:
2 (#8 and #7) have nothing to do with my usual topics of the Middle East and Islamism.
3 (#6, #5, and #2) concern Israel.
5 (#10, #9, #4, #3, and #1) concern Islamism in the West and Europeans' response to it.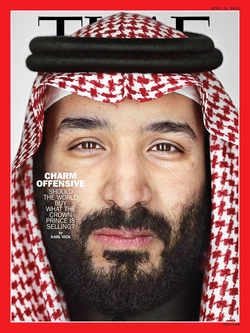 Mohammad bin Salman on the cover of Time, Apr. 16, 2018.
This spread closely tracks my interests, which are decreasingly about the Middle East at large, for I find, with the exception of the great MbS experiment in Saudi Arabia and its profound potential, that the region edges on monotony: how many articles can one write on Iran approaching counter-revolution, Turkey becoming authoritarian, Syria turning into a satrapy of Tehran, or Egypt declining into hunger? Ennui leads me increasingly to write about general topics such as conservatism and socialism.
Any Middle East hand has to deal with the Arab-Israeli conflict, but I long kept a distance from it. Now, Israel Victory, UNRWA, and left-right attitudes toward Israel make it compelling complex and subtle.
But my special interest these days is Islamism in the West and even more the response to it. Of the five pieces on these topics, one (#10) is about an Islamist and the other four deal with responses, especially the phenomenon that I call civilizationism (what others call the far-right). Thus, I find myself in the unexpected position of writing about as much about Europeans as about Middle Easterners. As 2019 marks my fiftieth year studying the Middle East and Islam, this sort of divergence is not entirely unprecedented or surprising. (December 31, 2018)