A feel-good piece appearing today in the Detroit Free Press inadvertently gives insight into some troubling Muslim-American attitudes toward the United States. The story, one in a series the newspaper is running on "Portraits of War," tells the story of Moufid El Khatib, 57, a Palestinian raised in Lebanon who later lived in Kuwait, endured the Iraqi invasion there, and moved to Dearborn, Michigan in 1993. An American flag hangs in a living room corner and his son, Talal El Khatib, 24, is a U.S. Army sergeant. That's where the attitudes come in. The reporters, Jeff Seidel and Richard Johnson, note that "local Arabs are upset that Moufid would let his son join the U.S. military," and particularly that Talal is stationed in Guantánamo Bay. "Moufid has never heard any negative comments about his son's involvement in the U.S. military, but he can sense it from some Arabs in Dearborn. 'Their eyes talk'," he says. He goes on to tell an anecdote:
"My neighbor, there, is American," he says, pointing out the window. "My neighbor there, Don, is an American. Believe me, when they know my son was leaving to Cuba, they came to say good-bye. They came and hug him and this and that."

He pauses.

"None of the Arab guys come to say hi or good luck or wish you the best," Moufid says. "They feel my son is Arab. He is from the Middle East. He is not supposed to be in the U.S. Army."
That an unpatriotic or even anti-American mood apparently reigns in Dearborn, the town with the largest percentage of Arab-Americans in the United States, is a worrisome development. But don't count on politicians, foundations, academics, or pollsters taking up this issue. It's just too hot. (December 17, 2003)
Dec. 21, 2003 update: The Washington Times followed up with a story datelined Guantánamo Bay about Talal El Khatib. It's a soldier's bio until the last two paragraphs:
Despite the apparent lack of enthusiasm for Islam among the military population here, Sgt. El Khatib says he feels he's occasionally treated differently for being a Muslim. "I'm a soldier just like anybody else," he said. "Different treatment happens once in a while but that's everywhere."
In fact, he added, he faces less discrimination from fellow soldiers here for being a Muslim than he does for being in the military from Arab-Americans in his hometown. "I get more pressure on the civilian side, when I take the uniform off. I have a big U.S. flag out in front of my house and a U.S. flag sticker on the back of my truck."
May 24, 2004 update: More troubling evidence comes in another Washington Times story, this one focusing on a Pakistani-American soldier, Pfc. Mirza Bashir Ahmad, serving as a Virginia National Guard medic in Iraq with the 276th Engineer Battalion out of Richmond. His own father, Mirza Mahmood Ahmad of Great Falls, Va., quotes himself asking his son, "Bashir, you want to go? There is no confusion in your mind? You are a Muslim. You may have to fight against other Muslims." The father also tells how, in the words of reporter Jon Ward, "he must defend his son's presence in Iraq to some at his mosque who question how a Muslim can go to an Islamic country and fight against members of his own religion."
Dec. 15, 2004 update: Jennifer Brooks recounts in the Detroit News the experiences of a soldier from Dearborn, Michigan:
When Pfc. Abraham Gebara joined the Army, he didn't exactly expect his neighbors to support him by tying a yellow ribbon as he marched off to war. But he didn't expect them to react by ripping the "Army of One" bumper sticker off his car, either. "I had friends who stopped talking to me," said the 20-year-old Dearborn resident who had dreamed of becoming a soldier since he was 7 years old. He shrugs off criticism and replaces the bumper stickers as fast as they vanish. "I had friends who supported my decision. I had friends who called in to the recruiter themselves."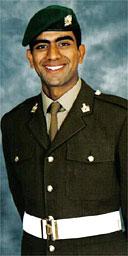 Lance Corporal Jabron Hashmi

July 5, 2006 update: Anti-military sentiments in the United Kingdom are predictably worse than in the United States. The death in Afghanistan of Lance Corporal Jabron Hashmi, 24, the first British Muslim soldier to be killed in the war on terror, prompted these comments, as reported in the Guardian:
Inayat Bunglawala, spokesman for the Muslim Council of Britain, said … : "It would be entirely wrong ... to smear him [Hashmi] as being a supporter of the war. When you are a soldier, you have no choice about where you are sent."
In Birmingham, near the Hashmi family's home in Bordesley Green, some young Muslim men also spoke out. "I don't see how any Muslim can be in the British army, not with all the shit that's happening in Muslim countries. It doesn't make sense. It's not right. There's no space for Muslims in the army," said a 25-year-old who would only give his name as Saleem. "Of course it's a tragedy and I feel for them [his family]. But what was he doing over there? He was an Asian dude fighting a white man's war. Basically, we can't be like the goreh [white people] and they can't be like us."
a website run by the extremist group al-Ghurabaa posted a picture of the young soldier surrounded by flames. The group condemned L/Cpl Hashmi, who was in the Intelligence Corps, as a home-grown terrorist for serving with the British army in Afghanistan, adding: "Unlike members of al-Qaida, he took a salary for his terror."
Aug. 7, 2006 update: Another Muslim soldier having to hide his service from Muslim neighbors, as reported in the New York Times
Few people ever see Ismile Althaibani's Purple Heart. He keeps the medal tucked away in a dresser. His Marine uniform is stored in a closet. His hair is no longer shaved to the scalp. It has been 20 months since he returned from Iraq after a roadside explosion shattered his left foot. He never expected a hero's welcome, and it never came — none of the balloons or hand-written signs that greeted another man from his unit who lived blocks away.

Mr. Althaibani, 23, was the last of five young marines to come home to an extended family of Yemeni immigrants in Brooklyn. Like the others, he grew accustomed to the uneasy stares and prying questions. He learned not to talk about his service in the company of Muslim neighbors and relatives. "I try not to let people know I'm in the military," said Mr. Althaibani, a lance corporal in the Marine Corps Reserve.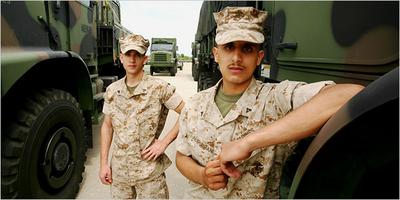 Cpl. Abdulbasset Monstaser, left and Lance Cpl. Ismile Althaibani, his cousin, during a weekend drill at Floyd Bennett Field in Brooklyn.
May 12, 2009 update: Buddy Masfirdaus, a sergeant in the Dutch signal corps who served in Afghanistan and a Muslim of Indonesian origins, says "I'm first and foremost a soldier, and afterward a Muslim." But:
Once he walked through Rotterdam in his desert-colored camouflage uniform when several Moroccan street-kids stepped up to him. "Traitor!" they shouted. Sergeant Buddy Masfirdaus (29) somehow understands it. "They thought: Ah, this guy is brown, he doesn't belong to the Dutch army. Those kids are brought up like that. I walked up to them and explained that I'm just trying to contribute my part to a better world. It says nowhere in the Koran that you're a traitor if you do what you believe in. But they didn't understand it and began to curse. I continued walking then."
Nov. 6, 2009 update: The parents of Maj. Nidal Malik Hasan, 39, the Ft. Hood killer of 13, opposed his joining the U.S. military. Their attitude helps explain why, despite assiduous efforts to attract more Muslims, the Army has so few Muslims in its ranks. Out of 553,000 active-duty troops, its records show a mere 1,563 active-duty soldiers who identify themselves as Muslims as of April 2008, along with 436 Army National Guard members, or well under one half of one perecent. That means that Muslims are less than half as much represented in the army than in the U.S.population as a whole. (In addition, 581 Army reservists list themselves as Muslim.)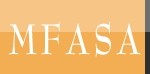 July 14, 2010 update: "Muslims For A Safe America" presents itself as encouraging "honest and informed discussion about how to make Muslims and America safer." Dismayingly, its page "Should American Muslims Be Loyal To America?" presents an evenly balanced 7 arguments for loyalty and 7 against. A sampling of one argument against loyalty:
America is dar-ul-harb (the land of war), because America is at war with Muslims in various countries, oppresses Muslims in various countries (including in America), and seeks to dominate the Muslim world. America is dar-ul-kufr (the land of disbelief), because America has rejected Islam and actively opposes the establishment of a Caliphate in the Muslim world.