The effort to impose Islamic law means winning the acceptability of some new customs (harems come first to mind) and dispatching some old ones; this entry follows the effort to delegitimize any presence of pigs in Western culture. It makes for a particularly interesting case study because Jews too, of course, reject any contact with pigs; but through some two millennia of living in the West, they did not attempt to push their views on their non-Jewish neighbors.
Oct. 3, 2005 update: A new weblog entry, "Islam Dispatches Santa Claus, the Bible, and Winnie the Pooh," deals with non-porcine elements of Western culture that Islamists have decided must be dumped.
---
Pig stories: In March 2003, Head Teacher Barbara Harris at Park Road Junior Infant and Nursery School in Batley, West Yorkshire, banned books containing stories about pigs, out of a desire not to offend the Muslim children who make up about 60 percent of the school's pupils. Harris issued a statement: "Recently I have been aware of an occasion where young Muslim children in class were read stories about pigs. We try to be sensitive to the fact that for Muslims talk of pigs is offensive." She sent a memo to staff saying fiction books containing stories about pigs should be removed from classrooms but the books "remain in the school library and there is nothing to stop our younger children having stories such as 'The Three Little Pigs' in small groups." (March 4, 2003)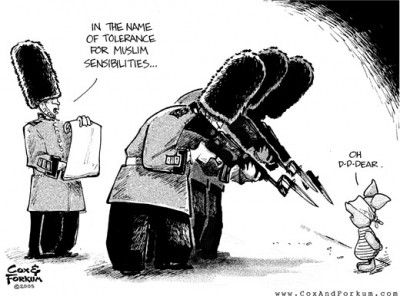 Piglet's in trouble.

Representation of pigs: The benefits department at Dudley Council, West Midlands, instructed employees that all pig-related novelty items are henceforth banned from its offices, so as not to offend Muslim staff. This includes pig toys, porcelain figures, calendars, and even a tissue box featuring Winnie the Pooh and Piglet. The edict came down after a Muslim complained. Councilor Mahbubur Rahman endorsed the ban: "It's a tolerance of people's beliefs." (October 1, 2005)
Piggybanks: Wanting not to offend Muslims, two major British banks, Halifax and NatWest, have reportedly banned piggybanks, the symbol of frugality, and will no longer hand them out to children or picture them in advertising. Some Muslims support the decision; Salim Mulla, secretary of the Lancashire Council of Mosques, said "the banks are simply being courteous to their customers." But Khalid Mahmoud, Labour MP from Birmingham, criticized the move: "We live in a multicultural society and the traditions and symbols of one community should not be obliterated just to accommodate another. I doubt many Muslims would be seriously offended by piggy banks." (October 24, 2005)
Christmas ham: Port Hedland in Western Australia, a town of 15,000, ranks as one of the most remote and isolated habitations on earth. But dhimmitude has reached even there. The Port Hedland Regional Hospital leadership has decided that the traditional baked ham will be dropped from the Christmas menu, out of concern that Muslim patients could be offended. Nor is this a one-time thing; the entire menu has been overhauled and all meals made halal. And other Western Australian hospitals also plan to introduce halal menus. Dropping ham from the Christmas menu has particularly upset the kitchen staff, which has organized a petition to demand it be put back. One long-time hospital worker called the menu change "un-Australian" and commented: "The management of the hospital are unable to stand up to a minority and keep our Australian way of life intact. … Now all we need is for someone of the Hindu faith to jump up and down and we'll have no beef. Before we know it, if you're sick in Port Hedland, you will have to be happy with a diet of boiled rice and a cup of tea." To which, the hospital's nursing director, Judy Davis, gave assurances said though ham was not on the menu, "We'll still make Christmas special – we've got prawns and all sorts of other special treats." (December 18, 2005)
Soup kitchen serves pork: So far have things gone in the direction of dhimmitude that for a Catholic charity in Nice, France to serve pork to the homeless in a Christmas-time vegetable soup is deemed a provocation. Dominique Lescure, head of Soulidarieta ("Solidarity" in Provençal), shouted in a heated exchange with jeering protesters outside a church, "I don't see why I should not be able to put pork, which has always played a major role in my country's cuisine, into a traditional soup that I want to distribute." The free soup drew about as many protesters as poor people. Tensions ran so high that police had to divide the two groups and the deputy mayor of Nice, Noel Ayraud, showed up. He sagely noted that he could do nothing to stop the proceedings: "Serving soup with pork is not a crime." (Not yet, anyway.) Protesters denounced the group as racists, with a left-wing militant named Teresa Mafeis barely holding back tears of anger: "This pork-based soup kitchen is pure discrimination. It's an in-your-face way of telling people who don't eat pork, you can stay in your cardboard boxes and starve. After the holidays, we're going to set up our own soup kitchen, and there will be shorba [Arabic, "soup"] for everyone." A Muslim woman raised the ante by shouting, "Our fathers are Muslims, and they fought for France with honor and loyalty." (December 23, 2005) Jan. 25, 2006 update: One could not make this up. I quote the BBC:
Identity Soup, as it has been dubbed by its chefs, was banned in Strasbourg this month after officials ruled it could lead to public disorder. "Schemes with racial subtexts must be denounced," Strasbourg's mayor Fabienne Keller said. Although no ban exists in Paris, police have closed soup kitchens in the capital's Montparnasse and Gare de l'Est train stations on administrative grounds. Volunteers were ordered to re-seal soup containers on the basis they did not have the necessary permits to distribute food. A leading French anti-racism movement has urged Interior Minister Nicolas Sarkozy to ban pork soup give-aways throughout the country. Bernadette Hatier, vice president of the Movement Against Racism and for Friendship Between Peoples, said the scheme was a ploy to drum up far-right votes ahead of 2007 presidential elections.
Feb. 28, 2006 update: The controversy continues. In Paris, more than 200 demonstrators defied a police ban to eat "pig soup" in public. Their leader, Odile Bonnivard, climbed a car and with a megaphone declared, "We are all pig eaters! We are all pig eaters!" Despite four vans filled with anti-riot police at the ready, the police did not intervene. "We're not yet living in a land of Islam," Bonnivard announced from atop the car. In an interview, Bonnivard explained that her organization, Bloc Identitaire, used smoked bacon, pigs' ears, pigs' feet and pigs' tails in preparing soup for the homeless because it was inexpensive. When they realized the political significance of this ingredient, it became a focus of their work. Other groups jumped on this bandwagon, serving the soup in towns such as Strasbourg and Nice (and also in Belgium), a trend that worried the authorities, especially after the November 2005 riots. In December, Bonnivard reported, several busloads of police officers stopped her group from giving out the soup near the Montparnasse train station in Paris, citing "the discriminatory nature of the soup." In response to Bloc Identitaire's appeal, a Paris police spokesman said its actions would be decided "on the basis of the current regulations, in particular concerning risks to public order and incitement to racial hatred." Bonnivard sees the soup as part of an effort to defend European culture and identity. "Our freedom in France is being threatened. If we prefer European civilization and Christian culture, that's our choice." Jan. 2, 2007 update: A judge at the administrative tribunal in Paris found no evidence that serving soupe au cochon meant discrimination against Jews and Muslims, so pork soup is back on the menu for the homeless of Paris. The police had shut down food distributions by Solidarité des Français on the grounds of xenophobia. The city's police prefecture was ordered to pay €1,000 in costs to SDF. SDF's president, Roger Bonnivard, commented: "After weeks of dirty manoeuvers, intimidation, harassment, all kinds of pressure, and despite a new ban, the Paris police authorities now have to adhere to the decision. There are no legal grounds allowing anyone to ban pig soup." Feb. 5, 2014 update: For a more aggressive version of the Parisian soup kitchen, see the Christian Patrol in a Muslim-dominated area of London where it handed out alcohol and cigarettes.
"To Market, To Market to Buy a Fine Fox": Fjordman reports that "in Norwegian kindergartens, pigs in traditional fairy tales are now quietly being replaced with other animals. A person who visits kindergartens to read fairy tales experienced that in stories by Asbjørnsen and Moe, the Norwegian equivalent of the Brothers Grimm, the word pig had been replaced with fox. When she discovered the same thing happening in another kindergarten, she wondered whether this was a new policy." (December 7, 2006)
"Three Little Pigs" story: Students ages 7 to 11 from the Honley Church of England Junior School in Huddersfield, West Yorkshire, were to perform in a theatrical version of the "Three Little Pigs" story in June, with no less than 250 children from 63 schools involved. Renamed the "Three Little Puppies," for fear of offending Muslims, the early nineteenth-century tale will otherwise be produced as scheduled. Curiously, Ibrahim Mogra of the Muslim Council of Britain branded the change "bizarre," condemned the move as misguided, and said such decisions turn Muslims into social "misfits." Mohammed Imran of the Hanfia Mosque and Educational Institute noted that "According to the Koran, it's forbidden to eat pork or touch a pig, but there's no ruling about talking about them or singing about them." (March 15, 2007) Mar. 17, 2007 update: Hold the presses – "Three little piggies win a reprieve" reads the Daily Telegraph headline. Town councillors stepped in to reverse the decision.
"Venray Muslims resent pig art": IslamInEurope translates this news item from the Netherlands:
Muslims in Venray are disturbed by artwork in the Limburg city. In any case, that's what PvdA municipal council member Hayrettin Ünüvar claims. A pig is part of the offending sculpture, reports the local newspaper Peel en Maas. The image doesn't necessarily have to be removed immediately, but Ünüvar insists that from now the multicultural society should be taken into account. In Islam, pigs are an impure animal. Alderman Patrick van der Broeck explains that there's no intent to offend with the artwork. "The pig is a reference to the intensive animal husbandry in Venray."
Comment: Banning the pig from art makes perfect sense as part of an all-fronts effort to delegitimize anything porcine. (June 12, 2010)
"Police ban pork-sausage and alcohol party planned in Muslim area of Paris": Here's a reprise of the 2007 soupe au cochon incident (on which, see above), except that this one includes alcohol too and was not allowed to proceed.
French police have banned as a provocation a "pork sausage and booze" street party planned for Friday in a heavily Muslim neighborhood of Paris. The party was scheduled for the Goutte-d'Or neighborhood of northern Paris where Muslims pray on the streets on Fridays because there are not enough mosques, the Associated Press reports. …

Organizers, who used a Facebook page to build support, say the event was aimed at protesting Islam's encroachment on traditional French values in the neighborhood. Muslim groups, in turn, announced a counterparty serving halal food.

The main organizer, who uses the pseudonym Sylvia François on the event's "Saucisson et Pinard" Facebook page, tells the left-wing daily newspaper Libération that she no longer feels at home in her neighborhood, France24 TV reports. "Ethnic French people can no longer take a drink in peace around here," Francoise says. "You get odd looks for being a woman who is not wearing a veil, dressed with a little bit of elegance."

The party drew the support of several right-wing groups, including Secular Counterattack, Identity Bloc [Bloc Identitaire] and Solidarité avec les Français.
(June 15, 2010)
Oxford University Press bans sausages and pigs from children's books in effort "to avoid offence": The Daily Mail reports that the Oxford University Press has sent a letter instructing authors of children's books to exclude anything having to do with "Pigs plus sausages, or anything else which could be perceived as pork." (January 13, 2015)