That looks like a parody headline but it's the entirely serious title of a New York Times article by Eric Schmitt. Some details: John Kerry and Ahmet Davutoğlu announced today at a meeting of the Global Counterterrorism Forum (GCTF)
the creation of a $200 million fund [over a ten-year period] to combat violent extremism by undercutting the ideological and recruiting appeal of jihadists in places like Somalia, Yemen and Pakistan. …
The new fund, formally called the Global Fund for Community Engagement and Resilience, will for the first time combine financing from both government and nongovernment entities to identify credible local organizations; develop, monitor and evaluate programs; and channel funds to local projects that target groups and individuals vulnerable to appeals from terrorist groups. It is expected to be operational by mid-2014, officials said. …

Grants from the fund would provide vocational training to youths at risk of being recruited by terrorist organizations; new school curriculums that teach tolerance and problem solving; and Web sites and social networks to educate youth about the dangers of violent extremist ideologies.
So, Washington will partner with the government of Turkey, arguably the most consequential Islamist organization in the world after the Islamic Republic of Iran, to combat the radicalization of Muslim youth. Put differently, American taxpayer dollars will help members of a non-violent extremist ideology to educate youth "about the dangers of violent extremist ideologies.".
To make matters worse:
The Global Counterterrorism Forum that was opened in Istanbul by Hillary Clinton and Davutoğlu in June 2012 included 30 founding members, but excluded Israel. (State Department officials argued, of course, that this actually benefits the Jewish state.)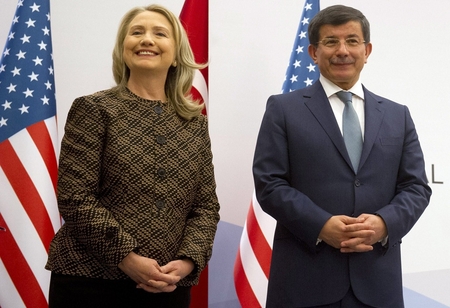 Hillary Clinton and Ahmet Davutoğlu, smiling at their handiwork.
Recep Tayyip Erdoğan, the prime minister of Turkey, in recent days conspicuously avoided condemning the Nairobi mall attack that killed 67 civilians and soldiers.
His AKP government is supporting Al-Qaeda-linked jihadis fighting the Assad government in Syria.
Note the totally euphemistic name of the new organization, the "Global Fund for Community Engagement and Resilience." As I keep saying, you can't defeat an enemy if you dare not mention its name.
This whole things sounds really smart to me. Just the sort of thing the Obama administration geniuses would come up with. (September 27, 2013)
Oct. 4, 2013 update: For a more detailed analysis along these same lines, see "The U.S. is Trusting Turkey to Battle Terrorism, But Here's Why That's a Huge Mistake" by Merve Tahiroğlu. The first and final sentences read:
The U.S. and Turkey announced that they are building a fund together "to combat violent extremism by undercutting the ideological and recruiting appeal of jihadists in places like Somalia, Yemen and Pakistan." They must be delusional not to put Turkey on this list as well. …

Turkey needs to end its own radicalization problem first, by shutting the borders that extremists cross. … And the U.S. needs to acknowledge all of this before it goes ahead and spends $2 million on a fund that it lets Turkey be in charge of.
Sep. 25, 2014 update: The bad joke continues, writes Jonathan Schanzer of the Foundation for the Defense of Democracies in "Boosting Turkey as it backs terror":
Turkey's lax border policies have enabled ISIS to finance and arm its fighters in Syria; ISIS cells are now operating throughout Turkey. And Turkey also helped Iran, a state sponsor of terror, evade sanctions to the tune of billions of dollars in 2012 and 2013. Yet this week, Turkey chaired the Global Counter-Terrorism Forum in New York.

It could be an item from The Onion — except it's not satire. Launched in 2011 after the failure of previous multilateral groups to tackle terrorism, the 30-country GCTF has itself become a farce — not least because Turkey is the co-chair, along with the United States.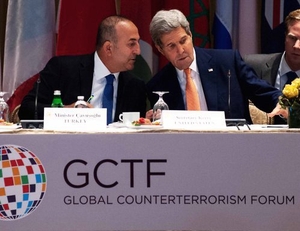 Turkish Foreign Minister Mevlut Cavusoglu with U.S. Secretary of State John Kerry at the Global Counterterrorism Task Force Forum on Sep. 23.
Schanzer provides more details:
Equally absurd, GCTF members include Qatar, Saudi Arabia and Pakistan, all three of which help fund or otherwise sponsor terrorism. Qatar is the headquarters for Hamas, it was the home of the Taliban embassy and it bankrolls some of the most lethal jihadi factions in Syria. Pakistan fathered the Taliban and continues to sponsor Islamists in Afghanistan and India. The Saudis fund Wahhabi institutions around the world, "pre-recruiting" for Islamist terror. …

That we continue to promote the GCTF reveals a lack of American seriousness in the fight against the Islamic State and other terrorist groups. If we were serious, we wouldn't have Turkey as a partner.