Kudos to the American border agency, now known as U.S. Customs and Border Protection, for the courage to stop returning participants from a three-day Islamist conference in Toronto. That event, titled "Reviving the Islamic Spirit," had a rogues' list of speakers and, according to the border agency's spokesperson, Kristie Clemens,
| | |
| --- | --- |
| | The conference poster. |
| | |
We have ongoing credible information that conferences such as the one that these … individuals just left in Toronto may be used by terrorist organizations to promote terrorist activities, which includes travelling and fundraising. As the front-line border agency, it is our duty to verify the identity of individuals — including U.S. citizens — and one way of doing that is fingerprinting.
Participants at the conference who returned to the United States by land via Niagara Falls, N.Y. said they were detained for as long as six hours at the U.S. side of the Lewiston-Queenston Bridge and Rainbow Bridge on Dec. 25-26, or until they agreed to be fingerprinted. In the meantime, they were offered coffee and tea. Miriam Soliman, 20, a Brooklyn-born finance major at Pace University reports that a border patrol officer asked her whether the wire in her underwire bra was a weapon. "I refuse to be treated like this in my own country," she declared. One traveler, Galeb Rizek, 32, quotes himself asking a border guard, "If I refuse to give my fingerprints, what will you do?" to which he got a terse reply: "You can refuse, but you'll be here until you do."
Those who flew to the United States also had to endure interrogations by U.S. Customs officials before they boarded their planes at Pearson airport in Toronto. For example, the self-proclaimed extremist Hamza Yusuf, a keynote speaker at the conference, was detained and interrogated for several hours on Dec. 27 before being allowed to board a flight to San Francisco. "They asked me about the religion of my family and wanted to make photocopies of my notebook and other material," he later told a reporter.
The Council on American-Islamic Relations, of course, finds this a villainous development and demands an investigation by the Department of Homeland Security. Nihad Awad, CAIR's long-time chieftain, complained in his usual pungent style: "The image of a room full of American Muslim citizens apparently being held solely because of their faith and the fact that they attended an Islamic conference is one that should be disturbing to all Americans who value religious freedom." Actually, as an American who defers to no one in his appreciation of religious freedom – and who has severely criticized the U.S. border service in the past – I am immensely relieved to see it showing some backbone. (December 30, 2004)
Jan. 24, 2005 update: Spokeswoman Kristie Clemens does some unpersuasive verbal dancing, as quoted in the Chicago Tribune: "Their religious belief had nothing to do with why they were asked to verify their U.S. citizenship. It's definitely not profiling, absolutely not." Instead, she said, was their attendance at the "Reviving the Islamic Spirit" conference that invited scrutiny.
We are aware that the vast majority of participants at this conference and others are legitimate, going for the right reasons. But we have credible, ongoing information that these types of conferences have been used and are being used by terrorist organizations to not only transport fraudulent documents but to mask travel by terrorists. They think that in a large group we're going to be less restrictive and try to expedite the processing.
Jan. 31, 2005 update: A month after the original episode, and the detainment issue remains alive, thanks to the efforts of the Muslim Public Affairs Council and its fellow-traveler, journalist Jay Tokasz of the Buffalo News. Tokasz – one of the most pro-Islamist reporters I have encountered in all my travels – provides more details and more complaints about the experiences of some forty Muslims at the Lewiston-Queenston Bridge and the Peace Bridge on Dec. 26-27 on returning from the Islamic conference in Toronto.
Hassan Shibly, 18, says he was "led by three armed officers into a separate room for questioning and fingerprinting. In the room, he was told to stand face-first against the wall and spread his legs apart for a pat-down search. 'I was just forced to go along. I refused, but they said legally I had no choice. We weren't treated as American citizens. We were treated as suspects.'"
Sawsan Tabbaa, his mother, called being fingerprinted humiliating: "This was something I thought was only for criminals."
Abeer Rizek, seven months' pregnant, said that border agents lifted her blouse to ascertain that she really was pregnant: "They patted everyone down. The whole thing was embarrassing, the whole ordeal."
This bellyaching (as it were) is really amazing. The United States is at war with radical Islam and Muslims must accept that this means they are subject to special scrutiny. It's unfortunate and it's temporary, but it is necessary, and the sooner Muslims come to terms with this reality and embrace it, for their safety as well as the country's, the better off all Americans will be.
By way of coda, the article contains a disturbing reminder that the U.S. government has not yet recognized Islamism as the enemy. Hassan Shibly recounts that border agents initially told him he was being stopped as part of a random check. "But when he stepped inside the Border Patrol offices, he noticed that the other people there were also Muslims who had been at the conference." This dishonesty, if it took place, is not good.
Feb. 8, 2005 update: News continues to trickle out about the events of late December 2004. Kevin Johnson reports in USA Today that U.S. border agents may have incorrectly detained the Muslims by misusing an FBI database for identifying violent gang members and terrorism suspects, the Violent Gang and Terrorist Organization File (VGTOF). This list has hundreds of names and includes "associates" of suspected terrorists and gang leaders. Federal guidelines do not permit "associates" to be detained or questioned at the border, only noted for possible future investigations.
April 5, 2005 update: Daniel W. Sutherland, in charge of civil rights and civil liberties at the Department of Homeland Security, traveled to the University at Buffalo and, in the words of reporters Jay Rey and Harold McNeil, spoke at length to about fifty people in a 90-minute forum about "the government's good intentions but said he was unprepared to address specifics of the incident." When it came to policy, he stated that "There are multiple pieces to that puzzle. If you're looking to me to give you the answers from A to Z on that, you're going to be disappointed." Sutherland did not say if the detaining and fingerprinting incident was right or wrong. He did explain that the DHS hopes to learn from the incident and forge stronger ties with Arab- and Muslim-Americans. "We don't know enough about Arabs, Muslims and Sikhs; We don't know this terrain very well."
Khalid Qazi, president of the local chapter of the Muslim Public Affairs Council, which has been keeping this issue alive, said that despite Sutherland's inability "to give specific answers to pointed questions, the answers he gave us provide a road map for the future." In contrast, Basem Maddah, the husband of one of those detained, responded, "We just had a very nice sandwich with lots of lettuce and tomatoes, but where's the beef?"
Comment: It is good to see DHS hanging tough. Were it to concede a mistake in this instance, U.S. border security could suffer severely.
April 26, 2005 update: At "America's Border Secrets," I cover last week's court case against the DHS, brought by the Council on American-Islamic Relations and the American Civil Liberties Union. Its implications are quite startling for U.S. security.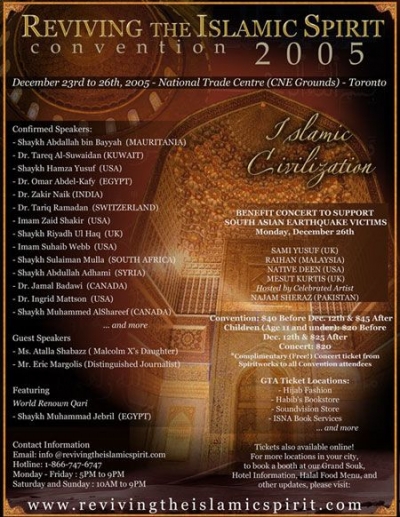 Dec. 15, 2005 update: Another December, another "Reviving the Islamic Spirit" conference in Toronto, this time to be held Dec. 23-29. The difference is that, this year, five New York residents (who are suing the Department of Homeland Security for what happened a year ago) and the New York Civil Liberties Union are asking a federal judge for a court order to prohibit border agents from stopping, searching, fingerprinting, photographing, or holding conference-goers based solely on their attendance at the event. Anthony Coppolino, a government lawyer, argued against such an order, saying the stops were needed. "The concern was not that they went to a religious conference. The concern was that individuals, money, documents or weapons were going to get smuggled across the border." Coppolino did not reveal whether authorities had similar concerns about the conference this year.
Dec. 22, 2005 update: In an excellent development, U.S. District Judge William Skretny not only refused to prohibit U.S. border officers from conducting lengthy border checks on "Reviving the Islamic Spirit" conferees but ordered the case closed altogether.
Skretny acknowledged that last year's stops were "understandably frustrating":
Plaintiffs were delayed for an extended period of time and subjected to unexplained inspection techniques that were inconvenient and made them feel uncomfortable. The government readily admits that plaintiffs' experience at the border was not ideal.
But, he concluded: "As unfortunate as this incident may have been, I find that it was not unconstitutional," for Customs and Border Protection "had reason to believe that these conferences would serve as meeting points for terrorists to exchange ideas and documents, coordinate operations, and raise funds intended for terrorist activities." The fingerprinting, photographing and vehicle searches were necessary to verify that U.S.-based conferees were not attempting to "use the conference as cover." Skretny has it precisely right.
Dec. 23, 2005 update: Respondinig to Skretny's ruling, Christopher Dunn, associate legal director for the New York Civil Liberties Union, notes that "This decision gives the government the authority to do exactly what they did last year." Dunn adds that "This is the sort of case that could go all the way to the Supreme Court. It's a completely unprecedented ruling. This is the first time any court has said American citizens have no rights at the border."
Also of interest: PipelineNews.org presents an analysis of several speakers featured at this year's "Reviving the Islamic Spirit" conference: Abdullah Bin Bayyah, Tariq Al Suweidan, Tariq Ramadan, Ingrid Mattson, Jamal Badawi, and Riyadh Ul Haq.
Dec. 28, 2005 update: There were no border-crossing delays for U.S. Muslims returning from "Reviving the Islamic Spirit," reports Ron Smith, a U.S. Customs and Border Protection spokesman.
Apr. 19, 2007 update: A federal appeals court in New York City is now considering the NYCLU appeal. Reading the tea leaves, the case does not seem to be going in its direction, reports David B. Caruso of the Associated Press:
Some of the questions posed by the judges on Thursday indicated that the NYCLU may have a difficult time convincing the panel that the plaintiffs' constitutional rights were violated. Judges Chester Straub and Barrington Parker suggested that most, if not all, of the actions taken by the border agents, such as fingerprinting and photographing people entering the country, were not particularly invasive. They also questioned how they could rule that the searches were unconstitutional when the law expressly allows border agents to search anyone crossing the border.
One curiosity followed on a question by Judge Rosemary Pooler: "Doesn't this look like profiling of Muslim-American citizens as they enter this country?" Department of Justice attorney Lewis Yelin said it did not.
"This could have been an airline pilots association meeting," he said, and attendees still would have been detained. "If there was a non-Muslim CNN anchorman" returning from covering the event, Yelin said, "he would have been searched, too."
Comment: Give me a break.
Nov. 26, 2007 update: Case perhaps closed. The Second Circuit Court of Appeals ruled that the U.S. Bureau of Customs and Border Protection acted constitutionally when it frisked, fingerprinted, photographed, and used other screening tactics usually reserved for terrorist suspects. "We do not believe the extra hassle of being fingerprinted and photographed — for the sole purpose of having their identities verified — is a significant additional burden that turns an otherwise constitutional policy into one that is unconstitutional." The inspections were necessary because the border authorities could not know who at the conference may have interacted and potentially exchanged identification or travel documents with terrorist suspects.
Donna Lieberman, executive director of the New York Civil Liberties Union, called the decision "deeply disappointing" but has not decided whether to appeal.