"It takes a cynical mind not to share in the achievement of Iraq's national elections." So writes the Wall Street Journal editorial board today. I'm no cynic, but my mood about Iraq could variously be described as depressed, despairing, despondent, dejected, pessimistic, melancholic, and gloomy.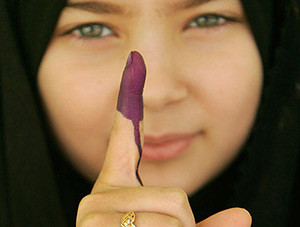 Cosmetic inking for a cosmetic election; this Iraqi girl inked her finger, indicating she voted, even though she is too young to vote.
That's because the Iraqi regime (along with those of Afghanistan, Lebanon, and the Palestinian Authority) is a
kept institution
that cannot survive without constant American support. As long as Washington pumps money and sacrifices lives to maintain the Baghdad government, the latter can hobble along. Remove those props and Iranian-backed Islamists soon take over.
Tehran has aspired to seize effective control of Iraq since the U.S.-led overthrow of Saddam Hussein in 2003. With many levers at hand, from mosques to schools to militias to politicians, the Iranian despots are well placed to inherit the country.
The end of U.S. backing looms. Indeed, Barack Obama responded to the well-run elections by declaring a hope that U.S. troops can leave Iraq months earlier than planned. As the American era closes, the Iranian one opens. In a year or two, the current elections will be looked back on as a cosmetic episode that somehow deceived otherwise savvy observers. .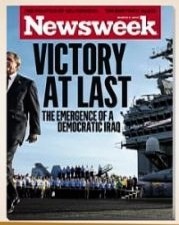 "Newsweek" shares in the optimism over Iraqi elections.
Apr. 1, 2010 update: Confirmation of Iran's growing political role comes today from Rod Nordland in the New York Times, "Iran Plays Host to Delegations After Iraq Elections."
Iran may seem an unlikely place to turn for guidance when it comes to putting together a democratic government, but that is exactly what most of Iraq's political class did immediately after last month's parliamentary elections. The ink was hardly dry on the polling results when three of the four major political alliances rushed delegations off to Tehran. Yet none of them sent anyone to the United States Embassy here, let alone to Washington.

Nor has Washington tried to intervene. Even Ayad Allawi, the secular candidate whose Iraqiya coalition won the most seats — and renounced Iranian support in seeking a parliamentary majority — has heard nothing from the Americans. "Maybe they don't like my face, I don't know," he joked, then added more seriously, "I think they don't want to be associated with any visit, so they wouldn't be seen as siding with one against the other."

The Iranians, however, have shown no such qualms, publicly urging the Shiite religious parties to bury their differences so they can use their superior numbers to choose the next prime minister. Their openness, and Washington's reticence, is a measure of the changed political dynamic in Iraq. Even though more than 90,000 American troops remain in Iraq, no one seriously doubts they are leaving, taking a slice of America's political influence with them.