In a statement today, Al-Qaeda's American rep, Adam Gadahn (né Adam Pearlman, whom the FBI seeks "in connection with possible terrorist threats against the United States"), has this to say:
If the Zionist crusader missionaries of hate and counter-Islam consultants like Daniel Pipes, Robert Spencer, Michael Scheuer, Steven Emerson, and yes, even the crusader-in-chief George W. Bush were to abandon their unbelief and repent and enter into the light of Islam and turn their swords against the enemies of God, it would be accepted of them and they would be our brothers in Islam."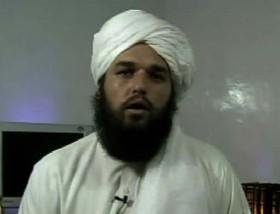 Adam Gadahn.
So, Al-Qaeda wants me and my "sword" (a reference, presumably, to my computer keyboard) to join its efforts. I interpret this as a veiled threat to me should I not accept the invitation. My response to Gadahn:
I note your offer for me to change sides in the current war. But I am faithful to my own religion, to my own country, and to my civilization. I will do my part to defeat radical, totalitarian Islam and to usher in the emergence of a modern, moderate, and good-neighborly Islam in its place.
By way of postscript, Gadahn praises three Westerners: Seymour Hersh, George Galloway, and Robert Fisk. This is in keeping with Osama bin Laden's praising William Blum. (September 2, 2006)
Sep. 3, 2006 update: Robert Spencer joins me in declining Gadahn's invitation.
Thank you for the invitation, Adam, and for your thoughtfulness in extending to me in particular a personal call. But I'm afraid I must decline. While I appreciate that I would be your "brother in Islam" if I became a Muslim and turned my "sword against the enemies" of Allah, I cannot and will not give in to violent intimidation, come what may, and I do not want to live in a society that bows to such intimidation.
Sep. 4, 2006 update: Daveed Gartenstein-Ross writes me that bin Laden also praised Robert Fisk, in an October 2004 video:
And you can read it in my interview with Abdul Bari Atwan, as well as my interviews with Robert Fisk. The latter is one of your compatriots and co-religionists and I consider him to be neutral. So are the pretenders of freedom at the White House and the channels controlled by them able to run an interview with him? So that he may relay to the American people what he has understood from us to be the reasons for our fight against you?"
Also, Laura Mansfield has provided a complete transcript of the Gadahn-Zawahiri video.
Sep. 6, 2006 update: Michael Scheuer has analysed the Gadahn tape. His 1,250-word interpretation does not mention his being named in it, much less does Scheuer reply to Gadahn's invitation.
Sep. 7, 2006 update: Pierre Thomas and Jason Ryan Report of ABC News report that, in a sealed indictment, U.S. authorities have charged Gadahn with providing material support to terrorism. They believe him to be a top-ranking member of Al-Qaeda presently living in Pakistan and have considered charging him with treason. Charges may be publicly announced within the next week.
Oct. 11, 2006 update: A grand jury today indicted Adam Gadahn on treason charges, making him the first American thus charged since World War II. The accusations include treason, providing material support to a designated foreign terrorist organization (Al-Qaeda), and aiding and abetting terrorists.
Jan. 7, 2008 update: MEMRI reports on a video released yesterday (in which Gadahn is called "Yahya Adam"):
to demonstrate his rejection of America and what he views as its inferior moral standing, Yahya Adam destroys his American passport in front of the camera, explaining this act as a "symbolic rejection of American citizenship which honorable decent and compassionate people are ashamed to carry."
Feb. 7, 2008 update: News reports suggest that Gadahn, 32, has been killed by a U.S. bombing attack on a house in Mirali, North Waziristan, Pakistan.
May 30, 2008 update: The Federal Bureau of Investigation notes the media reports of Gadahn being killed but is agnostic on the matter and today issued a press release, "Publicity Campaign Launched in Afghanistan to Publicize $1 Million Reward for Adam Gadahn, American Fugitive Born in California and Charged with Treason." The text explains that "the State Department's Bureau of Diplomatic Security ... has already begun airing radio advertisements with information concerning the $1 million reward being offered for information about Gadahn. Additionally, printed materials including matchbooks, handbills and posters will be distributed throughout the region in the coming weeks."
June 13, 2008 update: The U.S. government is further upping the ante in its attempt to catch Adam Gadahn, as MSNBC explains:
U.S. officials have launched an aggressive new media campaign to try to smoke him out. In ads that have been running on more than 30 radio stations in Afghanistan, the FBI and State Department ask for the public's help in locating Gadahn—and in the process seem to taunt the 29-year-old. The radio spots, obtained by NBC News, begin by stating: "Being a man means fighting for what is right, defending your family, your community and your country. Adam Yahiye Gadahn is not a man."

Produced in Dari and Pashtu, languages spoken along the border with Pakistan, the ads continue: "Born American, he betrayed not only his family and his community but also his country. There is no way to trust someone who is willing to betray the very land they were born on. Now he is committing more atrocities against Afghanistan. Bring a traitor to justice; stop his atrocities from reaching you and your family." The radio ads, complete with music, end by asking locals with information on Gadahn's whereabouts to contact the U.S. Embassy's Rewards for Justice office in Kabul. "If the information you provide leads to his capture, you may be entitled to a reward. For your safety, your call will be confidential," the ads state.
Sep. 6, 2008 update: Adam Gadahn may be dead, killed near the Afghanistan-Pakistan border in a a CIA-directed airstrike by a Hellfire missile, reports Nick Meo in the Sunday Telegraph (London). He is thought to have been killed in a January 2008 attack launched from a remotely piloted aircraft that killed al-Qaeda's then military commander, Abu Laith al-Libi, in Mir Ali, Waziristan. Alternatively, he may have been killed or demoted by jealous colleagues who found him too close to Osama bin Laden. In either case, Meo notes,
Jihadists around the world will be watching as closely as intelligence officials this week to see whether Mr Gadahn - also known as Azzam al-Ameriki - produces a new video message to mark September 11, as he has done every year since 2003. If there is no message it will be taken as near certain confirmation that he is dead.
Oct. 4, 2008 update: Gadahn lives, as established by his referring to "the escalating chaos and looming meltdown of the Crusaders' economic system" and his lengthy analysis of the Musharraf resignation in a just-released video, "The Believer Isn't Stung from the Same Hole Twice" (made available by the Nine/Eleven Finding Answers Foundation, or NEFA).
Apr. 23, 2015 update: A White House press release today reads:
We have ... concluded that Adam Gadahn, an American who became a prominent member of al-Qa'ida, was killed in January [2015], likely in a ... U.S. Government counterterrorism operation.
It adds that he was not "specifically targeted" and U.S. government did not have information indicating his presence at the sites of that operation.