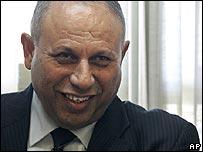 Raleb Majadele, Israeli Minister without Portfolio.
It took 59 years, but Israel has a Muslim Arab minister in its government, its first. That would be
Raleb Majadele
, 53, a member of the Labor party and since January 28, 2007, a
minister without portfolio
.
But he said in an interview that he refuses to sing Israel's national anthem, Hatikva. "Of course I would not sing the anthem in its current form. But before we talk about symbols, I want to talk about equal education for my children. It's more important that my son would be able to buy a house, live with dignity. the Arabs are not in a mood to sing right now." He said he expresses respect for the national anthem by standing whenever it is sung. "To the best of my knowledge, the law does not require me to sing the anthem, but to honor it. I fail to understand how an enlightened, sane Jew allows himself to ask a Muslim person with a different language and culture, to sing an anthem that was written for Jews only."
Comment: Majadele's attitude is in keeping with the anti-Zionist temper of the times among Arabs in Israel and can be expected to get stronger as even establishment figures like himself express it - and are allowed to get away with it. (March 17, 2007)
Mar. 10, 2008 update: A year later and Majadele has gone from minister without portfolio to minister of culture and sport. He is back in the news for his comments in the aftermath of the Palestinian terrorist attack on the Mercaz Harav yeshiva. Arutz 7 paraphrases his saying that
if soccer teams plan to honor the memories of the eight young Jewish students slain by a terrorist in Jerusalem last week with a moment of silence, they should honor the memories of innocent women and children killed in IDF operations in Gaza as well. In an interview with Kol Israel radio, Majadele said that Arab citizens of Israel are upset by "what the State of Israel is doing in the [Gaza] Strip," and called to treat the dead in Gaza and those killed in the Jerusalem attack equally.
Dec. 8, 2008 update: Majadele is back in the news for a more benign, if not less interesting reason. As minister of culture, science, and sport, it fell to him in his official capacity as a government representative to crown the winner of the 2008 Arab beauty pageant in Shfaram, a town in the Galilee. That he did, but Stephanie Zakkak, the 19-year-old Druze beauty who won the contest, received more than her crown from him. Hana Levi Julian of IsraelNationalNews.com reports:
Majadele said he had been the target of criticism in the Arab sector for attending the beauty pageant event. People had called to ask how he, as a religious Muslim, could crown a beauty queen. He answered them, he said, by explaining that his personal opinion was not relevant since it was his job as a minister to attend every event in the Arab world in Israel, regardless of how he felt. Nonetheless, he decided to express his personal opinion on the matter in his speech to the contestants and their families and friends upon crowning the new young beauty queen.

"I would like to see the woman fill a central role in the building of a family according to the Arab society's world view, and not that of the blind Israeli modern European society," he announced. "The woman's role should be to build a good family, to be an aide to her husband and to stand by him." Moreover, he added, "A career woman in the Arab society is something that can only happen when the home and a family are at the center of the woman's life. A career woman that neglects her family is a home wrecker and not a career builder," he declared.
Comment: Note that Majadele belongs to the Labor party, not some Islamist faction.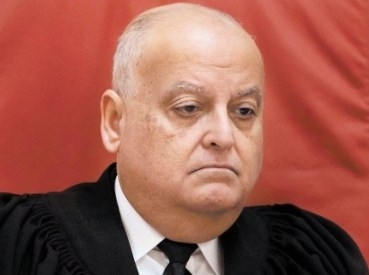 Supreme Court Justice Salim Joubran.

Mar. 1, 2012 update: Another Israeli Arab in a position of high authority has declared his unwillingness to sing the Israeli national anthem at an official ceremony, this time stirring a debate on the right. Supreme Court Justice Salim Joubran, a Christian form Haifa, did not join the singing during the swearing-in ceremony of a new Supreme Court president on Feb. 28, prompting a parliamentary bill by David Rotem (Yisrael Beitenu) on Feb. 29 that would require Supreme Court justices to have served in the IDF or some other form of national service. His party leader, Foreign Minister Avigdor Lieberman, condemned Joubran: "I expect him to learn his lesson, and fast. It is unthinkable that a judge ignores the symbol of an entire nation. Jews also served in foreign lands during the course of history, including in Arab nations, and they were part of the nation and respected its symbols.".
Joubran did, however, have his defenders on the right. Vice Premier Moshe Ya'alon called criticism of the judge as "bizarre, unnecessary, and emit[ting] a bad odor of racial oppression." Knesset Speaker Reuven Rivlin defended Joubran: "He is a part of this country and has linked his fate to ours. I can't be stupid and tell him to sing 'the soul of a Jew yearns.'"