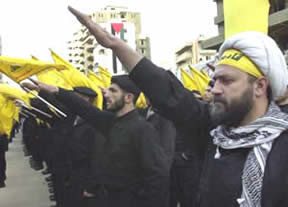 Hezbollah recruits - ready to take on the Israeli navy?
"I don't take it very seriously. What I do take seriously is the Turkish involvement. The Turks are making noises that they don't like the Cypriot agreement with Israel, and that I think could be a sign of troubles to come. The Turks themselves can't make claims on this side of the Mediterranean, but through Cyprus they can. I think the Hezbollah claims are a bit comical, but the Turkish ones are more serious." …
Pipes said Lebanon must be viewed in connection with the popular protests destabilizing neighboring Syria for the past four months. "Should the Bashar Assad regime hold out and prevail, Hezbollah will presumably continue to strengthen. But that's the question – Hezbollah's very future is connected to the Assad regime," Pipes said by telephone from Philadelphia.
Were the Syrian president to be toppled, he said, "Hezbollah would lose its patron and have to be more careful. I don't think we can talk about Lebanon on its own now – we have to wait and see what the denouement in Syria is. I'm inclined to think the regime is in major trouble. Things are pretty bleak for the Assad family – I wouldn't count them out yet, but I wouldn't bet on them.
"This week's attacks on the US and French embassies [in Damascus] – what were they thinking? I've always seen Bashar as a rookie. He's just not good at this. [He should be checking eyes, not running Syria.] He's an unsteady captain at the helm. That's crucial in my pessimism for the regime." (July 15, 2011)