The U.S. government ad promoting Islamthat appeared today at www.DanielPipes.org.
I've devoted considerable attention to U.S. government patronage of Islam (see
here
,
here
,
here
, and
here
), noting how Islam gets a favorable attention not given to other religions.
Imagine, then, my surprise to note that, as of today, the U.S. government is promoting Islam here, at www.DanielPipes.org, on my own website! The colorful ad, provided through Google AdSense, reads "Ramadan Around the World: A Mosaic of Traditions" and clicking on it links to a page at www.America.gov titled "A Multicultural Ramadan." The copy there explains: "American Muslims trace their ancestry to more than 80 countries. America.gov explores the richness of these traditions through the lens of Ramadan."
Comment: Is this a bribe to get me to accept official patronage of Islam? Just kidding. (September 6, 2009)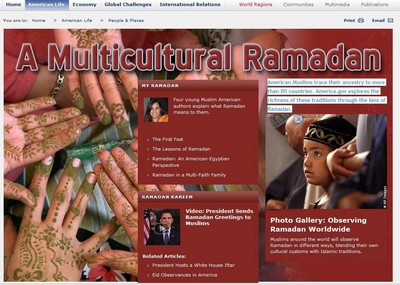 The webpage linked to from the ad on my website.
Jan. 18, 2010 update: And now, the U.S. government promotes Salam Al-Marayati, the Islamist who heads the Muslim Public Affairs Council, on my website. The advertisement pictured below leads to a webpage titled "Protecting Religious Freedom Without Limiting Free Speech" which in turn lists five "experts," one of which is Marayati.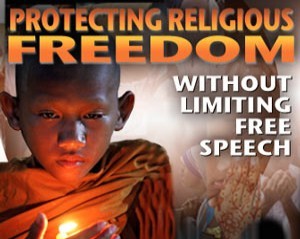 Another U.S. government advertisement at www.DanielPipes.org.