A recent spate of killings in the West of non-Muslims by Muslims has gone unnoticed by the major media. Here are some recent cases in the news (fatalities are marked with an asterisk, *; numbers count U.S.-based fatalities in 2013):
* Jan. 16: Imran Akhtar Hussain, 26, of Bracknell, Berkshire, England, stands accused of the murder of Kieran Crump Raiswell,18, a student. Raiswell, described as "caring and quiet," died after he being stabbed four times in the heart with a knife at a bus stop in broad daylight as he was on his way to look for a job. He intended to attend Sheffield Hallam University and study history. The police have no indication of motive. July 4, 2013 update: The court heard that Hussain had on Jan. 4 punched another stranger in the face; and that he had "sniggered" after murdering Raiswell.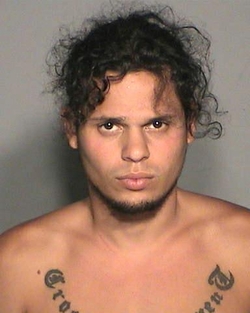 Mug shot of Yusuf Ibrahim.

* Feb. 5, #1: Yusuf Ibrahim, 27, Egyptian born and living in Jersey City, stands accused of shooting, then cutting off the heads and hands and knocking the teeth out (to hinder identification), of two Copts, Hanny F. Tawadros and Amgad A. Konds, then burying them in Buena Vista Township, New Jersey. He is charged with two counts each of murder, felony murder, kidnapping, robbery, desecration of human remains, and various other crimes. He is also wanted for a Dec. 22, 2011 carjacking and a Sep. 20, 2012, armed robbery, both in Jersey City. In the later, he shot the victim in the foot. Oct. 14, 2014 update: Ibrahim pleaded guilty in a plea bargain to the carjacking and robbery charges today; his sentencing will take place on Nov. 21. The double murder case will be taken up later. Jan. 12, 2015 update: Ibrahim was sentenced to 18 years in prison for the carjacking and the robbery. June 24, 2016 update: Ibrahim was convicted of double murder, desecrating the bodies, theft, weapons offenses, hindering apprehension and tampering with physical evidence. He yawned. Sep. 22, 2016 update: Ibrahim was sentenced to two consecutive life terms in state prison; he will be eligible for parole only in 127.5 years.
* Feb. 19, #2: Ali Syed, 20, of Ladera Ranch, Calif., went on a shooting rampage in Southern California, killing Courtney Aoki, Mel Edwards, and Jeremy Lewis, then committed suicide. The Orange County Sheriff's spokesman, Jim Amormino, said Syed, described as an unemployed part-time student at Saddleback College who lived with his parents and a loner who "spent a lot of time alone in his room playing video games," left "no evidence, no note, nothing that would explain this very bizarre, violent behavior." Mar. 1, 2013 update: But he did leave a document titled "Suicide Note," we now learn. According to the Orange County Sheriff's Department, it indicates "that the events Ali Syed was responsible for were pre-meditated and planned."
* Feb. 21, #3: Ammar Asim Faruq Harris, 26, killed three people on the Las Vegas Strip and fled, is called armed and dangerous. He apparently got into an argument with, Ken Cherry, shot Cherry as Cherry was driving, which led to a collision that killed a taxi driver and his passenger. Harris has a long criminal record that includes kidnapping, sexual assault, and robbery.
Comments: (1) Are the attacks criminal, familial, or crazed in nature, or do they have a larger purpose, do they fit into an Islamist agenda? Because the media, law enforcement, and elected officials are so reluctant to give out information about the attackers' religion, much less their motives, it's basically impossible to tell from the outside if they represent a wave of sudden-jihad-syndrome attacks by Islamists or are just a bunch of criminals who happen to be Muslim, or a bit of both. The most the media will concede is in the Ibrahim case, that "Privately some wonder if it had something to do with the victims' [Christian] religion." When will journalists, police, and politicians end their efforts to hide key information that the public needs and deserves?
(2) This weblog entry builds on two prior listings maintained over a 8-year period, "Denying [Islamist] Terrorism" and "More Incidents of Denying Islamist Terrorism."
(3) Lack of media interest means that finding these incidents is a matter of hit and miss. No doubt, I have missed some. Readers: Please send relevant news items. (February 24, 2013)
---
Further research has turned up other recent cases of Muslim-on-non-Muslim violence:
* Sep. 8, 2011: As Justin Hall, 32, of Mount Vernon, Ohio, was about to board a Greyhound bus in Springfield, Mo., Mohamed H. Dawod, 25, of Glendale, Ariz., shot him in the back. Dawod tried to fire more shots but his pistol, a .22-cal. semi-automatic, jammed, at which point other passengers subdued him. The attack appeared to be unprovoked. Police are seeking a motive. They charged Dawod with first-degree murder and armed criminal action in the shooting.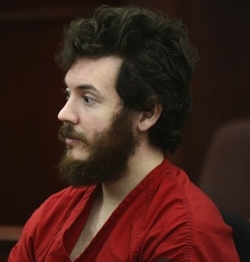 James Holmes, the Colorado mass killer, in court in March 2013 with a Muslim-style beard.

* Jul. 20, 2012: James Eagen Holmes killed 12 people and wounded 58 people at a showing of the movie Dark Knight in Aurora, Colorado; although he did not exhibit any connections to Islam at the time, it came out seven months later that he is a Muslim, sports a long and thick beard, keeps a strict Muslim diet, studies the Koran for long periods, and prays five times a day. According to the National Enquirer, quoting a prison source, he claims the beard symbolizes his faith, and that he turned to Islam as a way of justifying his murder spree. "He has brainwashed himself into believing he was on his own personal jihad and that his victims were infidels."
Comments: (1) Was Holmes already a Muslim on July 20, 2012? Presumably, this will come out in due course. If he was, then this atrocity could have been jihadi warfare. (2) If he was not, and he converted subsequently, he fits a distinctly African-American pattern, namely converting to Islam after getting into trouble with the law. (March 20, 2013)
* July 31, 2012: Ali Salim, 44, a medical doctor born in Pakistan and living in New Albany, Ohio, is accused of luring nine months' pregnant Deanna Ballman, 23, to his house under the pretense of seeking housecleaning services, then injecting her with a lethal dose of heroin, raping, and killing her. He is charged with two counts of murder (Ballman and her unborn baby) as well as rape, felonious assault, corrupting another with drugs, kidnapping, tampering with evidence and abuse of a corpse (i.e., rape).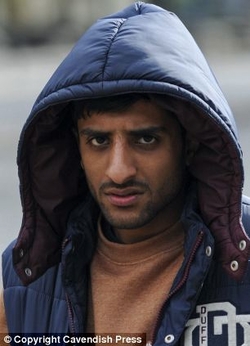 Aqab Hussain, hit and run jihadi?

Aug. 21, 2012: Aqab Hussain, 21, already banned for reckless driving purposefully drove his car into three people on the streets of Manchester, England. CCTV footage shows, in the Daily Mail report, "one man knocked to the pavement, another catapulted over the roof of the Vauxhall Corsa and a third carried down the street before Hussain swerved to dislodge him from the bonnet. Father-of-three Michael Ward, 29, who was thrown over the car roof, was left with catastrophic head injuries. He now cannot talk, feed himself or play any part in family life." Hussain showed no remorse but tried to flee Great Britain three days after the attack. Sentencing Judge Robert Atherton said to Hussain, "Why you did it is extremely difficult to understand." In a typically risible European-style punishment, Hussain was sentenced to 20 years in prison and banned (again) from driving for 15 years after that.
Sep. 15, 2012: Adel Daoud, 18, a U.S. citizen living in Hillside, Illinois, was arrested, according to a FBI press release, "after he allegedly attempted to detonate what he believed to be car bomb in front of a bar in downtown Chicago." He was charged with one count of attempt to use of a weapon of mass destruction (explosives) and one count of attempt to damage and destroy a building by means of an explosive. He faces a statutory maximum sentence of life in prison for the first charge and a mandatory minimum sentence of five years for the second one.
According to an affidavit in support of the complaint,
beginning in about October 2011, Daoud used e-mail accounts to obtain and distribute material, some of which he purported to author, relating to violent jihad and the killing of Americans. In about May 2012, two FBI online undercover employees contacted Daoud in response to material Daoud posted online and thereafter exchanged several electronic communications with Daoud. According to the affidavit, during these communications Daoud expressed an interest in engaging in violent jihad, either in the United States or overseas. The affidavit alleges that, from late May to mid-June 2012, Daoud confirmed his belief in the propriety of killing Americans in a terrorist attack and then began seeking online resources regarding how to carry out an attack.

In about June 2012, Daoud was introduced to a purported cousin of one of the undercover employees, who said he resided in New York and was an operational terrorist. Daoud allegedly expressed an interest in meeting the cousin, who unbeknownst to Daoud was an FBI undercover agent. In the course of his dealings with the undercover agent, Daoud allegedly drafted a list of approximately 29 potential targets, including military recruiting centers, bars, malls, and other tourist attractions in the Chicago area. He then selected, researched and surveilled a target for attack to be carried out with an explosive device supplied by the undercover agent, the affidavit alleges.

About 7:15 p.m. yesterday, Daoud met the undercover agent in Villa Park and they drove to downtown Chicago. During the drive, Daoud led the undercover agent in a prayer that Daoud and the agent succeed in their attack, kill many people, and cause destruction. They entered a parking lot where a Jeep containing the purported explosive device was parked. Daoud then drove the Jeep out of the parking lot and parked the vehicle in front of a bar in downtown Chicago, which was the target that he had previously selected. According to the affidavit, Daoud exited the vehicle and walked to an alley approximately a block away, and in the presence of the undercover agent, attempted to detonate the device by pressing the triggering mechanism. He was then arrested.
---
Updates:
Feb. 27, 2013 update: A Pakistani immigrant, Kashif Bashir (not for sure a Muslim), 27, shot an Alexandria, Virginia police officer, Peter Laboy, in the head during a routine traffic stop for a minor infraction. Laboy barely survived.
* Mar. 11, 2013 update, #4: Scott C. Fandrich, 55, of Ridgefield, Washington, was arrested on suspicion of having stabbing two people (Jerry Kush, 70 or 71, and Jerry Nehnevaj, 49) in a Starbucks coffee shop in Vancouver, Washington just before 5 p.m. today. From the affidavit, as reported in the Columbian newspaper:
Scott C. Fandrich, accused of a double stabbing at a Starbucks.

Hamza A. Shariati, 21, told police that he had met Fandrich at about 2 p.m. Monday to discuss religion. During their conversation at one of the cafe's tables, Kush approached and chatted with Fandrich about cars and religion. When Kush got up and left, Fandrich followed him out of the building, Shariati said. Then, Shariati said, he heard sirens. Shariati told police that Fandrich had made statements in the past about "his willingness to die for Islam." He said he knows that Fandrich "has conflicts with people."

Kush was stabbed at least five times in the neck, abdomen and the side of the chest and had to undergo emergency surgery Monday night at PeaceHealth Southwest Medical Center. Bystanders tried to intervene and stop Fandrich. ... One of them, Jerry Nehnevaj, 49, was stabbed in the right lower leg when he attempted to grab Fandrich and pull him off of Kush, according to the affidavit. Nehnevaj was transported to PeaceHealth, treated and released.

Reshad Rida.
* Mar. 31, 2013 update, #5: Reshad Riddle, 25, approached his father, Richard, 52, after an Easter Service at Hiawatha Church of God in Christ in Ashtabula, Ohio, and fired a single round from a handgun that instantly killing Richard. Some 150 parishioners hid under the pews as Riddle entered the church with his gun and yelled that the shooting was "the will of Allah. This is the will of God." Apr. 1, 2013 update: In an appearance today in Ashtabula Municipal Court, Associated Press reports, "Riddle made rambling comments about God and said he wanted to be treated fairly." And Ann Riddle, sister of the victim and aunt of the suspect, said later the family knew of no possible motive. The Ashtabula police chief, Robert Stell said Riddle offered no motive: "Witnesses at the scene said the shooter entered church and made some references to Allah, but we are not sure if that was a motive or if there was a family problem. There is no indication that the father and son had a bad relationship. Everyone thinks this was very surprising." Apr. 10, 2013 update: A preliminary court hearing turned up more information: (1) When the police arrived after the murder, they found Reshad Riddle inside the church, standing at the podium, with a gun in the air, several knives on him, and a Koran on the podium. (2) When Patrolman Thomas Clemens "sat on the witness stand describing the frantic church scene, Riddle calmly stroked his beard and smiled at a child sitting behind him in the courtroom. When Clemens was asked to identify the Easter Sunday shooter, Riddle gave Clemens a little wave." (3) On submitting to a Gunshot Residue Test, Riddle "admitted he used a Smith and Wesson .38 Special," said Clemens. "He referred to the Koran and Allah, quoting passages" and remembered Riddle saying he had "served his purpose." (4) Detective William Felt said Riddle spoke about religious passages in the Koran.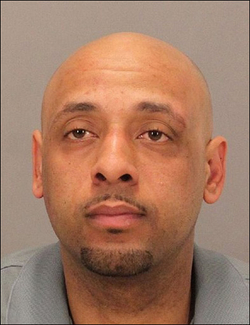 Haamid Ade Zaid, 33, of Seaside, California.

Apr. 1, 2013 update: Haamid Ade Zaid, 33, of Seaside, California drove his red, Oldsmobile Cutlass through the door of a Wal-Mart in San Jose, hitting a beer display before stopping near the pharmacy, after which he got out of the car with a blunt object and began attacking people, injuring four, one seriously. He is under arrest and held without bail on four counts of assault with a deadly weapon, hit and run, under the influence of drugs, and resisting arrest. San Jose police Officer Albert Morales commented, "In my 18-year career I have never seen anything like this. After looking at some of the pictures, it's amazing he didn't hit anybody with the vehicle." Police said they suspect Zaid was on drugs "No motive has been determined" reports the Associated Press. This makes seven cases of potential sudden jihad syndrome in less than two months.
* Apr. 19, 2013 update, #6: Tamerlan and Dzhokhar Tsarnaev, two Islamist brothers, set off the twin blasts at the Boston Marathon on Apr. 15. Due the bombing's public nature, the mystery of the perpetrators' identity, the crime-fiction quality of their night rampage, and the lock-down of the Boston metropolitan area, this attack got all the attention that the seven prior ones over two months lacked.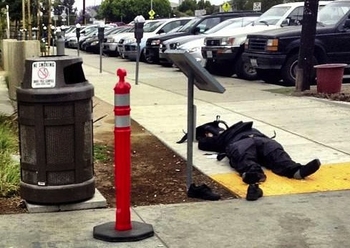 The corpse of John Zawahri, shot by police after his rampage.

* June 7, 2013 update, #7: John Zawahri, 23, killed his father Samir, his brother Christopher, set the family house on fire, then went on a rampage in Santa Monica, California, killing two and injuring four before himself being killed. His mother, Randa Abdou, was visiting family in Lebanon at the time of the rampage. Clearly this had in part to do with family tensions and John showed an obsessive interest in guns (he carried 1,300 rounds of ammunition for his spree). Trouble is, the press has not reported his religion nor do we know the full contents of his farewell note, making it impossible to ascertain if jihad was an element in this assault.
* June 13, 2013 update, #8: A Somali immigrant, Ahmed Dirir, 59, shot and killed three of his employees at A K Home Health Care in St. Louis, then took his own life. Two of the victims appear to be Muslim (Seaeed Abdulla, 29, and Khadra Muse, 44) and one not (Bernice Solomon-Redd, 54). Dirir apparently had an argument with the employees prior to his killing them.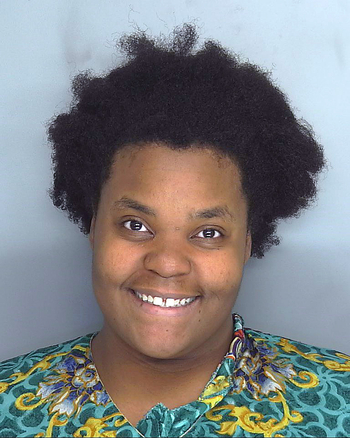 Sahara Tabriz Fakhir, 32, of Douglasville, Ga., accused of stabbing her neighbor to death.

* July 18, 2013 update, #9: Sahara Tabriz Fakhir, 32, of Douglasville, Ga., has been arrested and being held without bond on charges of stabbing to death her neighbor, Jerry Wheeler, 66, the owner of Lee Road Auto Service, at his home on June 19. Not only did Fakhir give a false name but when the judge asked her if she planned to get an attorney, she replied, "Allah is my lawyer and if you do not release me, Allah will have his vengeance on you like He did in 2009 when he sent the flood." In addition, she called the courthouse "a cursed place." The police did not comment on a possible motive.
* Aug. 6, 2013 update, #10: Daymond Agnew, 36 and a recent convert to Islam, entered an Oliver's Ace Hardware store in El Sobrante, California (north of Berkeley) on a "mission from Allah to help people" and 17 times stabbed an employee, Daniel Joseph Stone, 49, killing him. According to Malaika Fraley in the Contra Costa Times:
Agnew went to the store and walked up to Stone and a customer as they were discussing a paint purchase, deputy district attorney Mary Knox said. After Stone told Agnew that he would help the customer on his own, Agnew used the store's spray paint to paint his face in Oakland Raiders' silver and black because the football team is "in favor with Allah," Knox said. Agnew stabbed Stone at least once in the store after Stone told colleagues to call 911, Knox said. Agnew allegedly stabbed Stone many more times outside the store.
* Aug. 14, 2013 update, #11: Fuaed Abdo Ahmed, 20 and the California-born son of Yemeni parents, entered the Tensas State Bank in St. Joseph, Louisiana, at noon yesterday and took three bank employees hostage. (St. Joseph, in the northeast of the state, has a population of about 1,000; Ahmed's parents own a gas station and convenience store across the street from the bank.) After extensive negotiations, Ahmed released one hostage but twelve hours in, he threatened to kill the remaining two hostages, prompting a SWAT team to storm the bank, in turn prompting Ahmed to shoot them both, killing one and critically injuring the other. The police say they found no political or religious motive but said Ahmed suffered from paranoid schizophrenia and had complained of hearing voices and of having a device implanted in his brain. They also stressed that the bank assault was a planned hostage seizure, not an attempted bank robbery gone awry.
Oct. 3, 2013 update: Oliver Grant at Ninjapundit publishes a blog about terrorism called "Not So Random Unfortunate Events." Today, he posted a long entry on "Mideastern or Muslim Suspect" that replicates and goes beyond the listing here.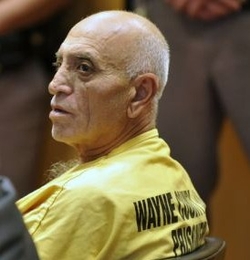 Mike Reda, 65, a Lebanese immigrant, killed two elderly women.

* Oct. 20, 2013 update, #12: A Lebanese immigrant, Mike Reda, 65, stands accused of killing two women at the Pablo Davis Elder Living Center in Detroit. The perpetrator apparently had emotional problems. A neighbor commented: ""The girl he broke up with said some trouble was going to happen. We all took it as, 'Sure we'll be careful.' She said he's going to shoot somebody and we didn't take it for what it was said – and it happened."
Nov. 10, 2013 update: Michael, 26 and Muslim convert, had a habit of raging against non-Muslims. His downstairs neighbor since two years, Gyare Patrick, 66, explains:
He has always ranted and raved, swearing and shouting, ever since he got here. But in the last three months he has started chanting in Arabic. He has mental health problems. Today he was chanting, "Kill kuffars" and "I'm going to Medina," which means kill non-believers and I'm going to heaven.
Well, it was not just empty words: Michael went yesterday to Falcon Road, a busy street in Battersea, South London. The Daily Mail recounts that officers were called around midday
when the knifeman, armed with four blades, attempted to smash his way into a neighbours's property with an iron bar. ... Firemen at a nearby fire station in Battersea, South London, confronted the 26-year-old after seeing him throwing bottles at neighbours and threatening passers-by with kitchen knives. But he went berserk and chased the firemen back to the station, where he attempted to batter down the doors. Within minutes more than 20 police officers had arrived at the scene, blocking off the road as the man sprinted up and down smashing police car windows and screaming abuse. Terrified onlookers cowered in local shops as police tried to contain him using a Taser. ... After 20 minutes officers managed to overpower the man who continued to lash out, injuring one officer who received minor cuts to his hands. ... Last night the suspect was being held on suspicion of the attempted murder of a police officer.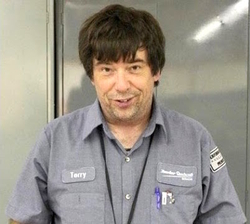 Terry Lee Loewen, a Wichita airport employee charged with intending to blow up airplanes.

Dec. 13, 2013 update: Terry Lee Loewen, 58, an white avionics technician, was arrested today and charged with planning a suicide bombing at a passenger terminal in the Wichita Mid-Continent Airport in Kansas. He used his security pass to drive a vehicle with what he thought were explosives onto the tarmac at the airport, intending to trigger the bomb and die in the blast. Law enforcement indicated he had become radicalized by Islamist materials on the Internet. The charges against him include one count of attempting to use a weapon of mass destruction, one count of attempting to damage property by means of an explosive and one count of attempting to provide material support to a designated foreign terrorist organization. He potentially faces life in prison. June 8, 2015 update: Loewen pleaded guilty; both sides agree on 20 years in prison as a suitable punishment.
---
Apr. 18, 2014 update: Mohammed Whitaker, 27, has been linked to twelve recent highway shootings in the Kansas City area, terrorizing the region and leading to two wounded persons but no fatalities.
* Aug. 22, 2014 update: Ali Muhammad Brown, 29, served time in federal prison a decade ago as part of a Muslim criminal gang that engaged in conspiracy to commit bank fraud to fund terrorist groups in Somalia; he is also a convicted sex offender. Now, based on forensic data (shell casings, palm prints), he is linked to one murder in New Jersey and three in Washington state. Prosecutors in the latter stated that Brown "was on a bloody crusade, executing four innocent men — with the same murder weapon, over the course of approximately two months, and all under the common and single scheme of exacting 'vengeance' against the United States government for its foreign policies." He also called one of the murders a "just kill" in "vengeance" for U.S. military killings in the Middle East. "All these lives are taken every single day by America, by this government. So a life for a life," he said to prosecutors. He described U.S. military efforts in the Middle East as evil and said if a "man sees evil, then he must take action against that evil." For an overview of this case, see Michelle Malkin, "The Jihadist Serial Killer No One's Talking About." Sep. 15, 2014 update: Robert Spencer reviews the case today in "The War at Home."
Oct. 24, 2014 update: Zale Thompson, 32, a convert to Islam attacked two policemen in Queens, New York, with an ax, hitting one on the back of the head and the other on the arm, after which two other officers shot him dead. Thompson had written on his Facebook page: "Helicopters, big military will be useless on their own soil. They will not be able to defeat our people if we use guerilla warfare. Attack their weak flanks." In all likelihood, he was inspired by ISIS. But, weirdly, Police Commissioner William Bratton told a press conference that "There's nothing we know at this time that would indicate that [Islamic terrorism] is the case. That's what the investigation will attempt to determine."
* Sep. 26, 2014 update: Alton Alexander Nolen, 30 and a recent convert to Islam, had a history of attempting to convert co-workers at Vaughan Foods in Oklahoma to Islam; his Facebook page shows him a close follower and enthusiast for ISIS. A local television reporter recounts that Nolen was "shouting Islamic phrases" while attacking his victims. One, Colleen Hufford, he beheaded and then he stabbed another, Traci Johnson, on Sept. 25 before himself being shot.
Comment: In contrast to the double beheading in February 2013 by Yusuf Ibrahim, which happened without almost any notice, this one got quite a bit of coverage. The difference, presumably, is that ISIS is now beheading Westerners, making this a topic in a way it was not 1½ years earlier.
---
Jan. 9, 2015 update: Hashim Hanif Ibn Abdul-Rasheed, 41, drove a car containing frozen urine to the Port Columbus International Airport in Ohio on Jan. 7, parked it illegally, tried to buy a ticket using a woman's I.D., went back to his car, talked to a policeman, then attacked him with a knife, and was shot dead. To put this in context, Ibn Abdul-Rasheed stole a car from a woman in Cleveland and tried to kill her with a gun on Sept. 22, 1999. He pleaded not guilty by reason of insanity and leave it to the U.S. justice system to acquit him and let him back on the streets. Comment: While Ibn Abdul-Rasheed appears was certifiably crazy, his impulse to kill Americans could have a jihadi component.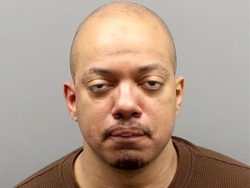 Feb. 17, 2015 update: Terrence Lavaron Thomas, 39, was standing at a suburban bus stop in the Detroit area and "engaged in conversation" with others there, according to Southfield Police Chief Eric Hawkins. He "asked some of the folks there if they were Muslims." When two of them, both in their early 50′s, replied that they were not Muslims, Thomas "was not happy with that answer" and shortly after, "without provocation," he pulled out a 3-inch folding knife "and attacked one of them," according to Hawkins.
According to the Washington Post,
One was stabbed five times in the attack. The other was stabbed in the hand as he tried to stop the attack, Hawkins said. Both were released from the hospital with "non-life threatening injuries." Thomas then fled the scene, Hawkins said. Police arrested him "within minutes." He was carrying two knives — one of which appeared to be the one used in the attack — and some marijuana, according to Hawkins. ...

Thomas was charged with two counts of assault with intent to murder, one count of carrying a dangerous weapon, and one count of possession of a controlled substance — all state charges. Thomas could face a state charge of ethnic intimidation as well, Hawkins said, but county prosecutors were still determining whether it would be added or not.
This case is obviously jihad, not criminality. Feb. 19, 2015 update: Oakland County Prosecutor Jessica Cooper will not charge Thomas with a hate crime.
Mar. 6, 2015 update: Julissa Magdalena Maradiaga-Iscoa, aka Shaheeda Hadee (Arabic: "the calm female martyr"), 33 and an illegal immigrant from Honduras, rammed her car into a police patrol car at Miami airport, and shouted something in Arabic, then said in English she had a bomb (which she did not). She appears to be an Islamist: she wears a hijab, her Facebook page describes her as a Shaheeda, and she follows on Facebook such extremist figures as Zakir Naik, Yasir Qadhi, and Bilal Philips.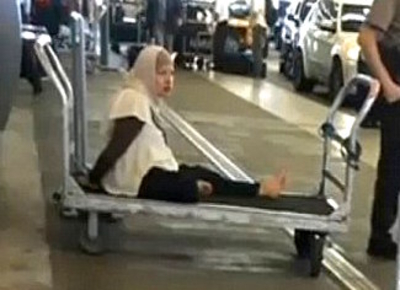 Julissa Magdalena Maradiaga-Iscoa, aka Shaheeda Hadee, after her arrest at Miami airport.
* Apr. 10, 2015 update: It appears that a young Israeli tourist Yosi Damari, was murdered by an Albanian Muslim in Berlin. Details are scarce.
April 26, 2015 update: CBS reports on an incident yesterday at Minneapolis-St. Paul International Airport that followed on airport police responding
to a report of suspicious persons in the terminal's car rental ramp around 9:30 p.m. As the officers were walking on the second level of the parking ramp, a vehicle deliberately drove at them. A press release states that police shot at the vehicle. The driver was taken to a nearby hospital. His condition is not known. Authorities identified the suspect Sunday as 36-year-old Abdulkadir Sheikh Mahmoud. Once he's out of the hospital, he'll be facing aggravated assault charges. ... The release also states that an officer was taken to the hospital with non-life threatening injuries.
Of course, the sheriff reports that police "believe the incident was isolated and does not appear to have any ties to homeland security."
* May 3, 2015 update: Inspired by ISIS-enthusiasts, two American Muslims (Elton Simpson and Nadir Hamid Soofi) attacked the exhibition hall in Garland, Texas, where an exhibition of Muhammad cartoons was underway. Ineptness led to the attackers being killed and no one else harmed other than a policeman lightly.
* June 3, 2015 update: Boston police killed a knife-wielding Usaama Rahim, 26, after he lunged at them. Law enforcement had been following Rahim for some time, fearing he would engage in jihad.
* June 21, 2015 update: Alen Rizvanović, 26, an Austrian man of Bosnian origins (he arrived in the country at the age of 4 in 1993) drove an SUV at 140 kph into a crowd on the main shopping street in Graz, then leapt out and stabbed pedestrians with a knife, leaving 3 dead and 34 injured. The police, naturally, called him a "deranged lone assassin," played up his marital problems, and denied his being a terrorist. From a report in the London Telegraph:
Police have said there is no indication that he was under the influence of alcohol or drugs, and have searched his home but have been unable to establish a motive, although national police director Josef Klamminger said they had ruled it out as a terrorist act and that family and psychological problems were the trigger.
Indeed,
Heinz-Christian Strache, leader of the right-wing populist Freedom Party, sparked anger when he posted a photo of the battered vehicle with the caption: "The culprit is from Bosnia. A religiously-motivated attack cannot be ruled out!", despite police already excluding extremist and political motivations behind the tragedy.
* June 26, 2015 update Yassin Sali, 35, is wanted for decapitating one man and injuring at least two others at the factory of Air Products (a U.S.-based industrial gases technology company) in Saint-Quentin-Fallavier near Lyons, France. According to the Times of London, the decapitated head "was found on a railing, covered with Islamist inscriptions." In addition, one or more attackers, "carrying the insignia of the Islamic State group, drove around the factory yard and smashed into gas canisters causing small explosions."
Aug. 24, 2015 update: Video surveillance tapes points to Freddy Akoa, 49 and a Christian healthcare worker, having been killed by three Somali Muslims (Abil Teshome, 23, Mohamud Mohamed, 36, and Osman Sheikh, 31) at his apartment in Portland, Maine. According to a local news report:
Court documents say that Teshome admitted to police that the assault began when he became angry at Akoa and started hitting him on the head. Jennifer Wilson, Akoa's on and off girlfriend, was present during the assault and said that the five of them had been drinking when the fight broke out, but she wasn't sure why the argument began. Teshome said he "lost control of himself" and punched, kicked, and struck Akoa with a board, according to court documents. Mohamed and Sheikh also allegedly participated in the assault. Wilson was also allegedly sexually assaulted.
Oct. 6, 2015 update: The three have pleaded not guilty.
Nov. 5, 2015 update: Faisal Mohammad a freshman from Santa Clara living on campus at the University of California, Merced, where he was majoring in computer science and engineering, stabbed four people with a large kitchen knife, then shot dead by campus police. His motive is unknown.
Dec. 27, 2015 update: The mysterious stabbing of a 9-year-old New York City boy, Jermaine Culver, as he was walking to school on Staten Island in the morning of Jan. 9, 2015, went largely unnoticed at the time; the boy survived and no one had an idea of who the culprit might be. The scene from a surveillance camera shows an attacker stalking Jermaine, grabbing him, and stabbing him in his back, head, neck and arm. The boy stumbles, then runs away.
Then, in a seemingly unrelated development, Fareed Mamuni, 21, tried to stab an FBI agent with a large kitchen knife as the latter was part of a team searching his Staten Island home in an ISIS-related investigation concerning he and Munther Omar Saleh, 20, planning to set off a pressure-cooker bomb in either Times Square or One World Trade Center. After his arrest, Mumuni announced his allegiance to ISIS and his intention to travel to ISIS-controlled territories.
Today, law enforcement has let it be known that Mamuni was the likely assailant in January based on the facts of physical similarity, that Jermaine lives three blocks from Mamuni, and Mamuni also stabbed the federal agent. Investigators speculate the attack on Jermaine was an audition to impress ISIS.
Jan. 10, 2017 update: Although there were many jihadi attacks in the United States during 2016, I did not enter any here because they tended to receive massive attention. Here is one that's obscure, however: Zia Zafar, 31, of Chino Hills, California, has been charged with one attempted murder of Vice Consul Christopher Ashcraft in Guadalajara, Mexico, on Jan. 6, 2017.
According to the criminal complaint, "Zafar disguised himself and followed the Vice Consul of the U.S. Consulate in Guadalajara through a parking garage to his vehicle. After the Vice Consul got into his car and drove towards the garage exit, Zafar allegedly shot him once in the chest and fled. The Vice Consul was taken to a local hospital, where he currently remains. Zafar was subsequently detained by Mexican authorities."
Feb. 1, 2017 update: Joshua Cummings, 37, suspected of shooting and killing a uniformed security officer, Scott Von Lanken, 56, in Denver had jihadi materials in his backpack and is described as a "radical Muslim."
Aug. 13, 2017 update: Another utterly obscure instance of what appears to be jihad but has received zero attention in the national press, from the Tri-City Herald:
Hussein Hassan, 46, of Kennewick, [Washington state,] was walking on Olympia Street near 10th Avenue with the sword about 6:30 p.m. Witnesses said he seemed to be trying to hide the weapon with a newspaper.

When Kennewick Officer Jason Kiel got out of his car to talk with him, Hassan charged and started hitting Kiel in the head with the sword. Just then, a second officer, Joshua Kuhn arrived. Kiel managed to pull back and both policemen drew their weapons and fired at Hassan.

Hassan was taken to Trios Southridge Hospital, where he died, said a police news release. Kiel suffered a head injury and was treated at Trios and later released.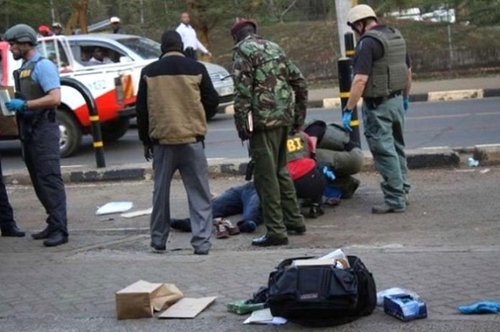 The scene of the attack in Kennewick, Wash.
That's it. Not a word about motive.
Aug. 16, 2017 update
: A
follow-up article
in the same newspaper, "Kennewick man led troubled life before Sunday's shooting," notes that Hassan was of Somali origins but otherwise only documents his various troubles (he "worked at Tyson Foods and then ConAgra before losing his job. He fell twice in a freezer tunnel at the Richland plant and hurt his back), including his run-ins with the law. But again, not a word about jihad.
Other cases: