I wrote about Homaidan Ali Al-Turki, 37, a Saudi graduate student at the University of Colorado, in June 2005, at "Saudis Import Slaves to America," telling how he (and his wife) was arrested on state and federal charges of forced labor, aggravated sexual abuse, document servitude, and harboring an alien. In short, he was keeping a slave and raping her.

The Turkis in better times.
Turns out there is more to the story. Rick Sallinger of CBS reports that Al-Turki has also been since 1995 under a "full fledge investigation" because he is suspected of being "
closely aligned to terrorists
and may be providing material support to terrorism," according to documents filed by his attorneys. The lawyers also say that the government has been investigating the use of proceeds from his Albasheer Islamic bookstore in Aurora, Col. And when he was stopped by the state police on Interstate 80 in Illinois last April, a message on the national crime information computer warned the officers that he is "terrorist organization member," adding a caution: "do not alert this individual to this notice." Although Al-Turki was given only a warning for having an "obstructed view," his lawyers assert that documents in his car were copied and a 38-page fax was sent by the Illinois State Police to the FBI office in Denver.
The CBS report also bye-the-bye mentions that Al-Turki is "free on bond paid by the government of Saudi Arabia."
Also, Homaidan Ali Al-Turk sold books in his store by Ibn Taymiya (the original Islamist) and others showing the falsehood of Christianity, as well as "a 40-minute animated film based on the works of Sayyid Qutub." He sits on the board of the Islamic Media Association.(October 22, 2005)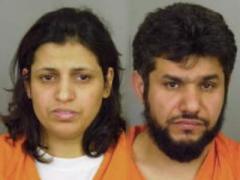 Sarah Khonaizan and Homaidan Al-Turki, arrested.

Dec. 6, 2005 update: The Turkis were arrested for forced labor, aggravated sexual abuse, document servitude, and harboring an alien, and they are under a "full fledge investigation" because he is suspected of being "closely aligned to terrorists and may be providing material support to terrorism." It almost seems humorous that the U.S. Department of Labor yesterday filed a civil suit against the couple for illegally paying their enslaved and raped woman less than the minimum wage and failing to keep records of her employment. They allegedly owe her about $62,500 in unpaid wages and the court would be authorized to order damages of that amount or higher.
Feb. 16, 2006 update: The Turkis pleaded not-guilty today to the charges of kidnapping, sexual assault, and more.
Apr. 12, 2006 update: The Department of Labor has settled its slavery charges against the Al-Turkis in return for their agreeing to pay her $64,000 in back wages, according to a document filed in federal court on Apr. 11, for work done between 2000 and 2004. The court has yet to approve the settlement. But even if it did, this would hardly end the couple's legal woes; they still face a state trial, scheduled for June 12, on charges of kidnapping, false imprisonment and extortion, and (for Al-Turki) sexual assault. If convicted on these charges, they face up to life in prison.
July 1, 2006 update: Homaidan Ali Al-Turki's 2 ½-week trial ended on June 30 with his conviction on state charges of false imprisonment, unlawful sexual contact, theft, and criminal extortion; he faces up to life in prison. His sentencing takes place Aug. 31. The defense argued that many of the charges resulted from cultural differences or "cynical Islamophobia."
Al-Turki faces federal charges in October of forced labor, document servitude and harboring an illegal immigrant. His wife, Sarah Khonaizan, reached plea agreements, may avoid a jail sentence or spend up to a year in jail, and has agreed then to be deported.
Also of note were the atmospherics as the verdict was announced. Nine sheriff's deputies tried to keep the peace as about two dozen of Al-Turki's supporters "howled at the verdict that was delivered after a day of deliberation. One man was forcibly removed because of his loud sobbing. A woman collapsed at the courtroom door after seeing Al-Turki taken away in handcuffs." As for Al-Turki himself, "wearing a white robe, at first showed little emotion - touching his left index finger to his nose - as Judge J. Mark Hannen read the verdicts. But after the jury left the courtroom, Al-Turki began to sob and hug his family and friends." During these histrionics, the Indonesian woman who had been enslaved and raped "wept and plugged fingers into her ears to shield the sounds of wailing family and friends."
Right to the end, in other words, they managed to oppress her.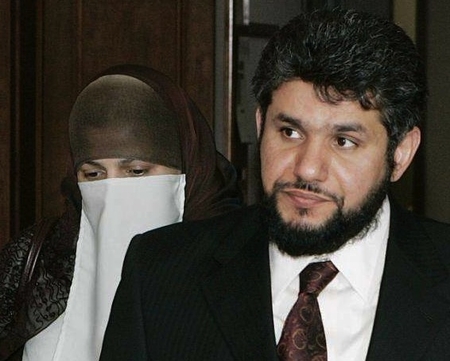 The Turkis at the courthouse.
July 20, 2006 update: For a glimpse of the arrogance and lack of contrition of those connected to Al-Turki, take a look at his support website, http://www.homaidanalturki.com. Today's posting by "Sweet Desert" contains such "recommendations about how to support brother Homaidan" as these (spellings as in the original):
To the Saudi Government:
- Impose a ban on Scholarships to Ameria.

To Parents and these who Value their beloved:
- Inform the Saudi Royal Embassy in Washington about their worry over family members who study in the States.
- They must plead with the Saudi Embassy to put an end to the humiliation of their offspring and make them realize that they are in charge of the Safety of Saudis in the States.

To Saudi Students in the States (expatriates):
- Arrange peaceful demonstrations and take part in them.
- Leave America as soon as possible!
- Deliver the reality of the case and the innocence of Homaidan through any means of MEDIA.
- Enlighten the American mainstream about the case and that brother Homaidan has been unjustly wronged.
- Use your Pen Power. Translate, copy, compose and publish any article that supports the case.

To Saudi People:
- Expose these deceivers who prefer UNJUST AMERICA to Brother Homaidan!
- We are all involved in this case and supporting Homaidan is our DUTY. God knows, any Saudi can be in his shoes..(God forbid!)

To Americans:
- Look at what's taking place in Afghanistan and Iraq! Mind you, your government claims they are trying to free Iraqis from Saddam and release Afghanis from the shackles of Taliban!! Now, it's Homaidan!!!
Aug. 1, 2006 update: Sarah Khonaizan, 35, was sentenced to two months in jail, ordered to pay $90,000 in restitution, and not to have any contact with the former female slave. A week earlier, a federal judge sentenced Khonaizan to five years' probation and payment of $26,275 in restitution after she pleaded guilty to harboring an illegal immigrant. She has agreed to be deported after serving her sentence.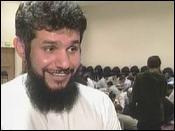 Homaidan Ali Al-Turki, convicted and sentenced.

Sep. 1, 2006 update: Homaidan Al-Turki was sentenced to 27 years in prison by Judge Mark Hannen in Arapahoe County District Court for 12 feloncy counts vis-à-vis his Indonesian housekeeper (unlawful sexual contact with use of force, criminal extortion, and theft) and two misdemeanors (false imprisonment and conspiracy to commit false imprisonment), plus eight more years on other charges. Far from acknowledging any wrong-doing on his part, however, Al-Turki denied havng enslaved the woman or abused her. To the contrary, he insisted that he treated the woman the same way any observant Islamic family would treat a daughter. He then went on and accused the authorities of persecuring him for being a Muslim.
Your honor, I am not here to apologize, for I cannot apologize for things I did not do and for crimes I did not commit. The state has criminalized these basic Muslim behaviors. Attacking traditional Muslim behaviors was the focal point of the prosecution.
Prosecutor Natalie Decker said the trial had nothing to do with Al-Turki's Muslim beliefs. "It has to do with what he did to her for five years. ... This is a clear-cut example of human trafficking," Decker said. "It's important he is put in prison." Al-Turki now faces federal charges in October of forced labor, document servitude, and harboring an illegal immigrant.
An Arab News account coming out of Saudi Arabia adds some interesting comments by Saudis.
The Saudi Embassy in Washington would not comment on the case.

"The problem is that in Saudi Arabia, many are going to take Al-Turki's side, and say he was a good guy, which isn't true," said a Saudi businessman working in Washington who is following the case but requested anonymity. "He truly did some awful things." Bakr Bagader, member of the Saudi National Human Rights Society (NHRS), said the Saudi government should ensure that the man is indeed guilty. "If the man is given a fair trial and is found guilty of sexual assault, backed up by solid evidence, then no one should be above the law," said Bagader. ...

Legal adviser Mohammed Al-Abdali, however, said he felt like the sentence of 27 years to life is a "down point for the American courts that we used to respect and admire." "There was no justice in this case according to what we have learned," said Al-Abdali.
Comment: Al-Turki's statement has implies that enslaving and raping a woman are Muslim practices, confirming the view that an element of Saudi society sees non-Muslims as fair game for enslavement and sexual licence. In brief, an extreme form of Shari'a yet rules in that country.
Sep. 4, 2006 update: "Senior Saudi officials have intervened at the highest level to resolve the case of Al-Turki," reports Abdul Mohsen Al-Misfer of the official Saudi Press Agency.
Sep. 24, 2006 update: Sarah Al-Khonaizan and her two children arrived in Riyadh on Sep. 22 and immediately issued a statement to the press, signed by Hamad Al-Khonaizan, Sarah's brother, blaming anti-Muslim sentiment in the United States for Al-Turki's prosecution. A key factor in his imprisonment, it claims, was his preaching Islamic da'wa.
Homaidan had trust in the American justice system and on the democratic nature of the country," the statement said. "The country that he studied in and where he excelled in school was not fair toward him. They searched for a means to bring him down and tried many ways until they found the weapon that they could use against him, which was the Indonesian maid.
Asked to comment on the case, Nihad Awad of the Council on American-Islamic Relations chose a cautious in-between course:
I have not seen any reports within the US that attack his nationality or his religion. But I have spoken to many people from Saudi Arabia who believe he's in jail because he's Muslim and getting a harsh sentence because he's Muslim.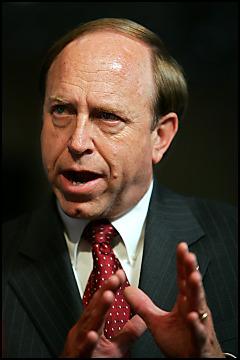 Colorado Attorney General John Suthers, just back from Saudi Arabia.

Nov. 22, 2006 update: In a total exception to all the rules, Colorado Attorney General John Suthers flew to Saudi Arabia to explain Al-Turki's trial and punishment. As John C. Ensslin writes in the Rocky Mountain News, Suthers met King Abdullah, Crown Prince Sultan, other Saudi officials, and Al-Turki's family over a two-day period last week. He did so at the request of the U.S. ambassador, who had the State Department contact Colorado governor Bill Owens, who in turn requested Suthers to make the 19-hour trip. The king picked up the tab for his travel and lodging in a six-room suite in what Ensslin calls "a lavish palace hotel owned by the royal family."
Suthers says he encountered vast cultural and legal differences.
"Under [Saudi] law, to prove a rape case, you need four [male - D.P.] eyewitnesses," Suthers said during an interview at his office Monday[, Nov. 20]. "And they considered it inconceivable that an Indonesian maid was considered a competent witness in our courts." Another significant difference is how civil and criminal courts mesh under Saudi law, making it possible for a victim or a victim's family to come to a financial settlement when it involves a criminal matter. "They didn't understand how that wasn't possible here," Suthers said....

For all of the coverage the case has received, Suthers said Saudi officials seemed surprised at two aspects that had not been reported there. They did not know that two other women had testified at the trial as having experienced similar treatment. They also did not realize that Al-Turki did not testify during the trial. While that choice is a defendant's right in an American court, it carries a different impact in Saudi Arabia, Suthers said. "In the Saudi system, the failure to testify is very significant. When somebody makes an accusation, you're expected to respond."
Comment: It is hardly a new development that the State Department and the Colorado state government should give the Saudis such special consideration, but it remains outrageous. As Debbie Schlussel puts it, "Can you imagine the U.S. sending a state Attorney General to explain to Hitler why we allow Blacks and Jews to serve as witnesses in our courts and why enslaving and raping them for five years is a crime?"
Mar. 28, 2008 update: The seemingly closed case of Homaidan Al-Turki continues to arouse emotions in Saudi Arabia and to rankle Saudi-U.S. relations. Saleh Bin-Humaid, chairman of the Shoura Council, the kingdom's non-elected version of a parliament, brought up Al-Turki's case during his meeting with Secretary of Homeland Security Michael Chertoff in Riyadh on March 26, when he urged the Americans to review the topic. "The Saudi people sympathize with Homaidan Al-Turki and they closely follow up his case," Bin-Humaid said in public.
Jan. 22, 2009 update: The Colorado Court of Appeals upheld Homaidan Al-Turki's conviction, ruling that the trial court correctly set limits during jury selection and that the jury's findings was supported by evidence.
Apr. 12, 2010 update: Until now, we've only known that Turki is a pious Muslim who founded a store to sell Islamic books; we did not know their contents. Now we do. Bruce Finley writes in the Denver Post about his connection to Anwar Al-Awlaki.
Awlaki spent four years, 1990-94, at Colorado State University in Ft. Collins, from which he graduated with a degree in civil engineering. Then, around October 1995, he moved to Denver where he established something of a reputation for himself by delivering sermons and lectures at the Denver Islamic Society's al-Noor Mosque. At this point, Turki appears.
The al-Basheer publications company, formed in the late 1990s, aimed to distribute Islamic literature and spread Islamic ideas among English speakers. Saudi Arabian Homaidan al-Turki, a linguistics scholar who prayed at al-Noor mosque, created the company, state filings show. ...

He tapped al-Awlaki's talents, selling recordings of his mainstream interpretations of traditional texts. And tapes and CDs al-Awlaki made — "The Hearafter" and "Lives of the Prophets" — ranked among top sellers for al-Basheer publications, now run from a warehouse near the Denver County Jail. "Without Anwar, that business couldn't have lasted this long," said Mohammad Noorzai, a former president of the Colorado Muslim Society who ran an al-Basheer bookstore in Aurora. ... "Especially Americans — people who are born here — they liked his CDs very well," said Kamal Leguini, 40, an Algerian running the warehouse last week.

But al-Basheer managers recently ordered him to stop selling anything by al-Awlaki, Leguini said. "Once he did something against this country, or other countries, it was bad. That's not right," he said. Yet followers continue to contact the company by e-mail and phone, he said. "They ask about his stuff. They are asking, 'Why did you stop selling it?' "
Comments: It figures - someone who keeps a slave in the United States and repeatedly rapes her would be a fan of Awlaki's.
Mar. 11, 2013 update: Tom Clements, director of the Colorado Department of Corrections, turned down a request by Turki to be repatriated to Saudi Arabia to serve out his sentence. The nature of Turki's crime requires him to undergo treatment, but, Clements wrote in a letter to Turki,
Information provided indicates that you have been given multiple opportunities to be screened by the Sex Offender Treatment and Monitoring Program. To date you have declined those opportunities to be assessed for potential placement in treatment. You have reportedly declined based upon religious reasons/conflicts with your Islamic faith. I have reviewed information provided from our Chief of Behavioral Health which indicates that the treatment providers work with offenders to identify cultural/religious values and beliefs that support their change efforts, and work with religious leaders for advice in resolving identified concerns.

After a thorough review and careful consideration of all information provided to me in this matter, I have decided not to support your request for transfer to Saudi Arabia at this time. I would encourage you to reconsider your position regarding participation in required treatment.
Should you change your mind, you should contact your case manager about initiating the process to be screened for the treatment program. Your successful participation in the Sex Offender Treatment and Monitoring Program would reflect positive progression and, although there can be no guarantees of future determinations, could result in your eventual parole or transfer to a Saudi Arabian prison.
Comments: (1) Note how Turki relies on bogus claims about Islam. And (2) how the prosecutors made clear that the real reason not to transfer Turki to Saudi Arabia is fear that the Saudis would release him but, not to upset Riyadh, Clements fell back on the paltry rationale that Turki refused sex offender treatment classes.
Mar. 19, 2013 update: One week after denying a request by Turki to serve out the remainder of his prison sentence in Saudi Arabia, Tom Clements, 58, executive director of the Colorado Department of Corrections, was shot and killed as he answered the front door of his home. There was no attempt at robbery.
Oct. 24, 2013 update: A Saudi diplomat, Fahed Al-Rawaf, traveled to the Denver area to ask the court to allow Turki to complete his sentence in Saudi Arabia.
May 24, 2016 update: Declassified documents suggest that Turki may have had a connection to the 9/11 attacks.
Apr. 5, 2017 update: Turki has filed an amended lawsuit against various Colorado officials.
May 2, 2017 update: Turki has filed for parole but has been turned down, Kirk Mitchell reports the Denver Post at "Saudi sex offender seeks release on parole while continuing to deny guilt."
"I feel like [my children] have been in prison with me for the last 12 years," Homaidan al-Turki said in a telephonic parole hearing Tuesday morning. "My imprisonment has affected my family. The growth of my children has been unnatural. They have undergone trauma."

But parole board member Brandon Mathews kept bringing al-Turki back to the topic of his treatment and rehabilitation, questioning why the Colorado convict, who is currently being held in a federal prison in Pennsylvania, hasn't enrolled in required programming for sex offenders. ...

Al-Turki told Mathews that he has repeatedly asked to be admitted into a sex offender treatment program but he has been rejected each time. Mathews replied that al-Turki was rejected for treatment because he has been in denial.

Al-Turki continues to maintain his innocence. He has two appeals in progress, including one in which he is seeking standing before the U.S. Supreme Court. Al-Turki said he is a devout Muslim and it would violate his religion to speak with female therapists about sexual matters or to view nude pictures of women as required in treatment. He also said confessing to crimes he did not commit would be lying. Al-Turki has repeatedly asked to be transferred to his native Saudi Arabia to complete his term. ...

Al-Turki said that he has diligently taken every self-improvement course available, and has helped other inmates deal with mental health issues. If he is allowed to return to Saudi Arabia, he vowed he would be a productive member of society.