To welcome World Cup players and fans, the Pascha Bordell (in English, "Pasha Bordello") of Cologne, whose publicity claims its 120 rooms makes it Europe's largest brothel, mounted a 24-meter-high by 8-meter-wide (78 feet by 26 feet) banner on its 7-storey building. The advertisement features a blond woman clad in a bikini bottom lifting her bra, along with some floating soccer balls and the slogan: "Die Welt zu Gast bei Freundinnin" ("The world makes girlfriends"), a play on the World Cup slogan, ""Die Welt zu Gast bei Freunden" ("The world makes friends"). Below the model are pictured flags of all 32 countries whose teams are competing in the World Cup soccer tournament that starts in June. Less conspicuously, the brothel also put up cloth flags of the 32 countries on the another side of its building.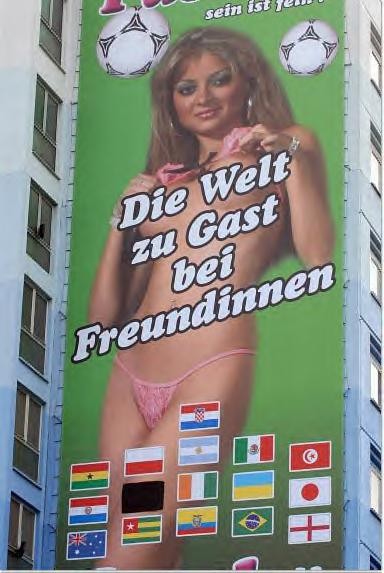 The censored ad of "Pascha Bordel."
Business is expected to be very good this summer.
But, there's a hitch. The brothel's owner, Armin Lobscheid, said a group of Muslims had threatened violence over the advertisement, declaring that the brothel had insulted Islam by representing the flags of Muslim countries. The protestors began with menacing telephone calls and on April 21 about 11 hooded men, armed with knives and sticks, turned up outside the Pascha, demanding that the Saudi flag be taken down. Lobscheid explains: "The situation was explosive. Some of the people compared our ad to the Danish cartoons of Muhammad."
So, Lobscheid did the predictable: he took down the flags of Saudi Arabia and Iran. (Oddly, the Tunisian flag – which bears the Muslim crescent on it – remains in place.) But that was not the end of it. The next day, some 20 masked and armed men turned up and insisted that the flags on the ad also be removed. They threatened to get violent and even to bomb the place. Lobscheid complied, covering them with black paint (see the picture above).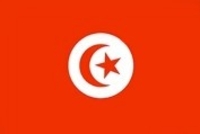 The Tunisian flag.
A spokeswoman for the
Cologne police
sounded quite sympathetic to the Islamists: "They didn't want these two flags to be associated with this go-go girl on the banner as it's a brothel and it offended their religious feelings. The owner removed the flags even though he wasn't legally obliged to as no crime had been committed."
Comments:
(1) Ironic that this German whorehouse is named after a Turkish honorific, suggesting that customers will be treated as though they were Middle Eastern VIPs.
(2) The Pasha Bordello is hardly unique in alluding to sex and pashas; other notable commercial establishments include the "Club-PASCHA" in Zurich, "Pasha – London Escorts and Companions," and "Pasha NYC."
(3) Given this noted habit of Muslim men to engage in sex tourism (for starters, see my article, "Arabian Sex Tourism") and of Islamist men to exploit women sexually (see the important article by Donna M. Hughes, "Sex Slave Jihad"), this incident has a wonderfully hypocritical quality. (April 25, 2006)