Indian media have been publishing exposés documenting the foul behavior of Gulf Arabs in the southern Indian town of Hyderabad. "Fly-by-night bridegrooms" by R Akhileshwari in the Deccan Herald and "One minor girl, many Arabs" by Mohammed Wajihuddin in the Times of India are two important examples. Wajihuddin sets the stage:
They are old predators with new vigour. Often bearded, invariably in flowing robes and expensive turbans. The rich, middle-aged Arabs increasingly stalk the deprived streets of Hyderabad like medieval monarchs would stalk their harems in days that we wrongly think are history. These Viagra-enabled Arabs are perpetrating a blatant crime under the veneer of nikaah, the Islamic rules of marriage.
(I have silently corrected some typos). Wajihuddin then specifies the problem:
Misusing the sanctioned provision which allows a Muslim man to have four wives at a time, many old Arabs are not just marrying minors in Hyderabad, but marrying more than one minor in a single sitting. "The Arabs prefer teenage, virgin brides," says Jameela Nishat, who counsels and sensitises young women against the malaise.
The Arabs usually "marry" the girls for short periods, sometimes just a single night. In fact, Wajihuddin reports, marriage and divorce formalities are often prepared at the same time, thereby expediting the process for all involved. Akhileshwari notes that "their girl children are available for as little as 5,000 rupees to satisfy the lust of doddering old Arab men." Five thousand rupees, by the way, equals just a bit over US$100.
An Indian television program recently reported on a show-casing of eight prospective brides, most of them minors, at which they were offered up to their Arab suitors. "It resembled a brothel. The girls were paraded before the Arab who would lift the girls' burqa, run his fingers through their hair, gaze at their figures and converse through an interpreter," recalls one of Nishat's assistants.
Wajihuddin also offers a specific case history:
On the first of August, forty-five-year-old Al Rahman Ismail Mirza Abdul Jabbar, a sheikh from the UAE, approached a broker in these matters, seventy-year-old Zainab Bi, in the walled city, near the historic Char Minar. The broker procured Farheen Sultana and Hina Sultana, aged between thirteen and fifteen, for twenty thousand rupees [DP comment: that equals US$450]. Then he hired Qazi [DP comment: an Islamic judge, usually spelled qadi in English] Mohammed Abdul Waheed Qureshi to solemnise the marriage. The qazi, taking advantage of an Islamic provision, married the girls off to the Arab. After the wedding night with the girls, the Arab left at dawn.
So much for that "marriage."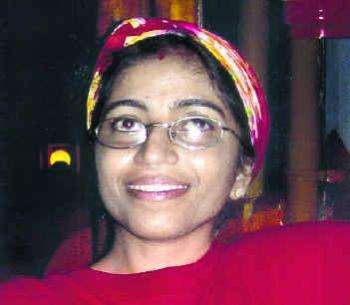 Sunita Krishnan of Prajwala.
Sunita Krishnan, head of an anti human-trafficking organization, Prajwala, makes the only too-obvious point that girl children are not valued. "If a girl child is sold or her life ruined, it is not a national loss, that's why this is a non-issue, both for community and to society." With the exception of Maulana Hameeduddin Aqil, the head of Millat-e-Islamia (a
local organization
, apparently not connected the
notorious Pakistani terrorist group
), who speaks out against these sham marriages ("They are committing a sin. It's not
nikaah
, it's prostitution by another name"), the Islamic authorities in India are almost all silent about this travesty of the Shari'a.
For their part, Muslim politicians in the city of Hyderabad apparently could care less. "It's not on the poll agenda of any politician," says Mazhar Hussain, director of a social welfare organization, the Confederation of Voluntary Associations. The Majlis-e-Ittihadul Muslameen, the main party of Hyderabad's Muslims, is blissfully unconcerned: "You cannot deny that the fortunes of many families have changed through such marriages," MIM's president, Sultan Salahuddin Owaisi, cheerfully points out.
Comments:
(1) Ironically, the girls thus proffered appear all to be Muslim – no Hindus or others need apply.
(2) The behavior of Arabs in India in some way parallels that of Japanese and Westerners in Thailand, with the notable difference that the Indian case involves marriage, an emphasis on virginity, and local authorities seemingly pleased with providing their minor girls for sex tourism.
(3) Arabian sex tourism is not exclusive to India but also takes place in other poor countries.
(4) This trade in persons is merely one dimension of a problem that prevails through Saudi Arabia and the Gulf states (for another dimension, see "Saudis Import Slaves to America").
(5) Concubinage, forced labor, indentured servitude, slavery – these deep problems are nowhere near being addressed in the Gulf region, much less solved. Indeed, one prominent Saudi theologian has gone so far as to state that "Slavery is a part of Islam" and whoever says it should be abolished "is an infidel." So long as such attitudes can be articulated publicly, without censure, abuses are certain to continue.
(6) The hypocrisy of this trade is perhaps its vilest aspect. Better prostitution, frankly acknowledged, than religiously-sanctioned fake marriages, for the former is understood to be a vice while the latter parades as a virtue.
(7) Wajihuddin compares the Arabian men to "medieval monarchs" and the analogy is apt. These transactions, involving Muslim minors and conducted under the auspices of Islamic law, point yet again to the dominance of premodern ways in the Muslim world and the urgent need to modernize the Islamic religion.
_________
Oct. 7, 2005 update: A bibliography of my writings on "Sex and gender relations" provides background to the problem described here. See especially "Female Desire and Islamic Trauma."
Oct. 8, 2005 update: See my weblog entry, "Arabian Sex Tourism Updated," for more recent information pertaining to this topic.