Picking up on an article I published yesterday, "Arabian Sex Tourism," a reader points out the irony of men from the U.A.E. going to India in search of sex when Dubai, the largest U.A.E. city itself is notorious for its sex trade. On this topic, see Peyman Pejman, "U.A.E.: Muslim Federation Of States Is Hub of International Prostitution." (October 8, 2005)
Feb. 21, 2006 update: The Abdul Jabbar story in my original article is told differently by the Times of India in "80-year-old Arab buys Indian bride for Rs 10 k":
In August last year, two minor girls were married to a middle-aged Arab from the UAE in one sitting by a cleric. However, the girls escaped from his clutches. The Arab, Shaik Al Rahama Ismail Mirza Abdul Jabbar fled the country. Police had then arrested the cleric and the broker and claimed that the marriage racket had international ramifications.
The same article also provides a host of other examples, including the title case involving a 27-year-old Indian bride bought for US$225 and a variety of other travesties.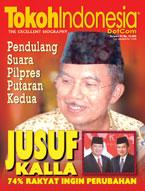 Jusuf Kalla, vice-president of Indonesia.

June 29, 2006 update: One hardly knows whether to cry or laugh on learning the comments of Indonesia's Vice President Jusuf Kalla at a travel industry seminar on attracting more Arab visitors to Indonesia.
Kalla noted that many Arab tourists currently traveled to Puncak - a hill town near Jakarta notorious for prostitution, where signs in Arabic at restaurants and hotels testify to the its popularity with Arabs - to enter into short-term marriage contracts with Indonesian women. "We need different kinds of marketing campaigns, more targeted. At the moment most Arabs go to Puncak. If they go there looking for widows or divorcees that is not our business, it is not a problem. So what if the man goes home, the lady gets a small house, that is good isn't it?"
Aug. 16, 2008 update: Summer "tourist marriages" are emerging as a pattern during the summer months, when Saudis travel to Indonesia to escape the heat and some men marry local women only to abandon them in the fall. The marriages are facilitated by matchmakers with albums of pictures of potential wives, which customers can select for SR2000 or US$530.
In one instance, reports the Saudi Gazette, relying on information in Al-Watan from Faraj Al-Dawseri of the Saudi Embassy, four young Saudis married four Indonesian girls in the town of Bandon but then
alleged the marriages were unofficial because they did not acquire a permit from the Ministry of the Interior in Saudi Arabia and instead the marriages were officiated by a mosque's Imam in the presence of the girls' father. They alleged they did not deceive their father-in-law because they declared the marriages were only being conducted to "protect them from temptation." They also said they were being cautious not to father children with the women because the marriages were strictly "tourist marriages."
The result of such marriages, according to Dawseri, are thousands of children in Indonesia abandoned by their Saudi fathers. The embassy facilitates contact between the Saudis and their abandoned wives and children; often, Indonesian families settle for payments of SR2,000.
Apr. 18, 2009 update: According to Khaled Al-Arrak, director of Saudi affairs at the Saudi Embassy in Jakarta, misyar (temporary) marriages between Saudi sex tourists and Indonesian women are commonplace. "Some poor Indonesians marry off their girls to Saudis hoping it would put an end to their poverty and miseries." In fact, these are temporary marriages that end within days, often leaving the women with unwanted children. The Saudi Embassy in Jakarta received 82 calls last year regarding children of Saudis who had married Indonesian women and then abandoned them. So far this year, it has received 18 such calls.
The artcle P.K. Abdul Ghafour in the Arab News tells about Aysha Noor, 22, an Indonesian woman from Sikka Bhumi, 160 km east of Jakarta.
She said that her parents married her to a young Saudi man when she was 16, thinking it would be a blessing for the family and end their poverty. "We in Indonesia consider people of Makkah and Madinah as blessed ones. The man gave me a dowry of six million Indonesian rupiahs [US$540]. The dowry helped us to solve some of our economic problems. My family did not know that the man was intending to have a temporary marriage." She adds: "After a few days he paid us the remaining amount of three million rupiahs [US$270] and left the country." Noor said she later had a similar marriage with another Saudi before finding a job at a nightclub as a singer and dancer.
The consul for information at the Indonesian Consulate in Jeddah, S.P. Dharmakirty, confirmed the problem of temporary marriages involving Saudi men and Indonesian women. "Indonesian authorities have taken appropriate measures to curb this practice," adding that some people involved in such illegal marriages have been detained.
July 16, 2009 update: Siraj Wahab of the Saudi newspaper, Arab News, tells the story of a disappeared Saudi "groom" and his Indian son who sought him out in "Indian finds Saudi father after 27 years." The father, Fahhad Mohammad Faleh Al-Hajri,
was suffering from acute spinal pain in the early 1980s when he headed to Mumbai for an operation. One of his friends accompanied him to India. The treatment was to be long and hard. The two Saudis decided to marry in India. They went about it in a legal and Islamic way. Thirty-eight-year-old Fahhad married Salma Khan. The marriage took place in 1980 with the consent of Salma's father, Khair Mohammad Khan. ... Al-Hajri stayed in Mumbai for some months and then left for Saudi Arabia never to return.

A few months later, Salma was blessed with a baby boy. She awaited her husband's return. Days turned to months and months to years. There was no way to contact Fahhad. To make matters worse for Salma, the address that Fahhad mentioned in the marriage contract was sketchy at best.

Angered by the helplessness and desperate situation of his dear daughter, Salma's father approached the Saudi Consulate and filed a written complaint against Fahhad. "If he is not going to come back, fine; he should at least give her a divorce so that they could close the chapter," he wrote in his complaint addressed to the Saudi consul general. Nothing came of it. There was no word from and no trace of Fahhad. Salma kept hoping against hope that he would turn up one day to surprise her and their son. That never happened.

In between, Fahhad's friend, who had accompanied him to Mumbai on the first trip and who had also married another Indian woman at the time, visited India and learned about Fahhad's Indian wife giving birth to a "handsome" baby boy. He also was told by acquaintances that Salma had named Fahhad's son Ahmed. The friend did inform Fahhad about the birth of a son.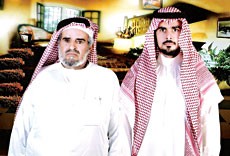 Ahmed Al-Hajri (r.) with his father Fahhad Al-Hajri.
Finally, Salma got the marriage annulled and married again. But the son, Ahmed Fahhad Mohammad Al-Hajri, wanted Saudi citizenship – who can blame him? – and got a hotel job in Saudi Arabia in 2003. Finally, after years of fruitless searching, he located his father through a network of fellow Indians. His brother turned up and approached Ahmed's Saudi sponsor, asking for Ahmed to be released from his work contract. The sponsor, says Ahmed,
readily agreed to release me. He was happy for me. 'Mabrook,' he told me. 'Anta Saudi; maafi Hindi,' he said as he bid me an emotional adieu. ["Congratulations. You are a Saudi, not an Indian."]

I then met my father. That was the most beautiful moment in my life." It was what Ahmed Fahhad Mohammad Al-Hajri so long had hoped for. "One look at him, and all my anger dissipated in one second," he said. "I no longer had any questions. One hug from him, and it was like Paradise."
The pesky matter of nationality will be taken care of anon: "Having realized his fondest dream, Ahmed is now with his father in Bisha. He still has an Indian passport. The Al-Hajris have approached the Ministry of the Interior to process Ahmed's Saudi citizenship papers."
Comment: Perhaps the strangest part of this case is the journalist's upbeat presentation of it as a human-interest story, whereas it really reveals another facet of tawdry Saudi sex tourism.
Oct. 17, 2010 update: Tariq A. Al Maeena, a Saudi commentator living in Jeddah, notes that the Saudi government is finally doing something about the sex tourism abroad of its male subjects in "Misery of marriages of convenience," published by the English-language Gulf News. Excerpts:
At a conference in Egypt, Aiman Abu Akeel, chairman of the Maat Foundation for Peace and Development, stated that the majority of men who visit Egypt looking for misfar (tourist) marriages tend to be Saudi, followed by Iraqis, and that the women they marry are predominantly younger than them. ... In Egypt, the parents receive up to 4,000 Egyptian pounds from the visitors for sanctioning their approval for a limited time marriage. Most of these girls are below 16 years of age, and do not understand that they are being treated like commodities.

And it's not just in Egypt that such a growing problem exists. There are significant numbers of wives and children abandoned by travelling Saudis in many countries. In Morocco, there are reports of over 5,000 wives and as many children who had been left deserted by their tourist husbands without honour or gratuity. In Syria, Yemen, India, Indonesia and the Philippines, similar numbers exist making it is a growing concern for the Saudi government, which is beginning to force moves to make it obligatory for such errant fathers to own up to the responsibility of parenthood.

The semi-autonomous consultative Shura Council has been tasked to study the issue of children born of non-Saudi wives and abandoned by their Saudi fathers. Najeeb Al Zamil, founder of the Back to the Roots Foundation, a nongovernmental organisation that helps Saudi children abroad, said that there are many such children in Arab countries and that the men abandon their temporary wives and children born in these relationships for fear of discovery by their relatives back home. ...

Al Zamil has called for DNA tests to be recognised as a legitimate means of determining kinship, something that would force a father to admit parenthood. He also said that many of these children are neither in need of financial aid nor do they want to come to the Kingdom but are desperate to be recognised. Soon after he became the ruler, King Abdullah had ordered that money be paid to the abandoned children of Saudi men.

In Morocco, the Saudi ambassador said the problem was compounded by the fact that many Saudis marry Moroccan women without their family's knowledge, and blamed the misery of these women on irresponsible Saudis. "We give the children Saudi nationality if the woman can prove that she was married to a Saudi. The main problem we face is dealing with Saudis who do not cooperate with us. We at the embassy feel great pain toward our sons and daughters who have been abandoned like this. I try every day to call their fathers to solve their problems," he stated.

He added that Saudi embassies have been advised to register children and issue temporary travel documents that allow fathers to bring their children to the Kingdom and arrange passports and ID cards for them. Fathers, however, could be punished for violating the law and that this could be in the form of a travel ban or a prison sentence.
Feb. 7, 2013 update: Jason Burke documents in "Poverty-stricken Indian women forced into prostitution in Middle East" for the Guardian how Arabians need not bother traveling to India for sex but can find it right at home. An excerpt:
There were 3,517 incidents relating to human trafficking in India in 2011, says the country's National Crime Records Bureau, compared to 3,422 the previous year. Most involve women, often from very poor backgrounds, being seized forcibly or misled into lives of harsh domestic labour or sex work within India. But increasingly police and campaigners are uncovering illegal operations which channel women to countries such as Saudi Arabia, Bahrain or the United Arab Emirates. Many work without problems, sending much-needed cash back to their families. But others fall prey to unscrupulous and often violent intermediaries. An increasing number are forced into prostitution.

Anis Begum, 27, an almost destitute mother-of-four from Hyderabad, southern India, said she had paid 10,000 rupees (£120) to an agent to go to Saudi Arabia after being promised well-paid work as a maid. Instead, she was locked in a storeroom and then sold as a sex worker at an auction for the equivalent of £300, beaten, imprisoned and abused. "I was scared I might get pregnant. If I did, I thought they might kill me," she said. She was freed by her captor's wife after months of confinement in one room at their home in Riyadh, the Saudi capital.

Such stories are increasingly familiar to police. The problem of human trafficking is huge, said Neeraj Kumar, Delhi's police chief. One case last year, was an eye-opener, he said. Nearly 40 women were intercepted by police at Delhi airport in an operation launched in co-operation with authorities in Mumbai and the United Arab Emirates. They were destined for brothels, investigators believe. In another police operation last April, a trafficking ring in Bangalore which had sent more than 200 women to the Gulf was broken up. The gang received around £2,500 for every woman they delivered to brothels in Muscat and Dubai.

Most of the women recruited by the agents come from severely deprived backgrounds and are often illiterate. Unable to verify inflated or misleading claims, they travel willingly. In the Bangalore case, the women were told they were to be maids and then forced into sex work. Those freed in the Delhi operation were told they would be dancers. Anis Begum was told she could earn £125 a month, four times her wage as a hospital cleaner.
Apr. 14, 2013 update: An article by Dean Nelson in London's Daily Telegraph exposes the venal attitude of Muslim parents of girls in Hyderabad, India: Nausheen Tobassum, 17,
escaped from her home last month after her parents pressurised her to consummate a forced marriage to a middle aged Sudanese man who had paid around £1,200 for her to be his "wife" for four weeks. She told police she had been taken by her aunt to a hotel where she and three other teenager girls were introduced to a Sudanese oil company executive. The "groom," Usama Ibrahim Mohammed, 44 and married with two children in Khartoum, later arrived at her home where a Qazi performed a wedding ceremony.

According to Inspector Vijay Kumar he had paid 100,000 Rupees (around £1,200) to the girl's aunt Mumtaz Begum, who in turn paid 70,000 Rupees to her parents, 5,000 Rupees to the Qazi, 5,000 Rupees to an Urdu translator and kept 20,000 Rupees herself. The wedding certificate came with a 'Talaknama' which fixed the terms of the divorce at the end of the groom's holiday. "The next day he came to the house of the victim girl and asked her to participate in sex but she refused. She is a young girl and the groom is older than her father," Inspector Kumar told The Telegraph.

Her parents reassured him they would persuade their daughter and told her she would be punished if she did not. Instead she ran out of their tiny one room home in Hyderabad's Moghulpuri neighbourhood and was rescued by a police patrol. The police arrested the groom, the victim's aunt and the Qazi, and issued a warrant for her parents' arrest – Nausheen is a minor under Indian law and cannot marry until she reaches 18.
Tobassum recalls: "I didn't know what was happening and I agreed in ignorance. They forced me. They changed my date of birth certificate and made a fake one, where I was shown as 24 years old. They exploit girls and that's why I went to police." She filed a complaint and hopes her example will stop the same thing from happening to other girls.
Comment: That parents behave so despicably enables this whole corrupt system of pretend-marriage and real-prostitution.
Sep. 28, 2016 update: Similar problems exist in Egypt according to "Dealing with the Hydra" by Gihan Shahine in Al-Ahram. Two examples:
Sabah, 30, tells her story:
"I was just 16 when my elder brothers convinced my mother to make me marry a rich Arab man who came to our area to pick a young bride. They pushed me into marrying him to get out of poverty. It was horrible marrying an old foreign man who already had other wives back home."

Sabah had a daughter and a son before her husband decided to divorce her and marry another young woman. "He left me a house and a piece of land, but my brothers took them over and left me in a flat with nothing except the burden of bringing up the two kids," Sabah said.

To make ends meet, she had to work as a maid. Her daughter soon dropped out of school and worked as a maid as well. It was not until Sabah's daughter Farah turned 15 that her father suddenly asked to see his kids.

"Their father was dying and one of his sons insisted he should call his kids so that they could see him before he died, as a way of asking for God's forgiveness," Sabah said. Sabah cries because her children are no longer living with her, but she hopes that they at least will "have a better life than mine."
Then there is "Nadia," 13,
forced by her greedy family to drop out of school and marry a 50-something Arab man looking for a summer marriage in return for money.

The first night was shocking, of course, but the incidents that followed were even more terrifying. Nadia's new husband divorced her just two weeks after the wedding, and she is now pregnant. Her brother, who had already spent the LE15,000 paid for the marriage, told her he would get her another husband soon. Afraid of being forced into another marriage, Nadia decided to run away from home and live on the streets. ...

Nadia then started to work as maid in Cairo. Nadia's five-year old son Osama has no birth certificate and does not go to school. He ends up working as a mechanic in a workshop where kids are maltreated and exposed to hazardous working conditions.

At work, Osama has an accident: a car is dropped on his fragile little body. His mother rushes him to the public hospital where her employer works. The documentary closes with Nadia's employer calling organ traffickers to tell them that he has a young boy with no family or papers and that it will be easy to take a kidney from him for sale.
Apr. 24, 2017 update: Qantara.de has more on sex tourism in Egypt in "A Bride for the Summer" by Elizabeth Lehmann, Eva Plesner and Flemming Weiss-Andersen. They find that "hundreds of under-age Egyptian girls enter temporary marriages with rich tourists from the Persian Gulf during the summer in return for money for their families. These unions – dubbed summer marriages – are not legally binding and end when the foreigners return to their own countries."
The paperwork for such summer marriages is quickly dealt with: marriage contracts can be found in any bookshop. A whole network of intermediaries and lawyers ensure that the marriages take place quickly and discreetly. They are not officially registered. As such, the marriages can be annulled just as quickly as they were concluded.
Ahmed Moselhy, a lawyer combating this trafficking notes that "Many girls want to help out their families and enter into the marriage voluntarily. And then over and over again, as the money can be addictive. ... Every daughter equals a car or a new story on the house." Here is the story of one such girl, Howeida:
It was a summer′s day in 2008 when someone knocked at the door. Howeida was 15 years old at the time. A man stood in the doorway. He spoke briefly to her father and her step-mother. Then the matter was settled: Howeida would be married to a man from Saudi Arabia for a sum of around 1750 euros. The "marriage" lasted a whole 20 days, during which Howeida was repeatedly raped. Then, the man simply departed. His summer vacation was over. ...

The dowry was an unimaginably large sum for the family – several annual salaries. "It all sounded so enticing. My family told me that I would get clothes and presents. I was still so young. In the end I gave my consent," recounts Howeida. Her family bought a refrigerator and a washing machine with the dowry. ...

Howeida is now 28. She has been married 8 times, each time for only a few days. She is ashamed of her past and does not wish to state her real name. She wears a black niqab that only reveals her eyes. Concealed underneath is a pretty woman with fine skin and shoulder-length black hair. ...

When she was married for the first time, she lived with her father, her step-mother and her six half-siblings in three small rooms in a village on the outskirts of Ouseem, some 20 kilometres northwest of Cairo.

Things were not as simple as Howeida imagined it would be at the time. "I was still innocent. I still believed in love. The first night was just awful. Afterwards, I had psychological problems." Nonetheless, that did not prevent the family for marrying off Howeida again the next summer. This time, it was to a man from Kuwait, yet he only paid around 600 euros, as Howeida was no longer a virgin. ...

Howeida has since abandoned the business. She still lives with her father and step-mother. "I no longer fear them, but I hate them. Especially my father. Why did he allow this to happen?" Howeida is now looking for the right man for a genuine marriage.

In real terms, however, her fate is sealed. As a former summer bride, she is no longer regarded as a "respectable woman." There is hardly a man in Egypt's conservative society who would consider marrying such a woman.