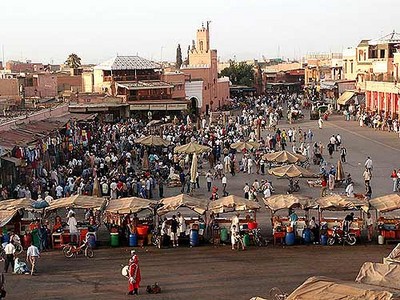 The central market in Marrakech.
Here's a man-bites-dog story, about 8,000 foreigners, mostly Europeans, moving to a city in Dar al-Islam. Amsterdam's
De Volkskrant
ran the story by Greta Riemersma under the revealing title, "
Has Marrakech sold out to Europe?
" Excerpts:
Most of them are entrepreneurs or pensioners who come for the beauty of the city and the laid-back mindset. Down in Morocco, desk diaries and wristwatches are rarities. Taxes and payroll costs are low, the minimum wage is €200 a month.
This phenomenon confronts Moroccans with something akin to the problems facing their counterparts in European cities: They
find themselves surrounded by foreign communities, chiefly French, but also Italian, Spanish, German and English. And a new sociogeographic distribution is taking shape: Europeans are settling down in the centre, in the Moroccan houses they fancy, while the Moroccans are taking to the suburbs, where new blocks of flats are being built all over the place.
Although they consistute less than 1 percent of the city's population, Europeans are making their mark:
Modern downtown Marrakech has taken on something of a Franco-Italo-Spanish air, replete with shops like Zara and Etam patronised by a mostly European clientele. There's even a McDonald's and a Pizza Hut – and a picture of Charlie Chaplin in front of one café. The jet set have also discovered Marrakech. Actor Alain Delon and couturier Yves Saint Laurent had houses there, as do famous footballers Zinedine Zidane and Raúl. Nicolas Sarkozy and Hillary Clinton don't own property there, but they do come regularly. Marrakech has taken on an aura of glitz and glamour, and prices have never been so steep.
The Moroccan response is less than one of unalduterated delight: "The Europeans are buying us out of our city." To which Europeans reply: "It's the Moroccans who are selling their houses." To which a Moroccan answers that the newcomers are offering such huge sums that the locals cannot say no: "Europeans can afford sums that Moroccans have never seen."
The article ends, however, with reciprocal good feelings. A European states: "The fact that Europeans are coming to live here is a change that benefits both communities." A Moroccan agrees: "Europeans create jobs. And it's pretty nice having them around."
Comments: (1) No one is calling discontented Marrakechis "racists." (2) Muslims unhappy with a Western presence undoubtedly sympathize when the equation is reversed. (May 24, 2010)
June 19, 2014 update: I just spent the day in San Miguel de Allende, Mexico, a colonial town where some 10,000 Americans, Canadians, and Europeans live. Something of the same dynamic exists here as in Marrakesh.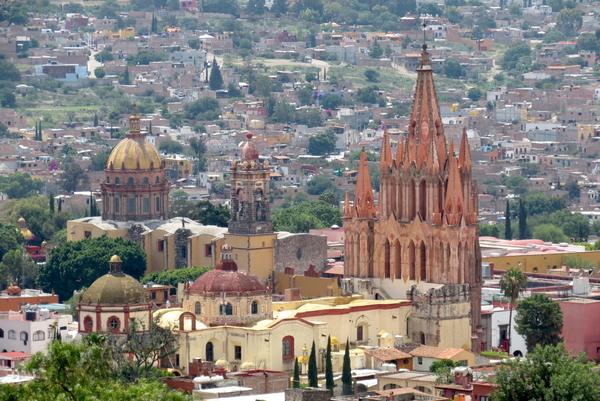 View of San Miguel de Allende, Mexico from a nearby hill.